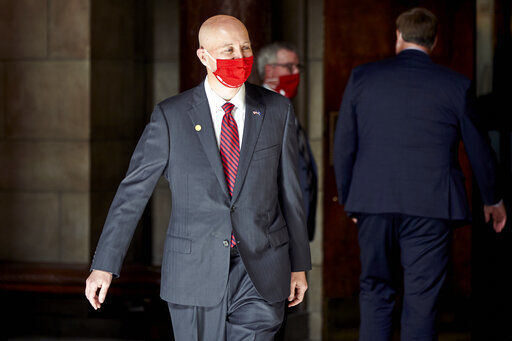 Lincoln and Lancaster County stood alone Monday in retaining a limited array of coronavirus control restrictions as the rest of the state moved into a new and more relaxed phase that Gov. Pete Ricketts said will "allow people to return to a more normal life."
While the governor said he disagrees with the need for Lincoln and Lancaster County to remain in Phase 3 restrictions that include some group and distancing limitations in restaurants and bars, along with other indoor venues, he acknowledged that the county has a special "carve-out" that allows it to take independent action.
That includes authority to issue the mask mandate that currently is in effect. A City Council-approved mask mandate remains in place in Omaha even as Douglas County moves to Phase 4 of the state's reopening plan.
"I think we're able to move forward," Ricketts said during a news conference at the Capitol.
"I think we are taking appropriate steps to go back to a more normal life while continuing to manage the spread of the virus," he said.
Ricketts continued to urge Nebraskans to maintain social distancing and to wear masks "when appropriate" in order to help manage the virus.
"I know people are tired of this," he said. "I get it. But we need to continue to manage it.
"I am not in favor of mandates," the governor said, preferring instead to educate people about the need to wear a mask when grocery shopping or in other crowded indoor conditions and to maintain physical distancing and avoid crowds.
Phase 4 mandates include limiting crowds in large indoor venues to 75% of capacity. 
The next step would be "no directed health measure," Ricketts said. "No restrictions, like pre-pandemic."
Lincoln's decision to adopt a mask mandate was triggered, in part, in anticipation of University of Nebraska students returning to the Lincoln campus and the accompanying spread of the virus in the community.
Lancaster County has reported more coronavirus cases than any county in the state in the past 14 days.
Ricketts described the virus as "simmering" and said there will continue to be "an amount of virus transmission."
"We're going to continue to manage this," he said. 
Hospital capacity remains robust, he suggested.
Latest figures: 36% of hospital beds available; 35% of intensive care unit beds available; 83% of ventilators available.
The state reported 147 new cases Monday, setting the total number of cases at 38,335. There have been 434 deaths linked to the disease in Nebraska.
On other matters, Ricketts turned the spotlight on military caregivers who are largely family members who help veterans manage their injuries at home, often with care-giving that amounts to a full-time job.
The governor signed a proclamation designating those caregivers as "Hidden Heroes."
Andrea Dorsey of Omaha, whose husband, Joe, was wounded in Iraq, participated in the event along with John Hilgert, director of the Nebraska Department of Veterans' Affairs.
Joe Dorsey was injured in an IED explosion in 2004, returning home with post-traumatic stress disorder, sleep disorders and neck and back injuries that have progressively worsened over the years.
Andrea, a public school teacher, is also the mother of two children.
Milestones in coronavirus fight
Get Government & Politics updates in your inbox!
Stay up-to-date on the latest in local and national government and political topics with our newsletter.