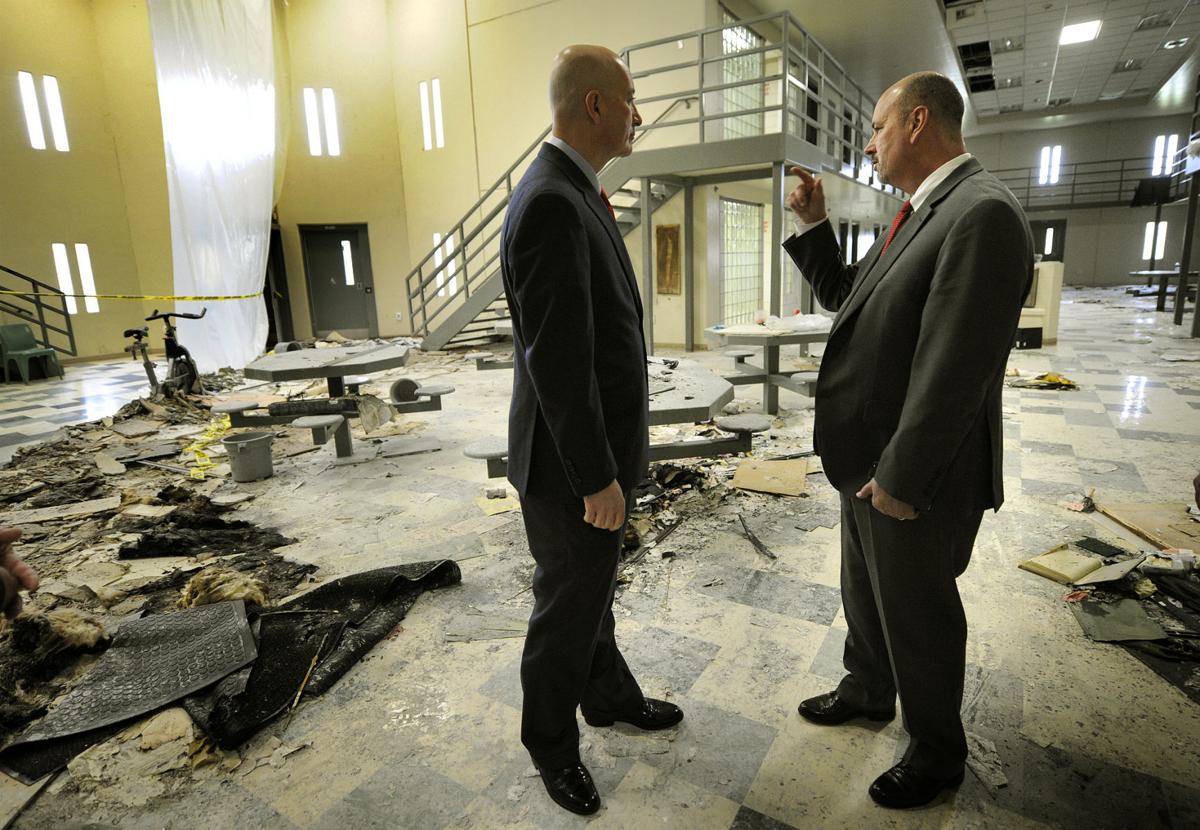 A team of reviewers has found that staff at Tecumseh State Correctional Institution reacted appropriately to a Mother's Day riot at the prison, and that public safety was never endangered.
During the 10-hour rampage by several hundred inmates, some staff members were in danger, two inmates died and more than $500,000 in damage was done.
And it is hard to know, the report said, what will be the long-term effects on staff, management, inmates and the public.
The report included a long list of prison improvements that could be considered.
Although there was no warning of the riot, the report said, there were reports afterward of dissatisfaction about programming and idle time among some inmates. And inadequate staffing, vacancies and use of mandatory overtime at the prison is a concern.
The incidents started at about 2:30 the afternoon of May 10, when multiple inmates were released from three living units for a scheduled call to get over-the-counter medications.
Instead of following the "pill line," several inmates got out of line and were joined by others in the prison yard, the report said.
The staff became quickly outnumbered and surrounded, and, in part because of the prison design, the incident could not be isolated and contained, the review team said. By 2:49 p.m., prison staff were told to lock down units, but many of the inmates in those units refused, forcing staff to retreat to control centers.
Four inmates were named as alleged leaders of the riot or as ones who assaulted correctional officers: 27-year-old Rashad Washington, serving time for assaults and weapons charges; 28-year-old Frederick Gooch, drug possession and four felony assaults on officers; 58-year-old Roger Weikle, first-degree murder, assaults and burglary; 68-year-old John Zalme, felony assaults and weapons charges.
None of the four has been charged, according to a check of court records.
During the initial incident, Washington was shot in the leg by an officer firing from the tower.
The riot lasted into early Monday morning, with control regained at about 1 a.m. During the 10 hours, uncontrolled inmates assaulted two staff, seemingly ignored warning shots and actual use of deadly force, and essentially entrapped and taunted numerous staff members in buildings overrun by inmates, the report said.
More than 400 inmates were involved, doing extensive damage to a living unit and setting fire to and damaging housing unit galleries and yards. Nineteen staff and a volunteer had to be rescued from different areas of the prison.
Shon Collins and Donald Peacock, both 46 and doing time on child sexual assault charges, were found dead just before midnight in a living unit. They died of blunt force head injuries, reportedly killed by other inmates.
Throughout the incident, "countless numbers" of department and prison staff responded appropriately and performed well, "especially in light of extremely difficult circumstances," the review team said.
Nebraska Department of Correctional Services Director Scott Frakes released the critical incident review Monday afternoon. The detailed report tells what happened and makes recommendations on how to improve the prison's physical plant, policies and procedures.
The report recommended that the Tecumseh prison improve its response team structure and add more preventive measures to protect its staff.
Specific recommendations included limiting what inmates can have as property, including flammable items; relocating case workers and inmate files; adding escape hatches to control centers; and adding handheld cameras to control centers, and reviewing the location, housing and number of fixed cameras.
The team also suggested upgrading nonlethal weapons and considering the use of chemicals for emergency response. And it recommended reducing the numbers of inmates from multiple units allowed out of cells at one time and changing staffing policies in towers.
The Tecumseh prison is a 960-bed facility designed to hold maximum- and medium-custody inmates in three units, and death-row and segregated prisoners in a fourth unit. On the day of the riot, inmate count was 1,024, and 57 staff members were on duty at the time it started.
In that second shift, six staff were working voluntary overtime, but none were working mandatory overtime. The staffing requirement for the shift was 61, the report said, but the prison had closed two program areas and two evening recreation periods that weekend.
The report was written by Tomas Fithian, a security and emergency management administrator at Washington State Department of Corrections, where Frakes worked before coming to Nebraska in February. All other members of the review team work for the Nebraska Department of Correctional Services.
A member of the Nebraska Ombudsman's office, Jerrall Moreland, was brought in to observe the critical incident review.
Ombudsman Marshall Lux received the report Monday afternoon and had not yet finished reading it, he said. He said Moreland spent a lot of time watching the review, but not as a member of the team, so the office could provide a critique.
"We understood from the outset that there might be parts of it that we would disagree with," Lux said.
The prison is still operating with restricted movement but gradually returning to normal operations, Frakes said. Emergency staffing patterns are in effect for most employees, with security staff working 12-hour shifts four days a week.
A formal corrective action plan to address the recommendations of the review team will be completed and published by the end of July, Frakes said. Improvements to practices consistent with many of the recommendations are already underway.
The report cited several examples of individual staff and emergency team bravery, professionalism and attention to detail during the riot, including staff who were trapped for hours in offices, the tower, gym, food service and religious services who endured violent threats by inmates.
"Their dedication to public safety does not go unnoticed," the review team said.