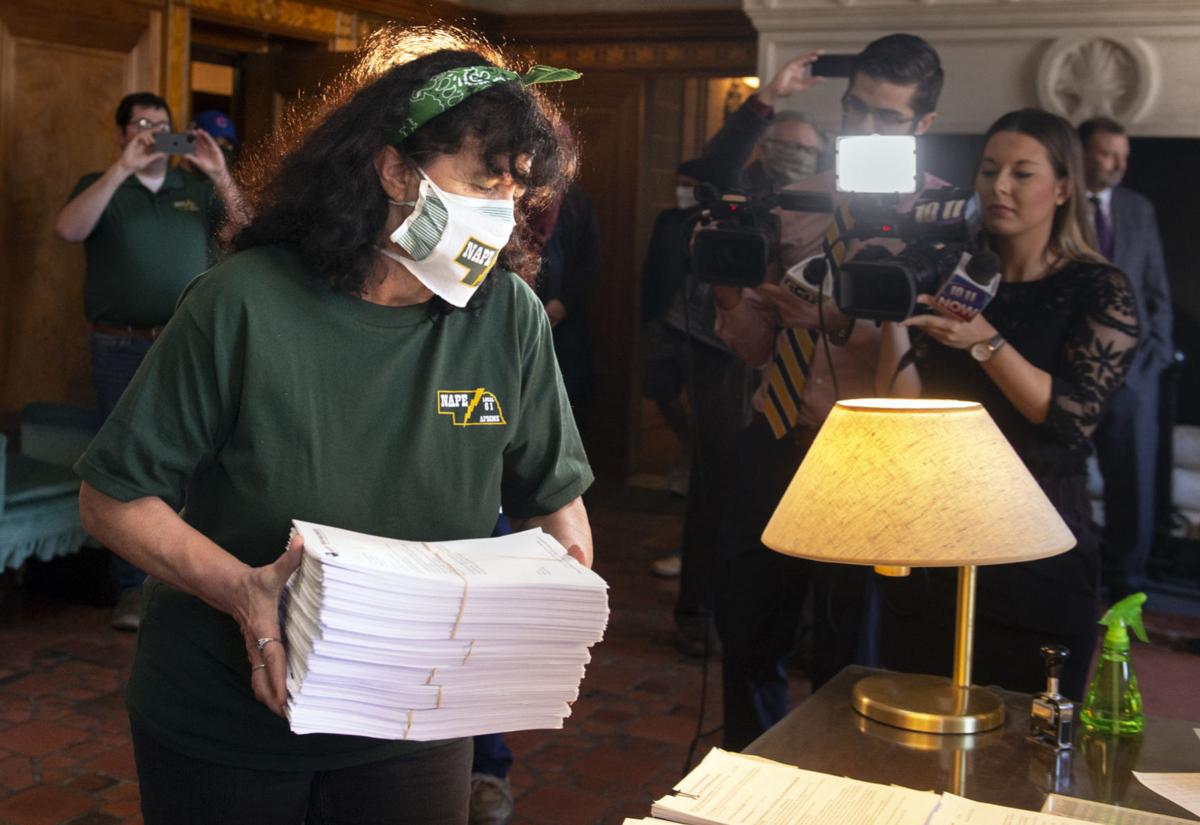 The Nebraska Association of Public Employees renewed its call Wednesday for better treatment of state workers, this time focused on a contract with an outside firm to process state unemployment claims. 
Those claims have skyrocketed because of the coronavirus pandemic and resulting layoffs and furloughs. 
The Nebraska Department of Labor signed an agreement with Nelnet for help in processing pandemic-related unemployment claims that NAPE/AFSCME said means those Nelnet workers would be making $35 per hour. The agreement will last a minimum of three months and generate $1.7 million in revenue for Nelnet, union officials said.
"Our unemployment adjudicators make $17.05/hour," the union said. 
Gov. Pete Ricketts would rather pay Nelnet $1.7 million than give department unemployment claims processors an extra $2 an hour in hazard pay for three months that would cost $51,840, union officials said. 
But Taylor Gage, Ricketts' strategic communications director, said starting pay at Nelnet for these positions is about $16 an hour.
"The state is paying for a service, not the workers," he said. "That service includes not only the workers but also their supervision, organization, infrastructure and technology."
Unemployment adjudicators at the Department of Labor have a starting total compensation of $17.05 an hour, and more than $23 an hour including benefits, Social Security, workers compensation insurance and vacation, Gage said. And that doesn't include the cost of technology, training, infrastructure and the supervision to support them.
"Our teammates are favorably compensated relative to our partners at Nelnet that are assisting us," he said. 
The union also posted a statement about the Nelnet contract on Reddit, which showed 61 comments as of early Wednesday evening, not all of them agreeing with the union. Several of those commenting explained the logic of hiring the outside firm rather than the department hiring temporary workers to help process the high number of claims. 
Jman9420 said to get temporary workers could require additional time to go through the hiring process, the cost to get them equipment that could include laptops or computers, and then more time for training.
"Do you think the people waiting on unemployment would rather wait additional weeks for their claims to be processed so that the state can save whatever the small difference in compensation may be?" the person said.
A department worker told the Journal Star that employees processing claims were "desperately" trying to get information and payments out, but by contracting with Nelnet, experienced adjudicators were forced to train rather than process claims.
Department of Labor spokeswoman Grace Johnson said experienced adjudicators were doing both training and claims processing.
"We want the most experienced and knowledgeable individuals conducting training so that we complete the training as efficiently as possible," Johnson said. "We don't have any adjudicators who are doing training only."
The worker also suggested that to speed up the claims process, the state should look only at an applicant's last employer rather than all employers in the past 18 months as is required. But that suggestion was rejected, the worker said.
"Many changes have helped speed up claim processing," Johnson responded. "We are reviewing additional possibilities."
Ricketts said at his daily COVID-19 briefing that as of Monday, the state Department of Labor had processed $6.8 million worth of the special pandemic unemployment assistance on 11,000 claims. 
The department has gone from 34 to 166 adjudicators, who do verification and fact-finding to process the applications, by hiring outside firms, Ricketts said.
Photos: The scene in Lincoln
Concerned about COVID-19?
Sign up now to get the most recent coronavirus headlines and other important local and national news sent to your email inbox daily.