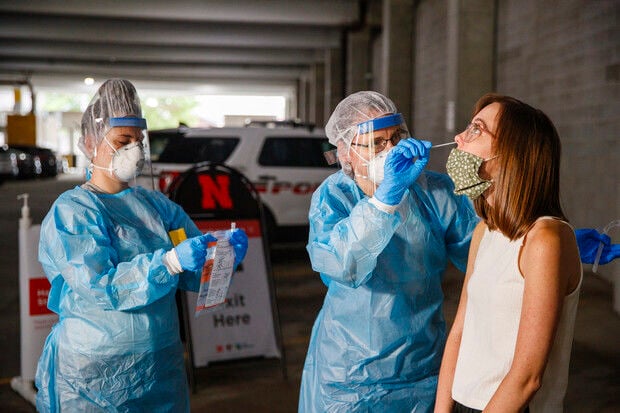 The Nebraska Department of Health and Human Services on Tuesday confirmed a computer issue caused reporting errors in coronavirus tests done through Test Nebraska last week.
The state said one of the contractor's data systems stopped pushing results to a second system, which caused notifications about tests arriving at the lab at CHI Health St. Elizabeth to not be sent.
It also stopped results from being communicated to those waiting to find out if they had the coronavirus and did not include the report into the state health department's data-collection system.
In its news release, the state did not specify which of the three Utah-based companies it hired through a $27 million, no-bid contract was responsible for the computer glitch.
State HHS officials referred the Journal Star's question to the Department of Administrative Services. An email to that department was not immediately returned Tuesday afternoon.
On Monday, individuals waiting for results from Test Nebraska tests done last week said they received various explanations when they called the testing site's hotline.
Some said they were told a large influx of tests was creating delays in reporting; others said they were told no record of their test existed or that their test kit was at neither the testing site nor the lab.
According to HHS, because tests were not associated with a profile created by an individual who was tested, the call center directed those people to get retested.
"The standard language in the email triggered by the call center in response to these inquiries improperly referenced lost test results," the release stated.
Once the issue was resolved, results from tests collected from Aug. 19 through Aug. 23 began arriving by text message and email late Monday afternoon.
HHS reported 301 new cases of COVID-19 on Tuesday evening, bringing the state's total to 32,348, with 383 deaths.
In Lancaster County, the "technical issue" caused just 29 COVID-19 tests to be reported on Monday. On Tuesday, the Lincoln-Lancaster County Health Department added 665 tests to Monday's total.
"We sincerely apologize for the delay. We take very seriously the responsibility to ensure proper and timely data reporting," HHS said. "We have safeguards in place to address issues if and when they arise and will continue to take corrective action as soon as they are discovered."