Responding to criticism directed at the reshuffling of Lincoln's proposed new legislative districts, Sen. Adam Morfeld of Lincoln said Wednesday that the new map is "fair and reasonable (and) the best we could do" under the circumstances.
"The reason why rural senators have to reach into Lincoln is because there is not enough political will to move two seats from rural Nebraska" into urban areas to reflect population shifts documented by the 2020 U.S. census, Morfeld said.
"That's the political reality," he said during a telephone interview a day after 38-6 legislative endorsement of the redistricting plan at the conclusion of second-round floor debate.
The proposal (LB3) is scheduled for a final vote on Thursday.
"I understand and agree with the consternation," Morfeld said. "I am disappointed Lancaster (County) did not get an extra seat."
Instead of adding two urban seats as warranted by the census, Morfeld said, the proposed legislative plan moves a single seat into metropolitan Omaha.
Morfeld, a Democrat, was a member of the Redistricting Committee that presented negotiated versions of legislative and congressional redistricting plans to the full Legislature this week. 
Sen. Suzanne Geist, a Republican from Lincoln, was also a member of the Redistricting Committee.
After a full morning of discussion on Tuesday, Sen. Matt Hansen, a Democrat, was the only Lincoln senator to vote against advancement of the proposal after he abandoned his motion to send the bill back to the committee for its reconsideration.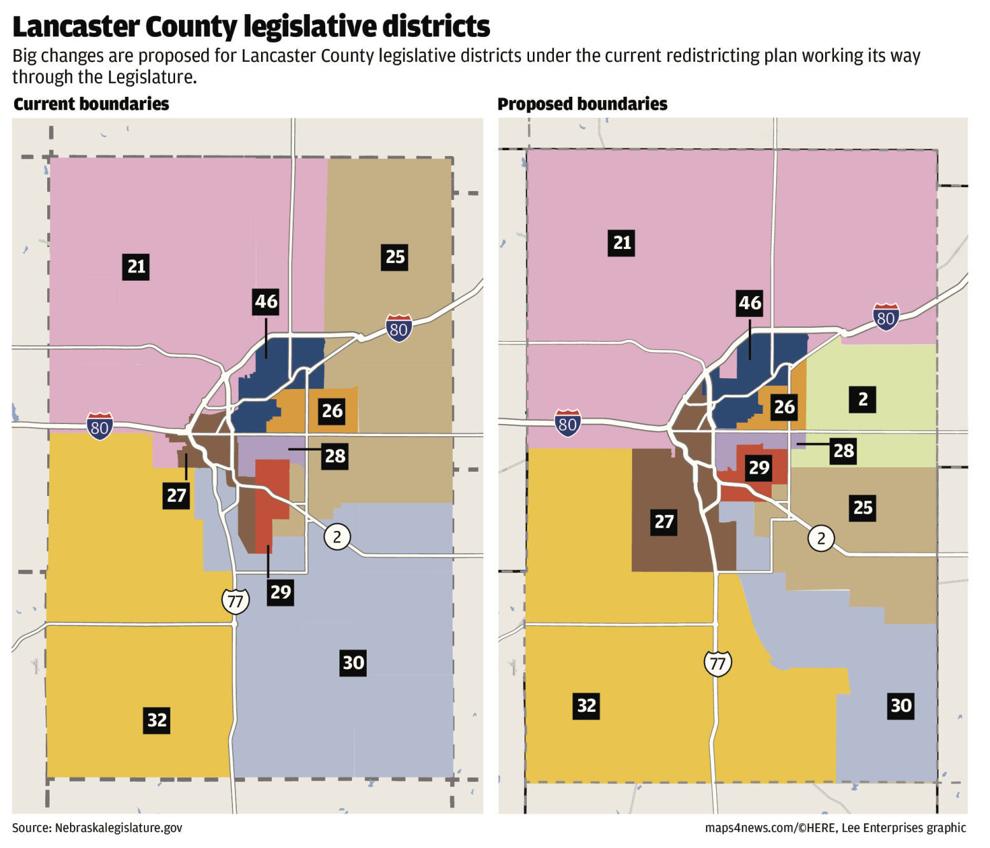 Hansen argued that the revised plan carves up Lincoln, splitting the city and assigning some of Lincoln's core areas to rural districts.
Morfeld said Hansen's objections were "not warranted" considering the reality in play.
"But I am disappointed that Lancaster County did not get an extra seat," he said.
Over the past decade, Lancaster County included seven legislative districts in whole and two districts where sections of the county were carved out as parts of larger districts.
Currently, District 30, represented by Sen. Myron Dorn of Adams, includes Gage County, the southeastern quarter of Lancaster County and parts of southwest and southeast Lincoln.
District 32, represented by Sen. Tom Brandt of Plymouth, includes Fillmore, Thayer, Saline and Jefferson counties, as well as the southwestern quarter of Lancaster County.
The blueprint for the next decade introduces another legislative district into Lancaster County, with District 2 -- represented by Sen. Rob Clements of Elmwood -- cutting into the eastern part of the county.
Among Hansen's objections is that those districts that cross county lines are now cutting into long-established areas of Lincoln.
Maps circulating Tuesday show a sliver of District 30 extending as far north as The Knolls neighborhood in south Lincoln, and District 2 cutting as far west as 70th Street near Holmes Lake.
"Lancaster County absolutely will gain a seat in 2030 (following the next census) based on population growth," Morfeld said.
A study of census figures by David Drozd, research coordinator for the Center for Public Affairs Research at the University of Nebraska at Omaha, suggests that metropolitan Nebraska -- Douglas, Lancaster and Sarpy counties -- would be entitled to an additional 1.6 seats in the Legislature under 2020 census figures.