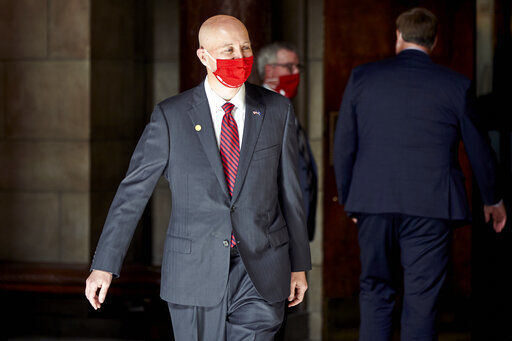 Gov. Pete Ricketts said Monday the state is seeking federal approval for a temporary increase in Medicaid funding that would pump close to $40 million in additional assistance into Nebraska long-term care facilities that have been heavily impacted by COVID-19.
The state is prepared to "take additional steps as seem necessary," Ricketts said during a news conference.
The additional assistance would help cover costs that already have been occurring while providing funding that might be used to increase wages, fund retention incentives or recruit needed employees.
Heath Boddy, president and CEO of the Nebraska Health Care Association, described the virus as "this invisible monster" and urged Nebraskans to be willing to wear a mask to protect their communities.
Some 1,774 residents of long-term care facilities have tested positive for the coronavirus, along with 1,832 staff members in 312 facilities, said Dr. Gary Anthone, the state's chief medical officer.
That outbreak has resulted in 238 deaths of residents, which represents 36% of the COVID-19 deaths in the state.
Jeremy Brunssen, interim director of Medicaid and Long-Term Care in the Nebraska Department of Health and Human Services, said the increased assistance would help pay costs dating back to May 1 and extending until the end of the year. 
Ricketts said the state will continue to monitor the situation at assisted-care facilities and is prepared to "take additional steps as seem necessary" to combat the virus.
Responding to rising numbers of infections and a record number of COVID-19 hospitalizations in the state, the governor said his administration will be "continuing to monitor whether we need to do more."
"Wearing a mask will protect you and other people," he said in urging Nebraskans to help contain the spread of the virus. 
Ricketts also repeated the need to avoid crowded places, maintain 6 feet of social distancing and wash hands repeatedly.
In other action, the governor issued an executive order that will allow members of public boards to participate electronically in meetings if they are quarantined or in isolation as a result of the virus along with an order permitting election poll workers to be shared across county lines Tuesday.
The state is "working very hard to keep schools open," Ricketts said, recognizing that they are "a very safe place for students" and provide vital services beyond education, including socialization, mental health, physical activity and nutrition.
Asked about his Election Night plans Tuesday, the governor said he'll probably visit a few friends and family events in Omaha in place of what traditionally has been a large Nebraska Republican Party election night event.
Ricketts said he voted early Friday after waiting in line for more than two hours along with other voters at the Douglas County election commission office.