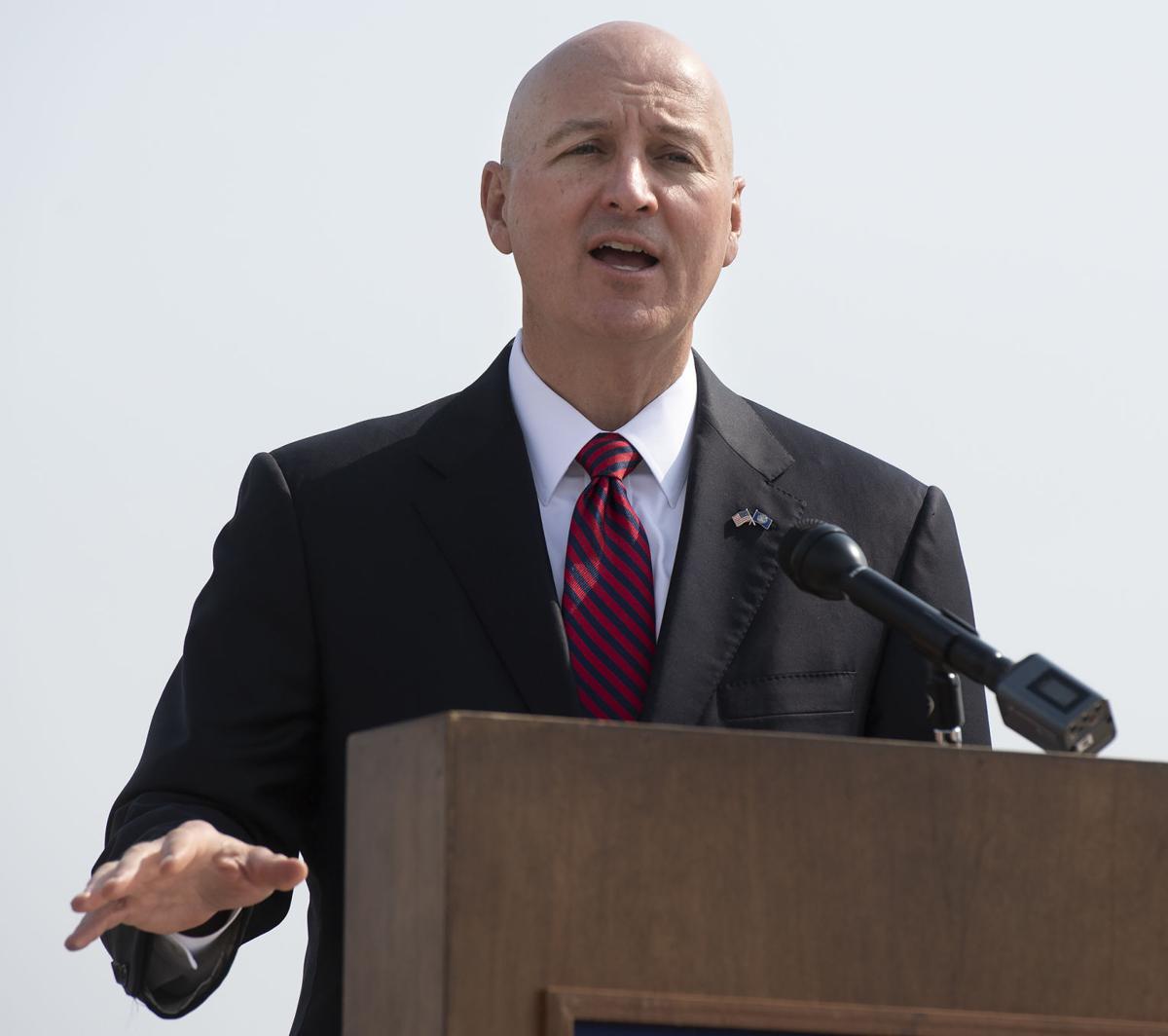 Responding to the rapid spread of the coronavirus across Nebraska, Gov. Pete Ricketts on Thursday announced that the state will apply for emergency federal supplemental assistance for food stamp families and launch a media campaign to urge Nebraskans to take personal responsibility to combat the virus.
The public service media campaign will remind individuals that they need to wash their hands often, maintain 6 feet of social distancing, avoid crowds and wear masks when they are in close contact in confined places, the governor said.
"If you are sick," Ricketts said, "please stay home," even if you haven't been diagnosed with a COVID-19 infection.
Ricketts also is asking businesses to consider sending some employees back home to work remotely, perhaps for "a couple of days a week," while taking responsibility to make sure that they "keep customers 6 feet apart."
In addition to those individual actions, the governor said he is "always evaluating additional steps to combat the virus," including the possibility of invoking new directed health measures next week.
"This is serious," Ricketts said at a Capitol news conference. 
"Seven hundred people are in the hospital" in Nebraska now, he said.
Dr. Gary Anthone, the state's chief medical officer, said "it is obvious that we are headed in the wrong direction" as COVID-19 cases continue to grow and spread across the state while hospital beds begin to fill.
"We cannot surge our way out of this pandemic by increasing hospital beds or staffing," he said. "We need to stop the number of cases rising daily. We need to decrease the number of people who are hospitalized."
"Our behaviors matter," Anthone said. "Our choices matter. Do the right thing."
"Avoid crowded places," he said. "Avoid gathering in groups where you cannot maintain 6 feet of distancing. If in long contact, you've got to wear a mask. Avoid confined spaces; wear a mask."
The decision to seek emergency federal supplemental nutritional assistance comes after Nebraska emerged as the only state not to seek additional assistance in August following receipt of emergency aid during the early months of the pandemic and the resulting economic collapse.
The emergency program was designed to help assist Nebraskans who may have lost work at the time.
Ricketts said this week's decision was designed in part to adjust to the reality of "more hospitalizations and more uncertainty" in Nebraska because of the spread of the virus now.
The increased assistance should become available next month.
Responding to the need to make healthy choices, Ricketts said, he will get a flu shot Friday. 
State Education Commissioner Matthew Blomstedt said Nebraskans can help keep schools open by acting with care and caution now.
The virus spreads "when adults are letting down their guard," he said.
"The biggest risk for schools is keeping the staff safe," Blomstedt said.
Jason Jackson, director of the state's Department of Administrative Services, said state government is taking new steps now to increasingly spread employees apart or urge them to conduct work remotely in response to the rising number of COVID-19 cases and the governor's concerns.
Agencies are empowered to reduce workforce occupancy as low as 50%, Jackson said, as we "reduce our footprint in our facilities across the state."
In response to questions at the news conference, Ricketts said he "certainly respect(s) the will of people" who handed Nebraska's 2nd Congressional District electoral vote to Democratic presidential nominee Joe Biden, but he has supported efforts to restore the prior system of awarding all of Nebraska's electoral votes to the statewide winner.
Ricketts said he is not aware of any potential legal challenges to the casino gambling initiative approved by Nebraska voters at Tuesday's election and his administration is evaluating how to implement the measure. The governor opposed the initiative.
Although he is a supporter of President Donald Trump, the Republican governor said he believes "every legal vote should be counted" in the wake of Tuesday's presidential vote.
Lawyers for the president have filed court cases asking for an end to vote-counting in some states.