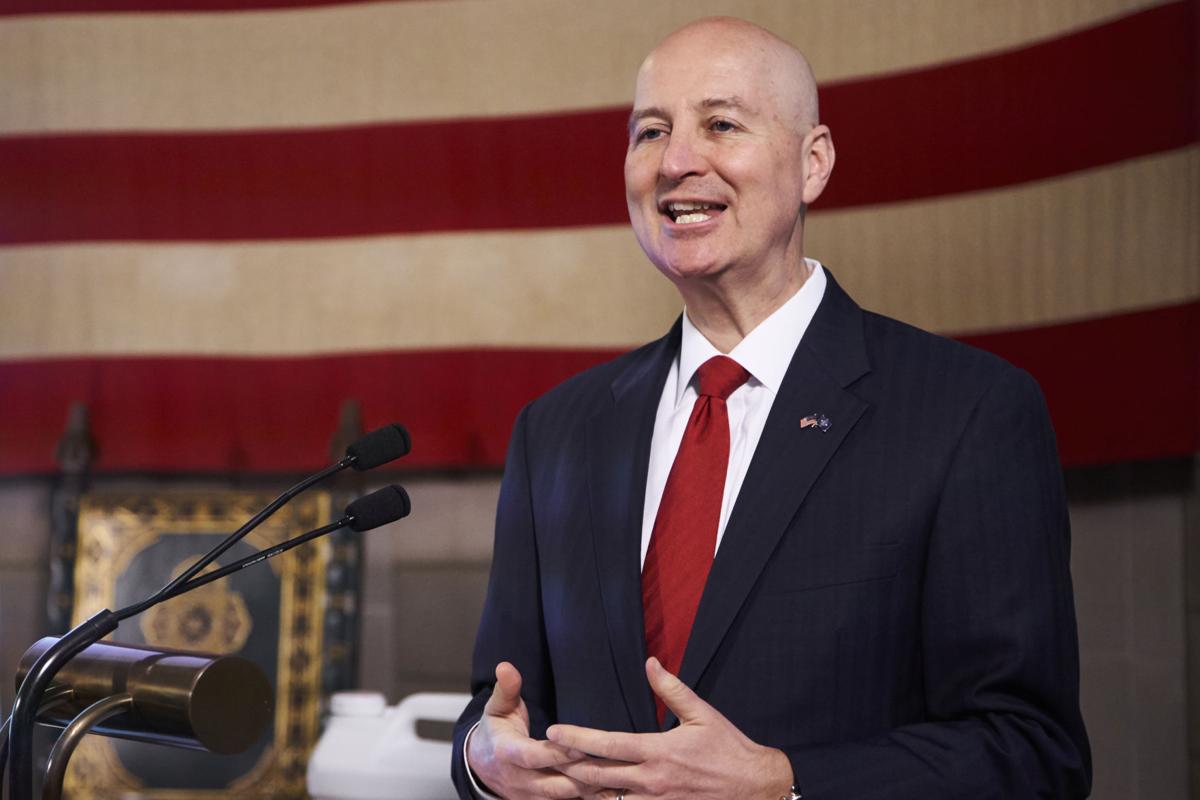 Gov. Pete Ricketts on Friday described the state's ongoing battle against the coronavirus as "absolutely successful" so far, but he cautioned Nebraskans to "continue to do social distancing" in order to keep spread of COVID-19 under control.
"And wearing a mask is a good idea," the governor said during a news conference at the Capitol.
As virus outbreaks surge in Florida, Arizona, Texas and California, hospitalization rates in Nebraska have been declining, Ricketts said.
"Social distancing works," the governor noted, reminding Nebraskans that they need to continue to maintain 6 feet of separation from one another to contain spread of the virus.
Meanwhile, Test Nebraska has ramped up its testing capacity for the virus, hitting a high of 3,600 tests Tuesday, Ricketts said. The turnaround time to receive testing results has been reduced to an average of 31 hours, he said.
As of Friday afternoon, Nebraska had recorded 20,777 positive cases and 286 deaths because of the virus, according to the Department of Health and Human Services.
Progress in attacking and containing the virus has allowed Ricketts to increasingly move on to other topics at his news conferences, and Friday he turned the spotlight on outdoor recreation activities available to Nebraska families throughout the state.
"There's never been a better time to drive around Nebraska," he said. "Do your summer vacation right here."
Answering questions, Ricketts defended Republican Party campaign support for Sen. Julie Slama of Peru and the activities of Jessica Flanagain, who is helping manage her campaign.
"I still employ Jessica as a political consultant," the governor said. "Jessica is the best in the business in Nebraska. That's why I hire her."
Harsh campaign mailings aimed at Janet Palmtag of Syracuse, a fellow Republican in the District 1 race, have been criticized by former Republican Gov. Dave Heineman and former Democratic Gov. Bob Kerrey as racist in nature because they attempt to tie Palmtag to Sen. Ernie Chambers of Omaha, a controversial senator who is Black.
Slama was appointed to the Legislature by Ricketts in 2019, and the governor said Friday that he believes efforts to "make sure we get a conservative like Julie Slama elected are absolutely appropriate."
On another political topic, Ricketts said he was not familiar with the details of Nebraska Republican Party campaign funding activities that have come under fire from the Nebraska Democratic Party for failure to meet reporting requirements with the Nebraska Accountability and Disclosure Commission.
"The Nebraska Republican Party and several GOP state senators and legislative candidates have been caught playing hide-the-ball regarding more than $112,000 in contributions from the party," the Nebraska Democratic Party said.
In answer to other questions, Ricketts said a number of proposed new prison construction alternatives that would bind future Legislatures to appropriation of state general fund dollars are no different than the process of funding other big state projects such as ongoing modernization of the heating and air conditioning system at the Capitol.
And, in his most optimistic view thus far of the potential for an adjusted Husker football season in spite of the pandemic, Ricketts told a questioner he's "looking forward to seeing how we can play football this fall."
"I'm excited to see some football here and will work with the university to make that happen," he said.
Jim Swenson, administrator of the Nebraska Game and Parks Commission, joined the governor at the news conference and said a broad range of outdoor recreation, camping, fishing, hunting and boating adventures await Nebraska families this summer.
Nebraskans can consider 76 park destinations, 58 state recreation areas and 10 state historical parks in making summertime plans, he said.
See the top stories on coronavirus in Lincoln and Nebraska since the pandemic first affected the area in March.