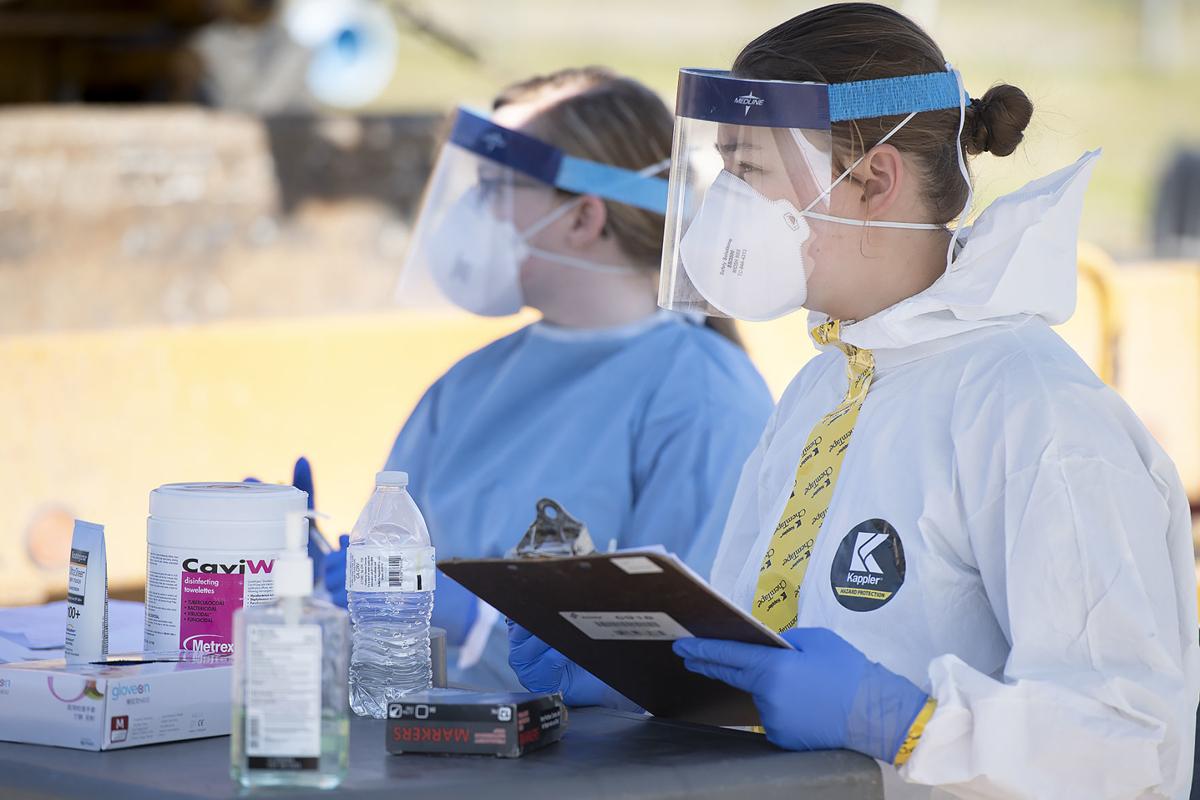 With Nebraska's coronavirus challenges currently focused on outbreaks in meatpacking plants in Grand Island, Lexington and Dakota City, Gov. Pete Ricketts said Thursday he believes food processors are taking appropriate action to control spread of the virus.
Asked if he believes meatpacking plants ought to consider voluntarily and temporarily applying his statewide standard of 6 feet of physical separation to their production lines in order to protect workers and the communities they live in, the governor said he believes companies are "doing everything they can do."
Speaking at his daily coronavirus news briefing, Ricketts said "not every business" can meet that kind of physical distancing standard, so "they do what they can" in terms of applying separation, sanitation and preventive health measures such as testing the temperature of workers as they arrive for work.
Asked later if he might consider a future order to temporarily close a plant or two, the governor said that "we are working very hard for them to stay open."
"I don't see a scenario to close them," he said.
It's vital to keep food processing open as an important link in the nation's food supply chain, Ricketts said. Blocking that supply of food could lead to "civil unrest," he said.
Responding later to the governor's statements, the Nebraska Farm Bureau thanked Ricketts for keeping food-processing plants operating.
"Widespread closure of processing plants, even for limited periods of time, could be devastating for farmers and consumers alike," Farm Bureau President Steve Nelson said.
"We appreciate Gov. Ricketts' ongoing efforts to work with meat processors to protect employees and to keep meat processing moving forward."
Major outbreaks of the coronavirus have occurred at the JBS beef plant in Grand Island and the Tyson Foods beef plant in Lexington, leading to high rates of infection in both communities.
The Tyson Foods beef plant in Dakota City has now joined that list.
In the latest figures from the Nebraska Department of Health and Human Services, Hall, Dawson and Dakota counties — home to the three packing plants — accounted for half of the state's 2,124 confirmed coronavirus cases.
In each county, the number of cases has now surpassed 1% of the population.
Although there are some hot spots in the state, Ricketts said, he believes the state has "done very well (in terms of) flattening the curve" of growth of the pandemic in Nebraska as it navigates through what has been forecast to be the state's days of maximum danger in late April.
But, the governor said, "we're going to be socially distancing for a while," recognizing that there still will be lingering danger until a vaccine is developed.
Most estimates suggest that may be a year to a year and a half from now.
Dr. Gary Anthone, the state's chief medical officer, said "things are really stabilizing" in terms of the medical response to challenges in Grand Island and Lexington.
CHI St. Francis in Grand Island has 12 or 13 patients hospitalized in its 16-bed intensive care unit, he said, and "things are really under control" there.
Lexington has transferred five patients to Great Plains Health in North Platte, Anthone said, and also makes transfers as needed to Kearney.
All hospitals in the state have agreed to accept patients, he noted.
* Ricketts announced that the state is forming a corn detasseling task force "to make sure we are socially distancing" during the annual process that involves about 7,000 participants annually.
* More than 50,000 Nebraskans have registered now to participate in the state's new coronavirus testing initiative, the governor said.
The state has purchased 540,000 tests with federal funding and expects to be able to conduct 3,000 tests a day once the program is fully operational, perhaps five weeks from now.
* Asked about Democratic Party criticism of opening the polls for voting in the May 12 primary election instead of asking all Nebraskans to cast their votes by mail, Ricketts said he continues to encourage people to vote by mail, but "I do not want to disenfranchise voters that want to go to the polls" on Election Day.
There's been "a huge response" to the opportunity that's been made available to all Nebraskans to vote by mail next month, he said.
And steps are being taken to make polling sites safe on Election Day, he said.
Photos, videos: Creating community during the pandemic