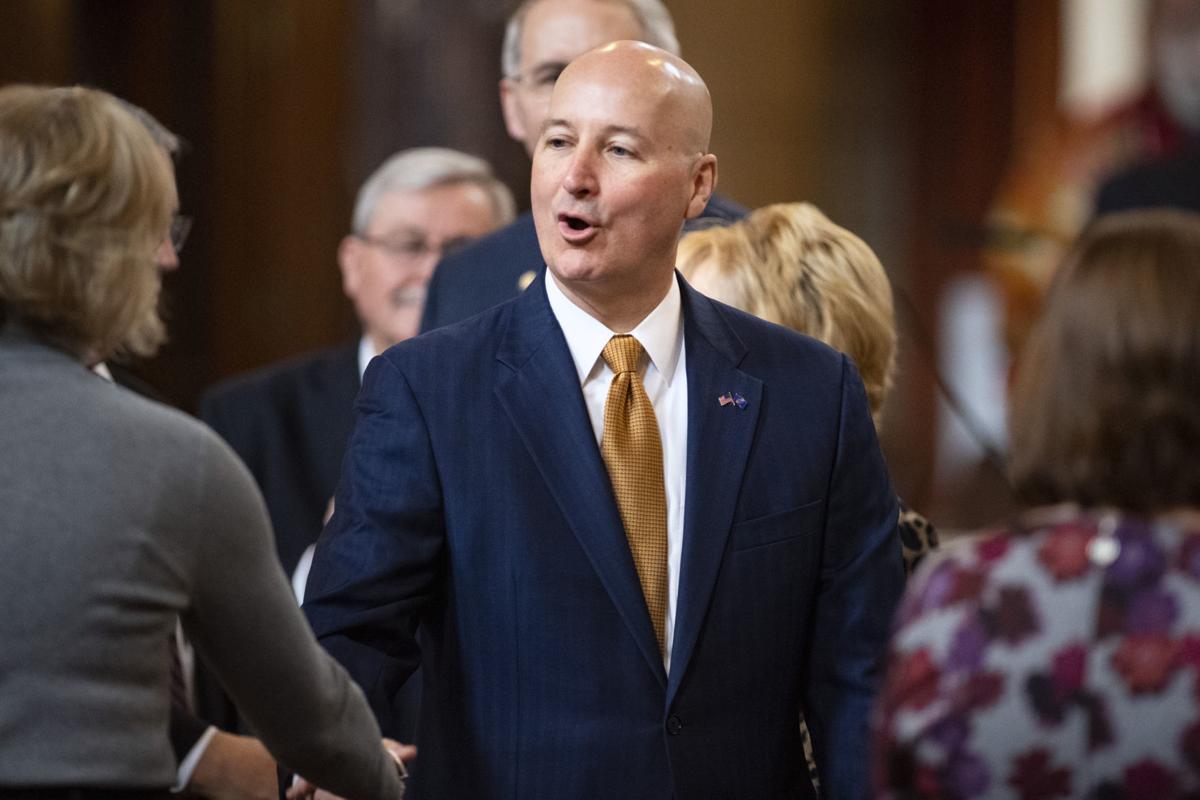 Gov. Pete Ricketts on Tuesday zeroed in on additional property tax relief and new workforce development initiatives, along with the need to continue to adhere to a frugal state budget, as he outlined his priorities at the launch of his second term.
In an essentially upbeat State of the State address to the Legislature, the governor unveiled a proposal to seek a vote of the people on a proposed constitutional amendment that would establish a 3 percent cap on the growth rate of local property taxes.
Ricketts repeated his determination to rule out any legislative tax reform proposal that would "raise taxes on one group of people to reduce taxes on another group."
And the governor cautioned senators to recognize that tax incentives are "an important tool for attracting new investments and jobs" as they begin to address proposed changes in Nebraska's business tax incentives program.
First lady Susanne Shore accompanied Ricketts and sat at the podium behind the governor during the 20-minute address, which prompted largely favorable or wait-and-see reactions from a number of state senators.
"He's setting some priorities to review," Appropriations Committee Chairman John Stinner of Gering said.  
"I like his determination to get spending under control," Revenue Committee Chairwoman Lou Ann Linehan of Elkhorn said.
But Sen. Steve Erdman of Bayard said "I'm a little surprised" by the proposed 3.1 percent increase in state spending, suggesting "that's a stretch," considering the economic challenges facing rural Nebraska. 
Ricketts' previously announced workforce development initiatives center on funding a new scholarship program to help community colleges, state colleges and the University of Nebraska attract students to fill needed positions in occupations ranging from engineering to health care.
Along with that initiative would come expansion of programs already connecting middle-school students to job opportunities that exist in manufacturing and information technology in the state.
Workforce development is "a top priority" in Nebraska today, Ricketts said.
"We have a low unemployment rate, a high labor force participating rate and lots of great jobs," he said.
You have free articles remaining.
Ricketts pointed to his 2019-2021 budget recommendations that would add 384 high-security beds to Nebraska's prison system as the next step on the long road toward corrections reform.
And he said his administration will continue to focus on efforts to "cut regulatory red tape" while working to "make state government more effective, more efficient and more customer-focused."
Among new government realignment proposals will be the merger of the Department of Environmental Quality and the Energy Office, along with consolidation of three safety-inspection programs.
Nebraska is "strong and growing," Ricketts told state senators and a balcony largely filled with invited guests and spectators, but "our No. 1 industry, agriculture, is grappling with low commodity prices" along with high property taxes.
"Since 2013, farm income in Nebraska has been cut by over 60 percent," he said.
"Property tax relief is the No. 1 priority Nebraskans want as I travel the state," the governor said.
During the past decade, he said, local property taxes have risen more than 57 percent.
Ricketts said he will partner with Linehan in proposing the constitutional amendment to establish a 3 percent cap on the growth of property taxes levied by local government while also recommending a $51 million hike in direct property tax reduction provided through the state's property tax credit relief fund.
The governor's accompanying budget proposal would continue to apply the brakes to the growth of state spending, with a 3.1 percent growth rate essentially adhering to his administration's 3 percent goal.
"A significant portion of this spending increase is attributable to Medicaid expansion and state aid to schools," Ricketts said. School aid would rise by $103.8 million to a total of $1.1 billion in annual state funding assistance.  
Following his speech, the governor headed west on a fly-around tour of the state to deliver his message at news conferences in Grand Island, North Platte and Scottsbluff.
Ricketts will hold similar events in Valentine on Wednesday and in Norfolk and Fremont on Thursday.
See photos from Gov. Ricketts' State of the State address: