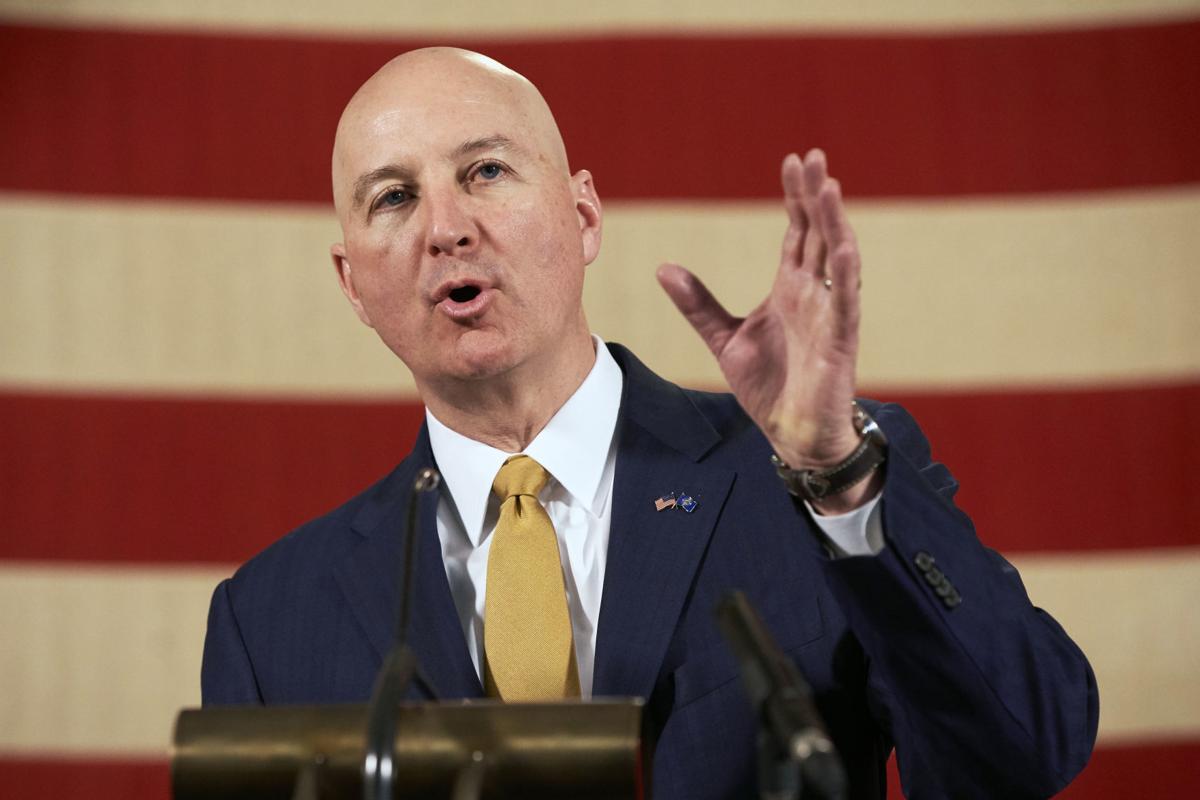 In a rare divergence of opinion from the views expressed by President Donald Trump, Gov. Pete Ricketts on Wednesday urged Nebraskans to take advantage of the opportunity to vote by mail in the May 12 primary election.
"It's a great way for people to be able to vote" at a time when Nebraskans confront the coronavirus pandemic threat, Ricketts said.
"I'd encourage people to take advantage of that," the governor said.
For the first time ever, early ballot request forms have been mailed to every registered voter in the state. Requests must be returned by May 1 in order to receive a ballot and be able to vote by mail.
Trump has been vigorously attacking the process of voting by mail, even though he did so himself while participating in a recent Florida election.
"Republicans should fight very hard when it comes to statewide mail-in voting," the president tweeted Wednesday morning.
"Democrats are clamoring for it. Tremendous potential for voter fraud, and for whatever reason, doesn't work out well for Republicans."
Taylor Gage, the governor's spokesman, later said there was no disagreement between Trump and Ricketts on the issue, noting that the president's opposition is to closing polls and handling all vote by mail.
"The governor has said we are not closing polls in Nebraska," Gage said.
Trump, however, said Tuesday: "I think mail-in voting is a terrible thing. I think if you vote, you should go."
For those Nebraskans who still want to cast their votes by going to the polls on Election Day, Secretary of State Bob Evnen, the state's chief election officer, has said steps are being taken to "assure that poll workers and voters are safe."
The issue of voting by mail was raised at Wednesday's daily coronavirus news briefing.
Meanwhile, ACLU of Nebraska urged that ballots with prepaid return envelopes be mailed to all registered voters, including those who have not yet returned a vote-by-mail application.
"We applauded the decision to get all registered voters a vote-by-mail application," said Danielle Conrad, ACLU of Nebraska's executive director. "But so much changes with this public health crisis every day.
"We can't know what the situation looks like next month."
With the threat of the virus likely to peak in Nebraska during the last week in April, Ricketts said, he would begin to consider reevaluating and perhaps relaxing some restrictions now in place in the state after that period, but only on a gradual basis.
"We would do it in phases (to) make sure we don't see a bounce-back by the virus," he said.
The governor's remarks came as the University of Washington's projection of coronavirus deaths in Nebraska has fallen from a recent high of 448 to 289. 
That projection by the university's Institute for Health Metrics and Evaluation prompted a cautionary response.
"It's a model," Ricketts said. "I want to see how this develops. We remain focused on what we're doing in Nebraska."
"Great," Dr. Gary Anthone, the state's chief medical officer, said in reaction to the updated projection. "I hope that's the case."
As of 8 p.m. Wednesday, the state reported 523 positive tests and 14 deaths, the latest involving a Madison County man about 70 years old with underlying health problems.
Lancaster County reported its first coronavirus-related death earlier Wednesday.
Later Wednesday, the state reported that another staff member and three youth at the Youth Rehabilitation and Treatment Center in Kearney had tested positive for the virus.
If relaxation of current restrictions is able to begin sometime in May, or later, Ricketts said it might begin with expansion of the statewide rule that no more than 10 people can gather together, perhaps moving that figure to 20 or 25.
At some point, if all goes well, restaurants and bars can be reopened for sit-down service, the governor said.
But, for now, Ricketts said, the state is focused on the expected rising tide of coronavirus cases this month and is pursuing more ventilators in the event they may be needed.
Jeff Kanger, executive vice president of First State Bank Nebraska, joined the governor at the briefing to report that 160 banks in the state are processing more than 7,000 applications for nearly $1.5 billion in loans authorized by the new Paycheck Protection Program managed by the Small Business Administration.
That program is designed to provide a direct incentive for small businesses to keep their workers on the payroll or rehire them during the current economic crisis.
The Small Business Administration will forgive loans if all employees are kept on the payroll for eight weeks and the money is used for payroll, rent, mortgage interest or utilities. 
The program is part of the vast economic stimulus package enacted by Congress in response to the pandemic.
Answering a question on a separate issue, Ricketts said "it's way too premature" to say whether the pandemic's emergency funding costs for state government will wipe out any chance for additional property tax relief this year.
The governor also declared Easter Sunday as a statewide day of prayer in Nebraska.