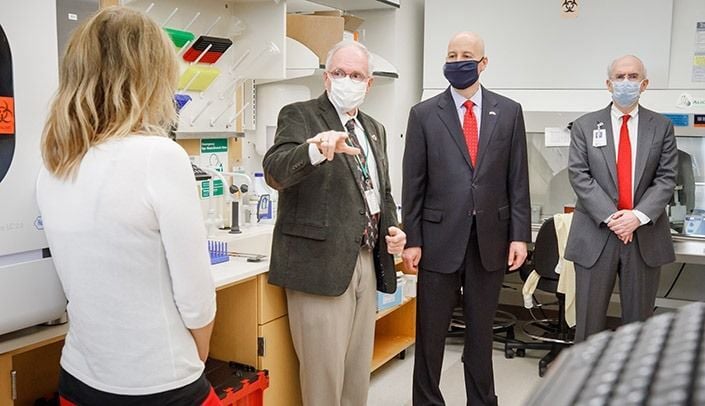 Gov. Pete Ricketts was challenged Monday during his monthly call-in radio show to mandate the wearing of masks in public to better protect Nebraskans from COVID-19 and apply the brakes to spread of the virus before it breaks loose as it has in other states.
"Wouldn't it make sense if everybody just wore a mask?" Ann in Lincoln told the governor.  
"If everybody wears a mask, you almost completely control the spread," she said.
Wearing a mask is "just one tool," along with social distancing and repeated hand-washing that's most effective in controlling the virus, Ricketts said, and "I think we get better compliance if you don't make it a mandate."
The governor said he has chosen instead to encourage Nebraskans to wear a mask when they go to the store or are in gatherings that make it difficult to maintain at least 6 feet of physical separation.
Ricketts said he is not going to "use the heavy hand of government to enforce it."
"It's not working," the caller responded.
But Ricketts pointed to declining coronavirus hospitalization numbers in Nebraska to argue that the state has been successful in slowing the spread of the virus while maintaining its ability to respond to any needs for hospital beds, intensive care unit beds and ventilators.
Fewer than 100 coronavirus patients are hospitalized in the state today, he said.
Ann pointed to New York City, where she said a mandate to wear masks essentially defeated the virus following an overwhelming outbreak with the result that the city is "doing fantastic now."
Ricketts noted that he also chose not to issue a stay-at-home or shelter-in-place order similar to directives that other governors have employed, suggesting that "we have taken a different approach (and) it has been very successful."
Before taking questions, the governor began the hour-long radio show by suggesting that "wearing a mask is a good idea."
And Ricketts urged Nebraskans to "continue to remember the virus is still out there" by adhering to social distancing. 
James of Blue Springs, who traditionally is the first caller to question the governor on the radio show, asked Ricketts if it might "make businesses more at ease in encouraging masks" if President Donald Trump would begin wearing a mask in public.
"Anytime a president can lead by example is a good thing," the governor said.
On another topic, Ricketts agreed with Teresa in Callaway that protesters who damaged property during recent demonstrations in Nebraska sparked by the police killing of George Floyd in Minneapolis should be held legally accountable.
"I agree with you 100% that all held for violating curfew or property damage should be prosecuted," he said. "A small group of people were not peaceful protesters."
See the top stories on coronavirus in Lincoln and Nebraska since the pandemic first affected the area in March.