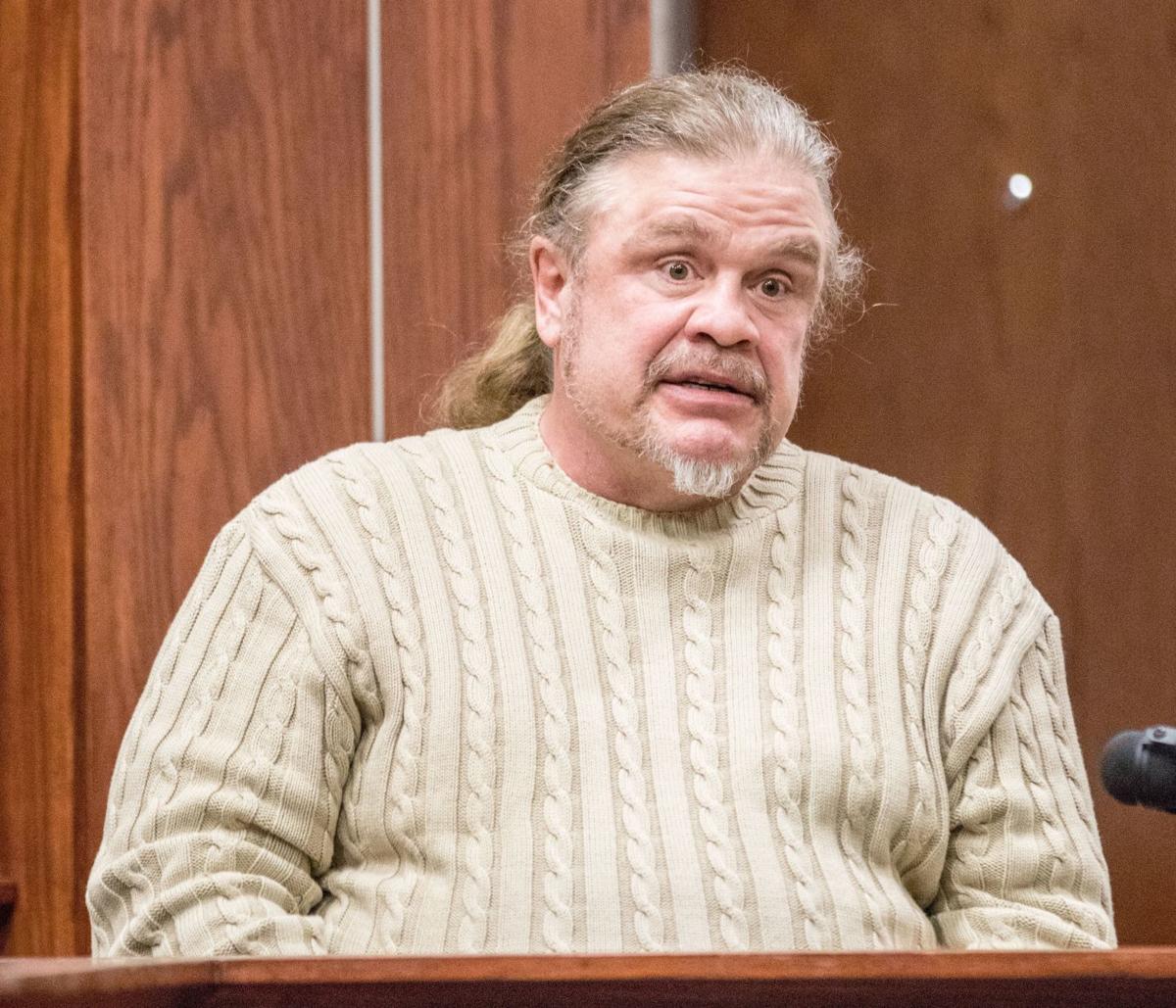 John Wizinsky said he remembered being in the mini-yard at the Tecumseh prison on Mother's Day 2015, after fire alarms sent him outside with the rest of the protective custody inmates in Unit 2C.
"There was something fixin' to go down," the Grand Island man said on the stand at his civil lawsuit against the state.
In it, he alleges he has PTSD from a beating he saw that day and that prison staff had left him without food or his diabetes medication for 18 hours.
Testifying on Tuesday, Wizinsky said inmates all knew prison gangs had "contracts out" for people in the unit separated from the general population for their protection.
On May 10, 2015, in the yard, no longer kept apart and without guards around, they gathered and clicked together, he said.
At 6-foot-2 and 275 pounds, Wizinsky said he felt he could protect himself. But after he stepped in to help a man who was being beaten by inmates with a piece from a pop machine, he knew he had broken the "code."
"It was chaotic," he said, trailing off, bouncing his hand on his knee, taking a deep breath.
Wizinsky said he saw inmates lighting a laundry cart on fire and trying to melt the windows to get inside. "All you sex offenders are going to die," he remembered one inmate yelling.
Smoke from plastic melting made his throat hurt, he said.
He had been in prison before in Arizona and had experienced three riots previously. But none like this, he said.
"This went on for hours," Wizinsky said. "You didn't know if you were coming or going."
He said he's had nightmares and panic attacks since.
You have free articles remaining.
But Assistant Nebraska Attorney General Stephanie Caldwell pointed out that Wizinsky had PTSD, had planned to apply for disability and had complained about problems sleeping all before May 10, 2015.
She asked if he remembered passing the time in a cell playing pinochle. Wizinsky said he did for a half an hour or 45 minutes, when he was feeling faint because he hadn't eaten.
In an opening statement, his lawyer, Joy Shiffermiller, pointed to staffing issues at the Tecumseh prison — and the fact that the state continued to house inmates there — as evidence of the state's negligence.
And, she said, prison staff had some knowledge they may riot.
"At the shift change they discussed that there had been an uprising at the State Pen and those inmates were now at Tecumseh and it was likely that something bad was going to happen," Shiffermiller said.
But Caldwell called the assertion that officials knew a riot was going to take place and did nothing "absolutely false."
"Even in the most effectively operated prisons, incidents, disturbances and riots do occur," she said. 
Caldwell said on May 10, 2015, Tecumseh State Correctional Institute experienced a large inmate disturbance, a riot, of a magnitude that Nebraska had never seen. 
The Mother's Day riot involved more than 400 inmates, lasted 11 hours and left two inmates, Shon Collins and Donald Peacock, dead. To date, no one has been charged in their killings.
"It was chaos by rioting inmates," Caldwell said.
But, she argued, the Department of Correctional Services responded in a "consistent and competent manner" while ensuring the safety and security of inmates, staff and the general public.
In the end, it will be for Lancaster County District Judge Kevin McManaman to decide if the evidence showed more likely than not there was some negligence on the state's behalf for the riot or leading up to it.
The trial continues Wednesday.
Wizinsky's first trial, in November, ended in a mistrial after Judge John Colborn recused himself because of his involvement in justice reform and knowledge of the state's prison overcrowding issues.