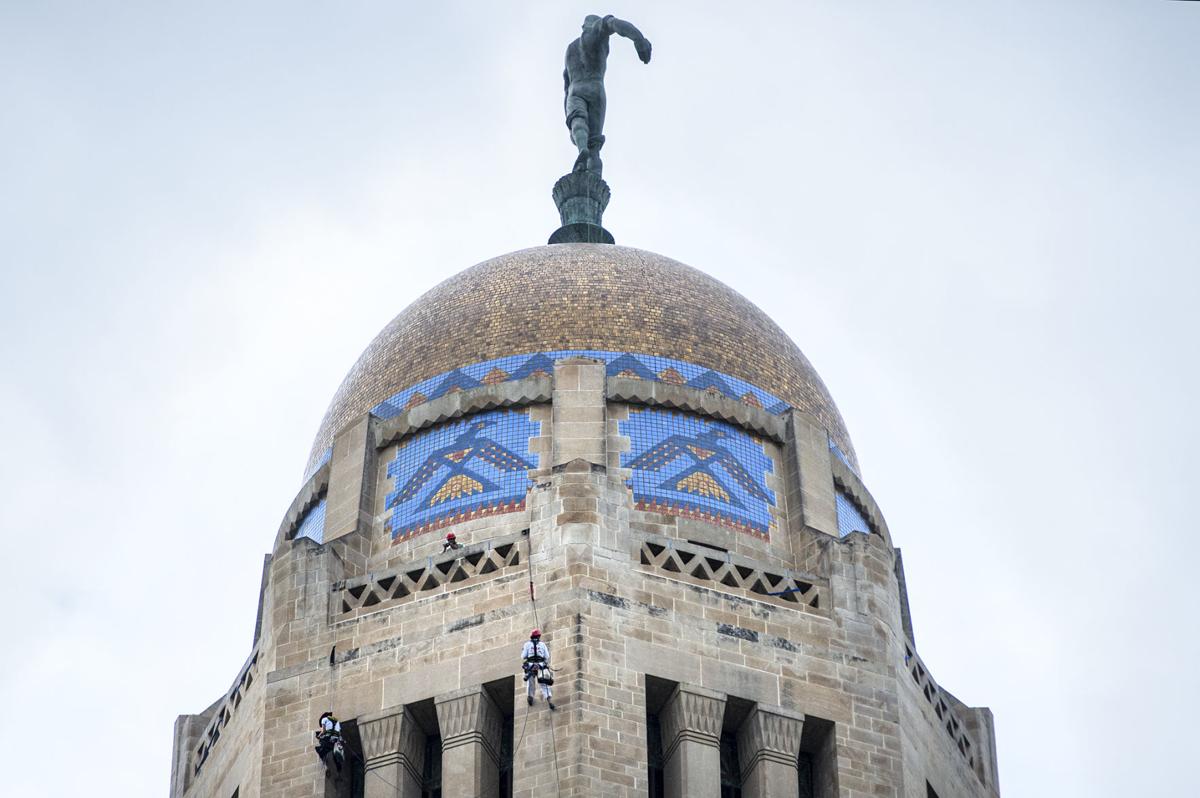 They came. They climbed. They rappelled down the dome and tower of the state Capitol. They inspected, recorded, reported. 
And two of those seen high up on the dome last week were set to catch a plane back to New York on Saturday to get out of the Nebraska heat and on to their next jobs, where temperatures are cooling down. 
For Kelly Streeter, partner in Vertical Access of Ithaca, New York, the next rappelling and inspections would be for the New York Times Building in New York. For Kristen Olson, architectural historian with the company, it would be a domed New York county courthouse.
The two women were half of a team that braved the heat last week to complete a visual inspection of limestone and tiles from the 18th floor to the third floor. The others did water testing.
Vertical Access is a specialized consulting firm offering inspection, investigation and documentation services for buildings, bridges, dams, lighthouses, towers, smokestacks, monuments and sculptures.
The Capitol completed a major external restoration in 2011, said Julie Cawby, historical architect with BVH Architecture, and it was time to see if those prior repairs were still intact and that no other conditions had developed that couldn't be seen from the ground. Learning about any problems early allows those maintaining the building to get ahead of them, she said. 
"It's in very good shape for a building of its age," Streeter said. 
Olson, 37, has been rappelling and inspecting for the company for about six years.
Streeter, 44, got a degree in structural engineering at Cornell University in Ithaca and taught rock climbing. She met the founder of Vertical Access at the right time, and it changed the course of her life, she said.
You have free articles remaining.
Streeter said it's easier to learn the ropes than the building science. Industrial rope access is how they get to the work, not what they actually do.
While many people look at the inspectors so far up and think of the danger, Streeter said the height is normally not what they worry about because the rappelling is so controlled. The primary concerns last week were the heat and the resident peregrine falcons — Ally and 19/K.
For months before arriving in Lincoln, they monitored whether the two falcons were going to lay eggs and then how long they would be on the nest.
"They are so insanely aggressive when they have babies or eggs that we have had to back off multiple projects throughout the country because of nesting peregrines," Streeter said. "They will dive-bomb you. And they can get up to 240 miles per hour. And their claws. It's really dangerous."
Their closest call was on a building in Detroit, where Streeter went down six to eight floors as fast as she would ever want to go when threatened by a dive-bombing bird. Going fast presents its own danger, because the equipment they use can heat the rope. When she got down, she had to get back up to the 15th floor fast and pull in Olson through a window. That, she said, was the end of that project.
They laughed about being up on the 18th floor of the Capitol on Thursday and seeing a shadow pass over them. They ducked, only to see it was a large butterfly.
Nine people work for the company doing the rope access, they said, and they are right now the only women. But a lot of women are in the business, enough that they have a Facebook page, Women in Rope Access, with 4,900 followers. 
There are more women in historic preservation jobs, Olson said, but women are also doing rope access jobs on oil rigs and wind farms and other arenas in which it's more of a boys club. People are sometimes surprised that they aren't single, that they have families. Streeter has three children. Olson also has a child.
The attitudes about women in traditionally male jobs are still challenging, Streeter said.
"It takes a while to change that mindset."