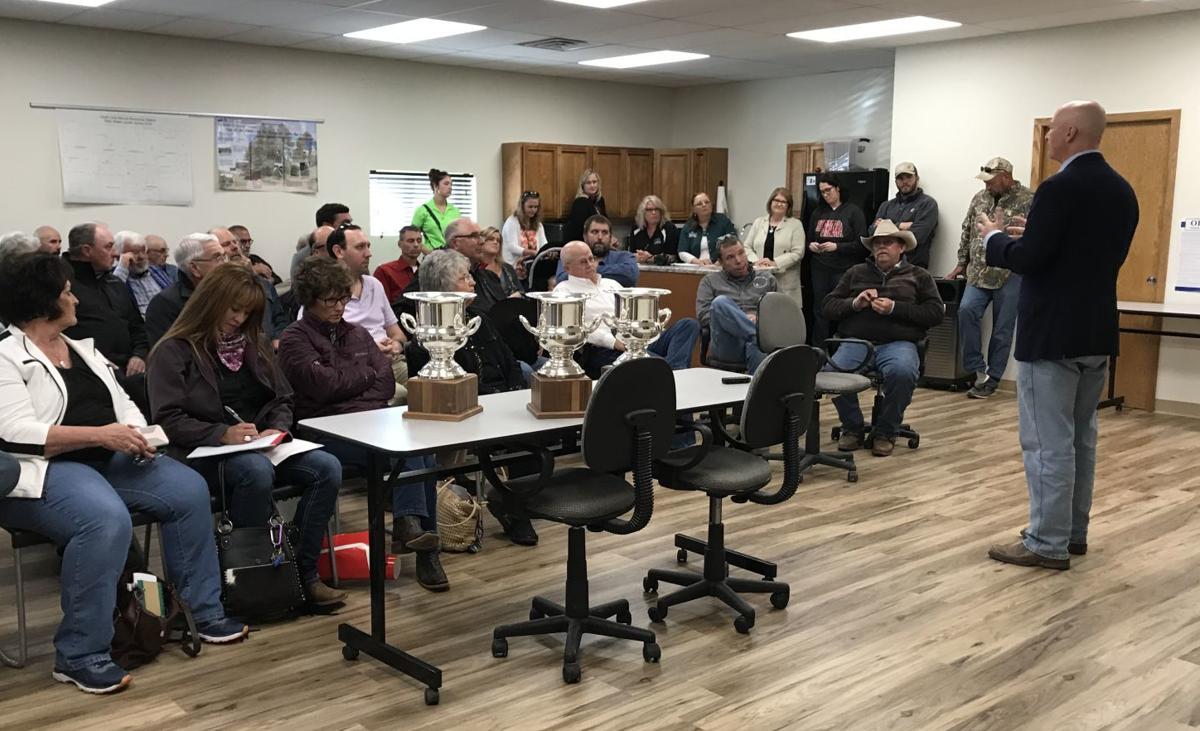 THEDFORD -- A Sandhills rancher told Gov. Pete Ricketts this week that the state's leader would have a hard time convincing western Nebraska taxpayers not to sign petitions that would provide landowners with a state income tax credit equal to 35% of their annual property tax bill.
"We need immediate relief, not over five or six or eight years," said Dr. Brent Steffen, a Kearney surgeon who ranches near Thedford. "The ag sector is languishing and we're paying, not excessive taxes, oppressive taxes."
Ricketts tried anyway, warning that the Legislature's solution to a big tax rebate would be more taxes.
"The thing I caution you about is that 35% has got to come from somewhere, $1.5 billion," he said. "Like I said, the easiest thing for the Legislature to do is raise taxes."
That could mean, he said, sales tax exemptions on such things as cattle sales, farm equipment and machinery would disappear.
"Those are the kind of big ticket items that the Legislature will find easy to tax, because, you know, they're easy to tax," he said. "The math of the Legislature is there's more urban senators than rural senators."
There are senators, he told them, that are absolutely opposed to tax relief. They don't want to give that money up because they have different plans for how they want to spend it.  
Ricketts, dressed in jeans and a sports coat, was holding a town hall meeting in Thedford, a four-hour drive northwest from Lincoln. He talked for a half an hour about his efforts to increase business in the state, and to run government more like a business. He talked property tax reductions and his efforts to promote state products outside this country.
He then answered questions for about a half an hour more for the nearly 70 people gathered in the Upper Loup Natural Resources District office building. Many of them were there to talk about their opposition to big wind farms and an NPPD transmission line to be built through the delicate Sandhills.
As for the petition, the 35% tax rebate would cost the state an estimated $1.5 billion in 2021, nearly one-third of its entire general-fund budget.
Steffen told Ricketts the state's Property Tax Credit Fund, which the Legislature has added money to each year in recent budgets, is not the immediate, substantive relief that is needed. This year, the Legislature increased the Property Tax Credit Fund to a total of $275 million a year.
Ricketts said he understands the Property Tax Credit Fund is not an answer by itself. Bigger solutions were proposed in the 2019 session of the Legislature, he said, but it could not get them done this year.
He is working with the Legislature, he said, meeting with Revenue Chairwoman Lou Ann Linehan, members of the Revenue Committee individually and as a group.
"I'm trying to get a program for next year that we can all agree on to hopefully get those 33 votes to get something passed in the Legislature and make progress on this issue.
"We're not going to get it all done in one year. We didn't get here overnight and we're not going to get out of it overnight," he said. "But we've got to start passing bills that make sense and make progress."