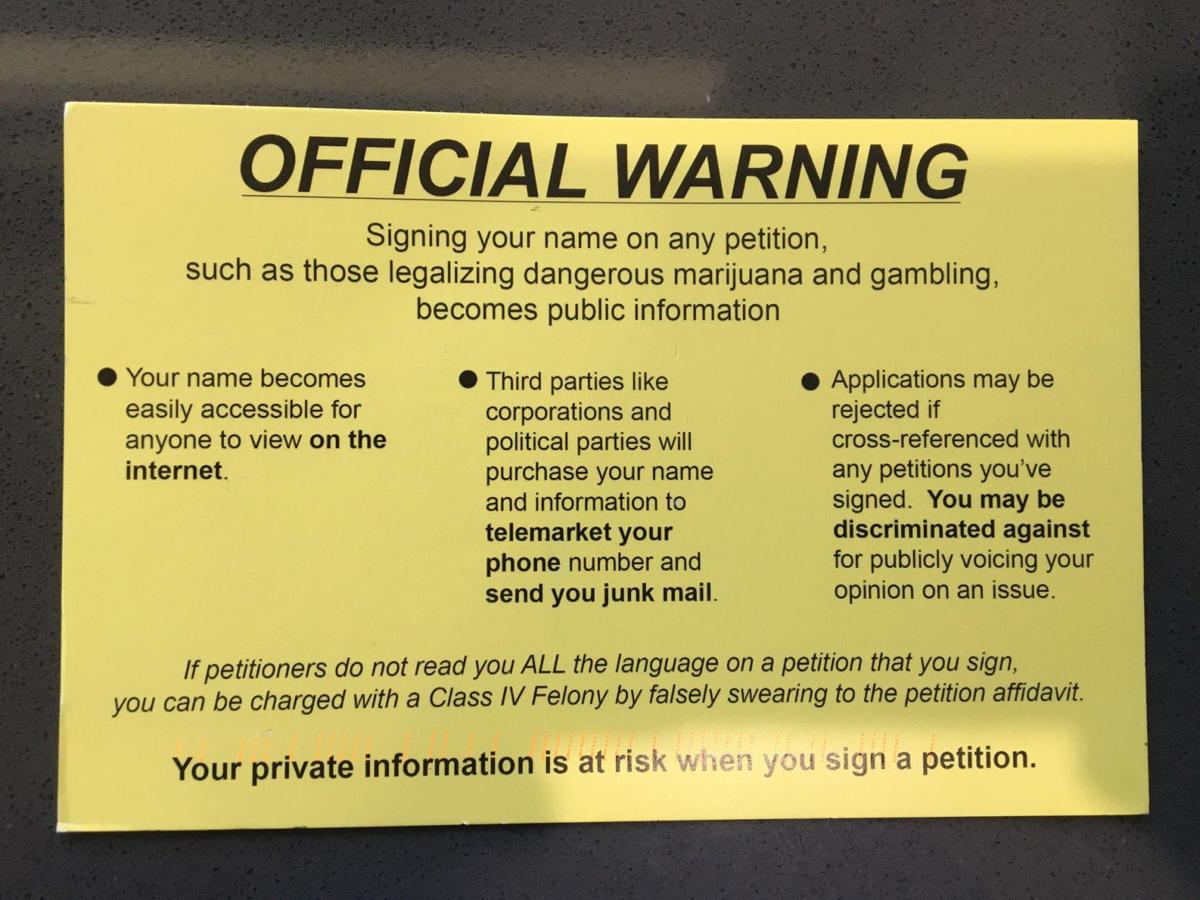 The mailed card some Nebraska voters are receiving across the state says: OFFICIAL WARNING. 
But it's unclear who the "official" is issuing the official warning. The smallest print on the mailer says it's the Alliance For The Pure Life, with a post office box in Norfolk. 
The group, which doesn't appear to have a presence on the internet, and doesn't yet have a filing with the Nebraska Accountability and Disclosure Commission, is warning voters that if they sign any petition, "such as those legalizing dangerous marijuana and gambling," their private information is at risk. 
"This is a common scare tactic in valid issue campaigns," said Lincoln Sen. Adam Morfeld, who is a sponsor of a medical cannabis initiative petition. "People should be able to exercise their right to petition." 
There are six petitions in circulation besides the medical cannabis petition, including such issues as property tax relief and games of chance. 
The mailer also warns that signers could be charged with a felony if petitioners don't read all the language on a petition. 
Morfeld said there are serious consequences for petition circulators who don't read the object statement, which is why they are trained to always do that. 
"We take that very seriously," he said. 
Saying that a signer will be charged with a felony if the circulator doesn't read the statement is a mischaracterization of the law and a scare tactic, he said. 
Nebraska Secretary of State Bob Evnen said if a petition signer gives someone else's name or address, they are going to be in trouble. 
"That's the most significant thing for someone who's asked to sign," Evnen said. 
The requirement that the language of the petition be read to the signer is the circulator's obligation, he said. He's not aware of any investigation, charge or prosecution of anyone who has signed a petition. 
The statement on the mailed postcard that says the signer can be charged with a crime if the circulator doesn't read all the language is incorrect, he said. 
Morfeld said the reason these types of scare tactics are being sent out is that petition issues such as medical marijuana are popular and likely to pass once they get on the ballot. 
The cards also tell voters that if they sign a petition, their names become accessible on the internet, and corporations and political parties can purchase the names and use them to send telemarketing messages to phones and via junk mail. 
Morfeld said for a person's signature to be valid they must be a registered voter, and voter registration cards generally contain more public information than a petition signature. And voter registration information is already available and used by corporations and political parties.
"It's a dishonest scare tactic," he said.
The mailings are fairly widespread in Nebraska, based on the people from a number of locations who are sending him photos of the cards, he said. The mailings are enough, he believes, that they should trigger filings with the Accountability and Disclosure Commission. 
This happens in other states that have petitions, also, he said. California voters got mailings, for example, warning them of the risk of identity theft if they signed petitions. That was aimed at a pension reform ballot measure being circulated by conservatives, and privacy experts discounted that risk.
The medical cannabis signature collectors have not seen any impact from the Nebraska mailings, Morfeld said. 
"So we're going to continue to do what we do, collecting signatures, educating the public, and we're going to get on the ballot and we're going to get it passed in 2020," he said.
Morfeld said he believes enough signatures will be collected by the spring or early summer.
Nebraskans for Sensible Marijuana Laws hopes to have paid circulators collecting signatures soon, he said. Right now, the group only has a paid volunteer coordinator. 
Get Government & Politics updates in your inbox!
Stay up-to-date on the latest in local and national government and political topics with our newsletter.