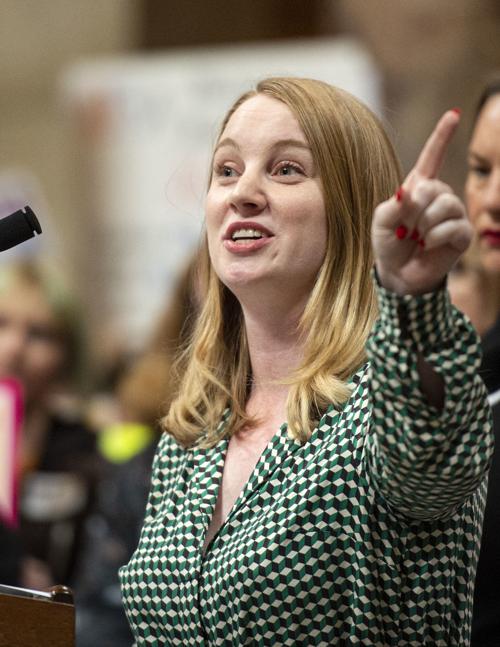 An Omaha senator who opposed a bill passed in the 2019 session requiring the Department of Health and Human Services to offer women information on medication abortion reversal says she will introduce legislation in January to repeal the bill. 
That's based on results of a recent trial reported in "Obstetrics and Gynecology," the official publication of the American College of Obstetricians and Gynecologists. The trial was stopped after five months because of safety concerns of participants. 
"We have to trust doctors and patients to make decisions," said Sen. Megan Hunt, who opposed the bill (LB209). "And we can't let politicians get in the business of telling patients what's best for them. Especially when that's not backed by science, (or) backed by evidence."
Sen. Joni Albrecht of Thurston, who sponsored the bill, said in a statement that an attack on LB209 is an attack on a woman's right to be informed and a mother's right to choose life.
"I am proud that Nebraska passed this law, and I know that we will uphold this law that gives women a second chance at choice," she said. 
She did not address the results of the trial, conducted by Dr. Mitchell Creinin of the University of California, Davis, and others.  
Hunt said the study was conducted this year by reputable scientists and researchers. The randomized controlled trial sought to determine the effectiveness and safety of giving pregnant patients high doses of oral progesterone after a dose of mifepristone, the first pill in a medication abortion. The so-called abortion reversal is intended to reverse the effects of the drug if women change their minds about proceeding with the second pill, misoprostol, to end a pregnancy. 
The trial subjects were at 44 to 63 days of gestation with an ultrasound-confirmed fetal heartbeat who were planning surgical abortion 14 to 16 days after enrollment in the trial.
The "Obstetrics and Gynecology" article, published this month, said the trial was stopped early because of the finding that patients who use only the mifepristone may be at high risk of significant bleeding. 
In fact, three of 12 patients had severe hemorrhage requiring ambulance transport to a hospital, researchers said. One had received progesterone and two had been given a placebo. One of the two who got a placebo required a blood transfusion.
You have free articles remaining.
"We halted enrollment after the third hemorrhage. No other significant side effects were reported," the researchers reported.
It's not that medical abortion is dangerous, Creinin was reported as saying in an NPR article Thursday.
"It's not completing the regimen, and encouraging women, leading them to believe that not finishing the regimen is safe. That's really dangerous," he said.
The Nebraska bill was passed the day before the Legislature adjourned sine die after long hours of debate and on a 36-11 vote. Gov. Pete Ricketts then signed it into law. 
As required by the law, Nebraska HHS put a statement on its website with information about the possibility of a viable pregnancy after taking mifepristone. It says: 
"Research indicates that mifepristone alone is not always effective at ending a pregnancy. You may still have a viable pregnancy after taking mifepristone. If you change your mind and want to continue your pregnancy after taking mifepristone, it may not be too late.
If you have taken a dose of mifepristone and are having second thoughts, the following resources are available to you to help you find medical assistance:
Abortion pill reversal hotline*: (877) 558-0333."
The phone number is to the Option Line sponsored by Heartbeat International, a anti-abortion, pregnancy help organization. The hotline gives the contact information of someone seeking abortion reversal to an on-call nurse, who will then call the person back to tell them about the process and where to go to stop the abortion. 
The nurse who is in charge of the abortion pill reversal did not immediately return a call on Friday seeking comment on the "Obstetrics and Gynecology" trial report.