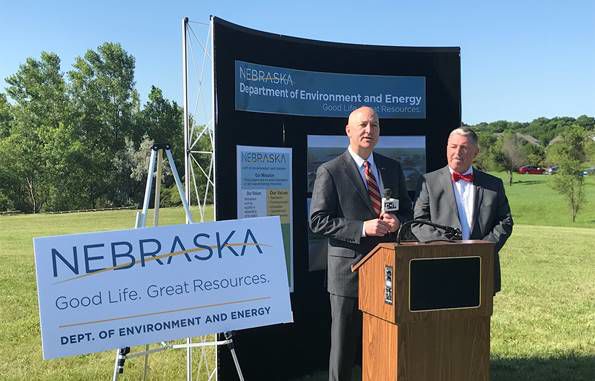 The state agency with a new name also will have a new home.
Gov. Pete Ricketts on Monday announced the Nebraska Department of Environmental Quality and the Nebraska Energy Office will merge into one agency, the Department of Environment and Energy, as of July 1.
The Legislature had approved the merger in March.
Ricketts said the two agencies have a number of related functions and combining them will not only make state government more efficient but also enhance the services provided to residents.
Jim Macy, who has led the Department of Environmental Quality for four years and has been interim director of the Energy Office for several months, will be the director of the newly combined department.
The governor was joined Monday by Macy in making the announcement at the site of what will be the department's new home in the Fallbrook development at U.S. 34 and First Street in northwest Lincoln.
Nebco said Monday that it has broken ground on a new two-story, 135,000-square-foot office building, of which the new department will lease about 60% of the space. The remaining space in the building will be available for other tenants to rent.
"We welcome the new Nebraska Department of Environment and Energy to Fallbrook," Nebco Chairman Jim Abel said in a news release. "We share a common vision of environmental stewardship and energy conservation."
The new building should be open in about a year. Ricketts said having all employees in one location will save money, while the new location will also provide room for future expansion.
According to a Capital Facilities Plan released earlier this year, The Department of Environmental Quality has 217 employees but is expected to grow to 245 within five years. The Energy Office has 20 employees, a number that is not expected to change.