John R. Freudenberg was enrobed as the newest Nebraska Supreme Court justice Friday, and to mark the occasion and prepare him for his appointment, colleague and county court judge Russell W. Harford offered him an unusual gift: a packet of instant mashed potatoes.
After explaining Freudenberg's affinity for mashed potatoes, Harford said the newly appointed justice would be able to focus on cases better with his preferred side dish.
"It's my understanding when you do consultations, talking about cases and how to decide these complex legal cases, there's times that the consultation runs into the noon hour," he said. "I can assure you that you will get better attention from John … if he has mashed potatoes with his pizza."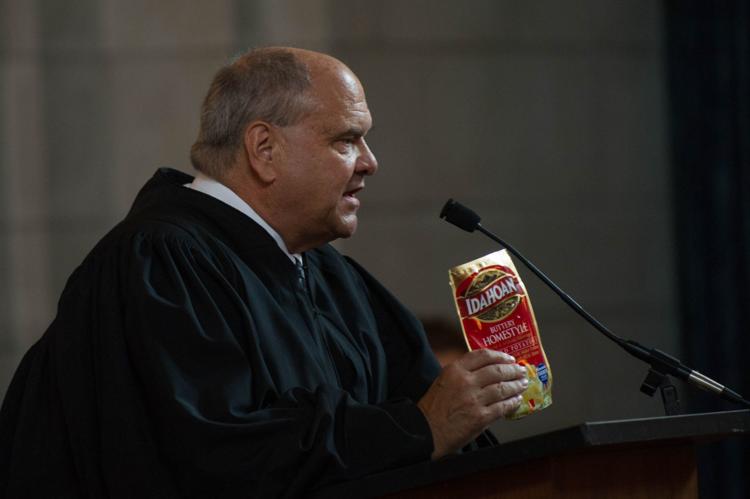 Harford was one of two county court judges to offer remarks at Friday's investiture ceremony for Freudenberg, who became the newest Nebraska Supreme Court justice after 14 months as a county court judge in Lancaster County.
Before his judgeship, Freudenberg was a special assistant to the criminal bureau chief at the Nebraska Attorney General's Office for a decade.
He also has a background in rural Nebraska, obtaining his bachelor's degree at Chadron State College and serving as an attorney in northwest Nebraska.
Harford said Freudenberg's example will hopefully help bolster representation of lawyers in rural Nebraska.
"There aren't many lawyers in rural areas of the state — some counties don't have lawyers, some counties only have one or two lawyers — and … I know it's a concern for our association for a number of years," he said. "John's appointment to the Supreme Court I think, hopefully, will help change that."
A statewide initiative, the Rural Legal Opportunities Program, also aims to add to the ranks of rural lawyers by waiving undergraduate tuition at state colleges and universities and offering guaranteed placement at the University of Nebraska College of Law for students who score well on admissions tests, Harford said.
"I think (Freudenberg's) appointment will help ensure that there are students who want to participate in (the initiative), that if they have aspirations … to be judges or Supreme Court justices, they'll still have that opportunity even though they choose or feel obligated to practice law in a rural area of the state," Harford said. "John is a fine example of how to keep students in that program."
Freudenberg said as he looked around the Warner Chamber at the state Capitol, his family and friends in attendance represented a history of his life.
"It's because of all of you and your support and all you've provided me that I got through those years," he said.
He thanked his family — wife Connie and their five children — who joined in enrobing him.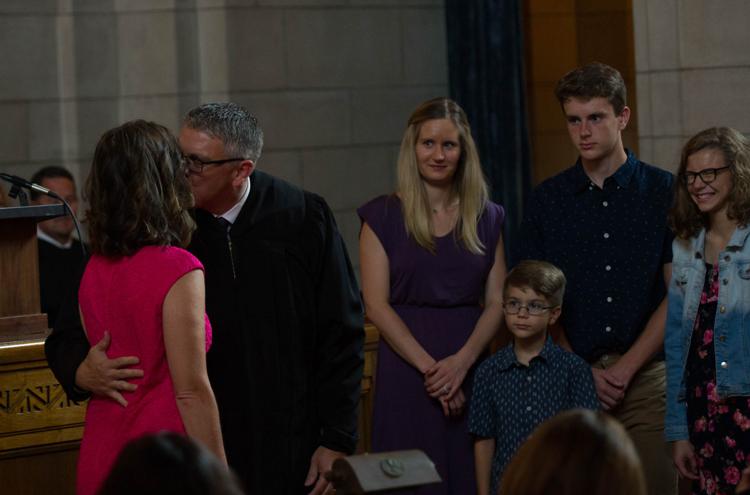 "Every hare-brained idea I had, every opportunity I decided to pursue over the last 20-plus years, she's been there with me," he said of his wife. "I wouldn't be here without her and I don't thank her enough.
"I want to thank my children, the fabulous five; they are my life's biggest source of joy."
Freudenberg also thanked his parents, extended family and the Supreme Court justices. He said Justice John F. Wright, the justice whose seat he was filling, left a large legacy for him to follow.
"He was a tremendous judge," he said. "He set a high standard for me to pursue. I'm incredibly excited and humbled to now follow in those footsteps. I assure everyone that I will do my best to fill the expectations that you have in me to do this job."
Harford said he believed Freudenberg would be a good justice because of the respect he's shown to everyone from opposing attorneys to witnesses throughout his career.
"I have my own nickname for John: 'Fair Shake' Freudenberg," he said. "In the nine years being in the courtroom … he always treated everyone with dignity and respect."