Nebraska Attorney General Doug Peterson joined 23 other attorneys general Thursday in warning President Joe Biden to drop his proposed mandate of COVID-19 vaccinations for private-sector workers, or risk a lawsuit.
The warning came four days after Gov. Pete Ricketts got a loud ovation at his annual steak fry after saying that he was working with other governors and attorneys general on a strategy to attack "the egregious overreach" of Biden's vaccine mandate.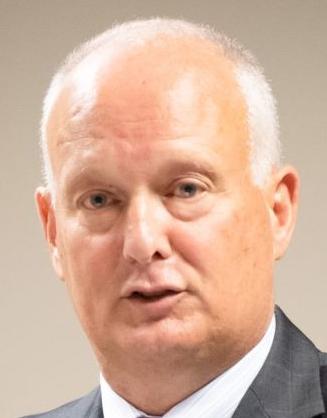 A seven-page letter from the coalition of Republican attorneys general, led by Attorney General Alan Wilson of South Carolina, calls the president's mandate "illegal" and says it is likely to increase skepticism about the vaccines.
"Your plan is disastrous and counterproductive," it says. "From a policy perspective, this edict is unlikely to win hearts and minds ... "
Peterson did not comment in a press release from his office announcing the threatened lawsuit.
Earlier this month, Biden proposed a mandate that could affect up to 100 million private-sector workers. He billed the mandate, which would be enacted through an emergency rule from the Occupational Safety and Health Administration, as part of an all-out effort to curb the surging delta variant and slow a pandemic that he has described as one of the "unvaccinated."
The mandate would require health care workers, federal contractors and employees of companies with more than 100 workers to get a COVID-19 shot, submit to weekly testing or be fired. The Pentagon has also ordered all active-duty members of the military to get the shots.
The attorneys general, in their letter, outlined their legal and policy concerns. They said courts have been "highly skeptical" of OSHA emergency temporary standards. Seven of the 10 issued in recent decades have been challenged, and the courts upheld only one of the standards, with another yet to be decided, they wrote.
"Your vaccine mandate represents not only a threat to individual liberty, but a public health disaster that will displace vulnerable workers and exacerbate a nationwide hospital staffing crisis, with severe consequences for all Americans," the attorneys general wrote.
In lieu of vaccine or weekly testing requirements, the AGs proposed that some companies could have employees work remotely, rather than report in person. They added that a mandate ignores that tens of millions of Americans have attained natural immunity after recovering from the virus.
The emergency OSHA rule would last six months, after which it must be replaced by a permanent measure. Employers that don't comply could face penalties of up to $13,600 per violation.
Once the rule is out, it would take effect in 29 states where OSHA has jurisdiction, according to a primer by the law firm Fisher Phillips. Other states like California and North Carolina that have their own federally approved workplace safety agencies would have up to 30 days to adopt equivalent measures.
Besides Nebraska and South Carolina, other attorneys general signing the letter were from Alabama, Alaska, Arizona, Arkansas, Florida, Georgia, Indiana, Kansas, Kentucky, Louisiana, Mississippi, Missouri, Montana, New Hampshire, North Dakota, Ohio, Oklahoma, South Dakota, Texas, Utah, West Virginia and Wyoming.
This report includes material from The Associated Press.