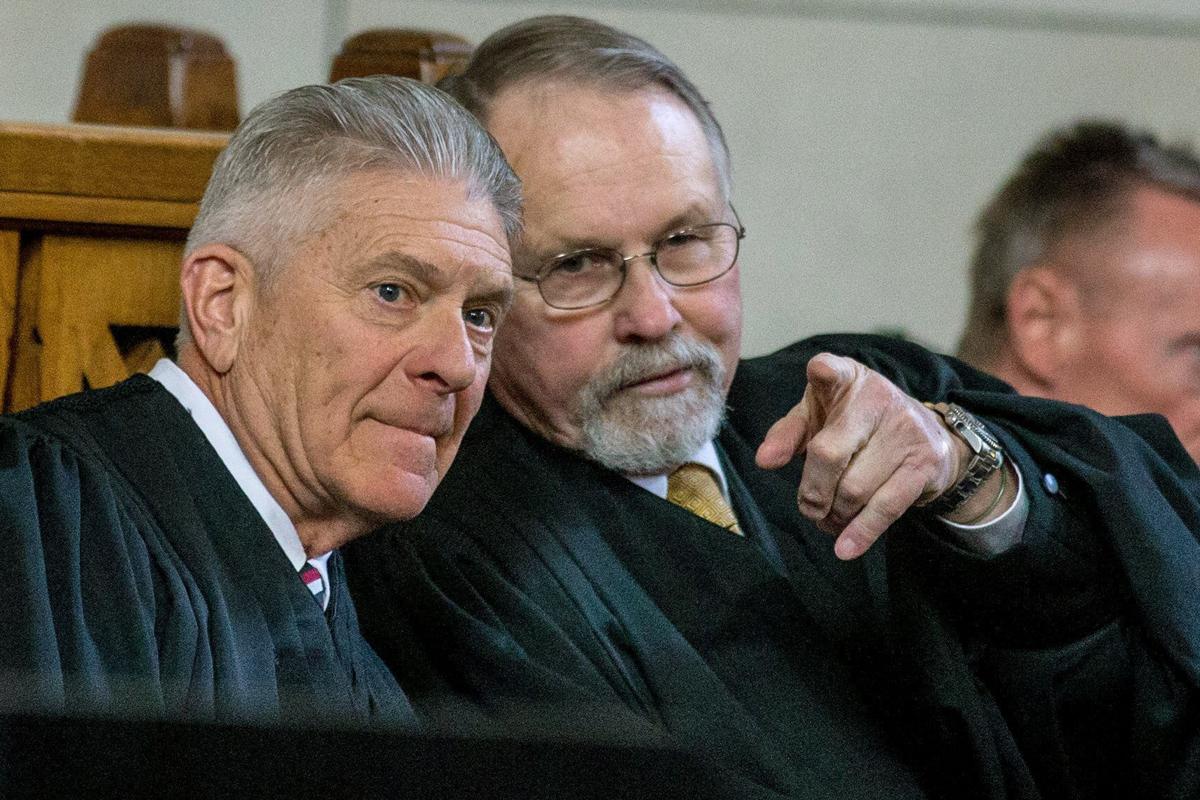 Colleagues and friends of Nebraska Supreme Court Justice John Wright remembered him Monday for his years on the bench, his inquisitive mind and ability to cut through legalese and focus on issues.
He died Sunday at age 72 following a lengthy illness.
"He was a much-loved member of the Supreme Court and the Court of Appeals. His loss leaves a great void as our longest-serving (24 years), most experienced member of the bench," Chief Justice Mike Heavican said in a news release Monday.
Heavican said justices were deeply saddened by the news of Wright's death.
Wright had served on the state's highest court since 1994, and was on the Court of Appeals for three years before that. He was in private practice in Scottsbluff for 21 years before being named to the newly formed appellate court along with eventual Justice William Connolly.
Connolly, Wright's longtime colleague and friend who retired from the Supreme Court in 2016, on Monday remembered Wright for his quick wit, dry sense of humor and inquisitive mind.
"He had the ability to find the flashpoint in an appeal, and he could quickly separate the legalese from the real issues," he said.
And once Wright made up his mind after deliberation and discussion, there was no moving him, Connolly said.
Wright, a biology major as an undergraduate who played on the Husker baseball team, grasped early the nuances of DNA, had a good, legal mind and was one of the first to dissent with the majority that malice was a necessary element on a second-degree murder charge, Connolly said. (The majority eventually agreed with Wright.)
But he also was a great conversationalist, who could just as quickly tell you how to shingle a roof, pour concrete or hit the bases to get home quickest. And he liked fly-fishing.
"He was just an excellent judge and a better human being," Connolly said.
You have free articles remaining.
The court is going to miss Wright for his institutional knowledge and legal knowledge, he said.
Lincoln attorney Vince Powers called Wright "a fair-minded, courteous, conscientious jurist who asked questions at oral argument which went to the heart of your case."
"His breadth of knowledge and common sense will be missed by the practicing lawyers and the public to whom he dedicated so many years as both an appellate and Supreme Court judge," he said.
Wright was one of the last remaining members of the state's highest court who was appointed by then-Gov. Ben Nelson, a Democrat.
Only one Nelson appointee remains on the Supreme Court, Justice Lindsey Miller-Lerman of Omaha.
The rest were appointed either by former Gov. Dave Heineman or current Gov. Pete Ricketts, both Republicans.
Wright's death means Ricketts will have made five appointments to the seven-member Nebraska Supreme Court since becoming governor in 2015. He's currently considering four candidates to replace Max Kelch, who was also appointed by Ricketts, but resigned after two years on the bench.
In a news release, Ricketts said he and his family send their thoughts and prayers to the Wright family as it mourns his passing.
"Justice Wright served the people of Nebraska honorably throughout his tenure. He courageously battled illness in recent years as he continued to serve," he said.
Nebraska Attorney General Doug Peterson said Wright made major, positive contributions to the law and to the Nebraska judicial system.
He was a pioneer in making the Nebraska Court of Appeals a success in eliminating the past problem of long delays by Nebraska's appellate courts and, on the Supreme Court "helped solidify our Supreme Court as a deliberative body that has made prompt and well-reasoned decisions."
A service is planned Thursday at 2 p.m. at First-Plymouth Church, 2000 D St.
Wright is survived by his wife, Debbie, and four children.