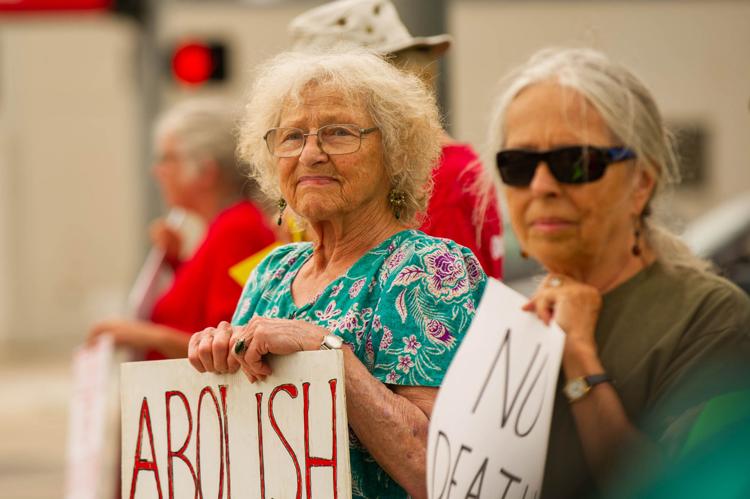 Barring any successful last-minute appeals to try to stop his execution, 60-year-old Carey Dean Moore will be put to death by the state of Nebraska at 10 a.m. Tuesday.
The execution will take place at the Nebraska State Penitentiary in Lincoln.
It will be Nebraska's first execution in more than 20 years, the first since the state retained the death penalty over the Legislature's wishes and the first to be done by lethal injection.
In 2016, the state's voters overwhelmingly supported reinstatement of the death penalty after the Legislature had voted to abolish capital punishment in the state.
The combination of drugs for Tuesday's execution has never been used to put a person to death, and three of the drugs -- diazepam, fentanyl and cisatracurium -- have never been used as part of an execution protocol. The fourth drug, potassium chloride, has been challenged as having the potential to cause serious pain for the inmate.
Moore has not fought the execution, but two drug companies have objected in federal court to any use of their drugs as part of the lethal injection protocol. One of those complaints has been rejected by two federal courts, and one is pending, but won't be addressed in time to delay the execution.
The ACLU asked the Nebraska Supreme Court on Monday to delay the execution until the courts rule on a lawsuit filed on behalf of eight death row inmates.
Some reminders about the day:
* The weather forecast includes a high probability of showers and possibly a thunderstorm in Lincoln.  
* A prisons spokeswoman said "appropriate attention" is being given on Tuesday to the safety and security of inmates, as well as staff and members of the public who will be at the Nebraska State Penitentiary.
* Moore has selected four people to witness his execution, including his brother, David, spiritual adviser Bob Bryan, a niece and a friend. Four members of the media will also witness the death. Two sons of victim Maynard Helgeland, Steve and Kenny, will be at the prison waiting for the execution.  
* Petitions circulated by various Nebraska groups gathered more than 60,000 signatures asking Gov. Pete Ricketts to stop the scheduled execution. A vigil is scheduled for 5 p.m. Tuesday on the north steps of the state Capitol. In case of inclement weather, the event may be moved to the basement of First Baptist Church, 1340 K St.
* Nebraska Catholic bishops say they will spend silent time in prayer Tuesday morning for the victims of Carey Dean Moore, for Moore himself, and for an end to capital punishment in Nebraska. 
Get Election 2020 & Politics updates in your inbox!
Keep up on the latest in national and local politics as Election 2020 comes into focus.