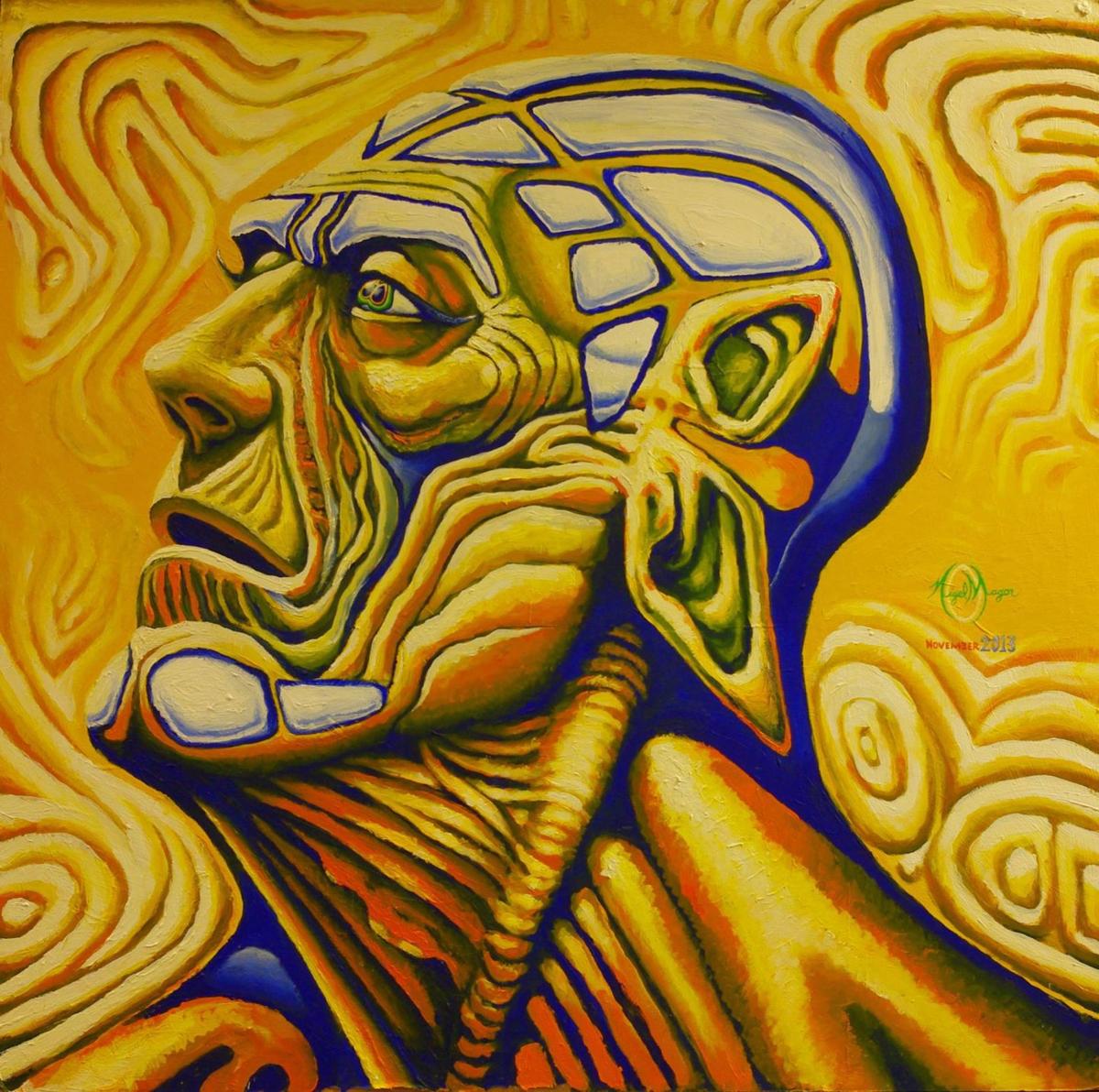 Amie Jackson and Tessa Demers committed a lot of low-level crimes before they ended up in prison. 
They were getting by as well as their mental illnesses would allow, they believed, making it up as they went along, self-medicating with methamphetamine and other drugs, doing what was necessary to support that need.
They lost a lot along the way, including homes, families and freedom. They were in and out of jail, in and out of hospitals, marriages and relationships. 
Demers, now 37, landed at the Nebraska women's prison in York several years ago for about 10 months for possession of methamphetamine. Jackson spent nearly three years there beginning in 2011 for possession and distribution of drugs and then violation of parole. 
Prison is not easy for a person with mental illness, but it's sometimes where they can get the help and monitoring they need. 
Without the needed community mental health services, the prisons have become de facto mental health facilities, said Dr. Harbans Deol, deputy director of health services for the Nebraska Department of Correctional Services. 
"We probably have more people who are mentally ill in the prison system than anywhere else," he said. 
At the end of 2017, 2,594 men and 318 women in the prisons, about 56 percent of the total, had at least one mental health diagnosis. Inmates with serious mental illness are estimated to make up 16 percent of the prison population.
Outside, in Nebraska's communities, people wait a long time for services. In most of the state's counties, there are shortages of hospital beds and providers.
Prisons have more mental health beds than psychiatric hospitals do, Deol said. 
Nebraska's prisons have a secure mental health housing unit with 30 beds for severely mentally ill patients. The mental health unit at the Lincoln Correctional Center has 74 beds for less-serious patients. In addition, other prisons have mental health beds, including 15 at the Diagnostic and Evaluation Center, 12 at the Tecumseh State Correctional Institution, and an additional housing unit with 30 beds, and at the York women's prison, 12 beds, and a 30-bed housing unit. 
When inmates arrive at prison, each one gets mental health assessments and physical exams within 14 days, and then is assigned to a level of care, Deol said. People with a history of psychiatric illness, hospitalization or self injury are referred to a psychiatrist for more evaluation. 
The prisons have struggled in the past to have enough mental health providers, but currently have three full-time psychiatrists, two full-time nurse practitioners and two part-time psychiatrists. There are 19 psychologists, 23 licensed mental health practitioners and six supervisors.
About 34 percent of the prison population is prescribed psychotropic medication. Psychotropic drugs include medications for serious mental illness, as well as things such as sleep disorders and general anxiety.
The most frequent mental illnesses are mood disorders, anxiety disorders, antisocial personality disorders, post-traumatic stress disorders, depression and bipolar disorder. Deol said 15 percent to 20 percent of inmates have major depression and 5 percent to 10 percent have schizophrenia.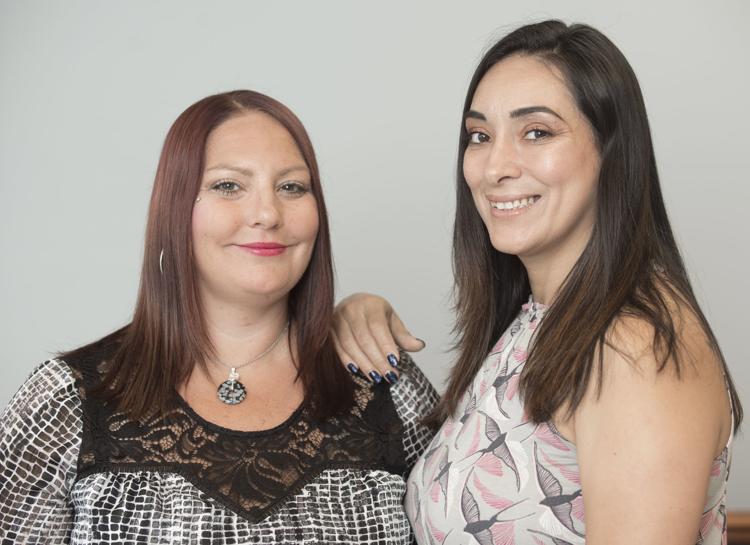 'I just never felt at ease'
Jackson and Demers believe they experienced mental and behavioral disorders as far back as childhood. 
Demers has been told that as young as age 3 she would erupt, break things in the house, and have to be held down until she exhausted herself. 
She remembers feeling emotional and hollow inside, she said, even in a room with people she cared about and who loved her. And she was angry, just angry. 
"I just never felt at ease," Demers said. 
Jackson remembers becoming "very angry" when she turned 12. She was volatile and violent and still struggles from the post-traumatic stress caused by a life of chaos. 
Those feelings, they said, pushed them through their lives, leading to one bad decision after another.
Both of the women are now in recovery, working for the Mental Health Association in Lincoln as peer support specialists, and helping inmates, those re-entering their communities and others with mental illness. 
Demers has had mental health diagnoses throughout her life, including bipolar disorder, borderline personality and post-traumatic stress disorder. But she doesn't like the labels of diagnoses. 
Demers started going to counselors at about age 10, she recalls, but by then she'd learned to manipulate those trying to help, and to play games. In her teen years, she discovered alcohol and drugs as a way to numb her feelings. 
At school, she got into fights. At home she was disruptive, she said. She dropped out of school at age 15. After leaving home, she fell into meth use, and ended up at the Lincoln Regional Center for three months. 
When she got out, she wasn't done with her addiction. The only respite from that came when she began having children at age 18 — five babies by three different men over six or so years — during which time she said she stayed clean because the pregnancies seemed to level out her moods. 
She tried marriage, unsuccessfully, but then returned to drugs. She was in and out of her kids' lives, eventually dealing drugs, stealing cars and manipulating the system to pay for her habit. 
She was sent to prison in July 2015 for 20 months to four years for possession of meth, although she'd also been under investigation at the time for two drug distributions within 1,000 feet of a school. 
In prison, she eventually got help from the Mental Health Association's Wellness Recovery Action Planning (WRAP) program, a self-designed prevention and wellness process.
"It just spoke to me, and for the first time in my life, I had some real hope that I could do something different," Demers said. 
She's sober now, she said, four years in, and rebuilding her life and her relationships with her children, who range in age from 12 to 17. 
'A work in progress'
Jackson is one of those Mental Health Association peer support workers who went to the prison in York and shared her story with Demers, giving her hope and encouragement that things could change. 
As a teen, Jackson had spent three terms in the Youth Residential Treatment Center in Geneva. After getting out, at age 19, she became addicted to meth, and clung to that addiction for 20 years.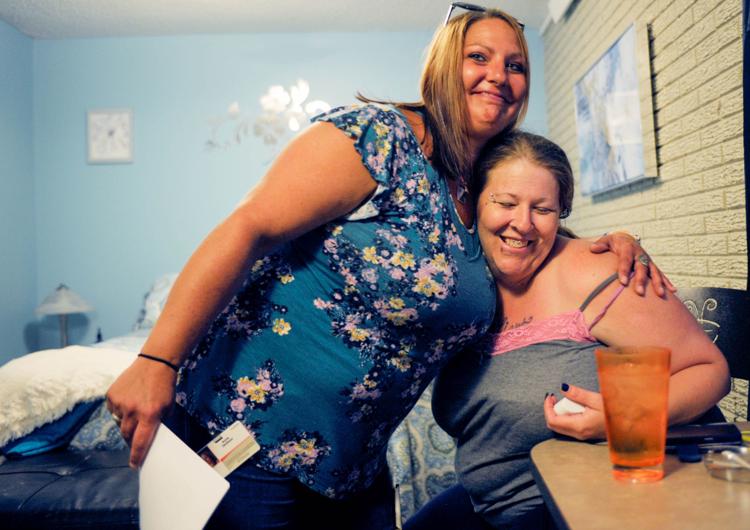 She was homeless for a while, convicted of crimes 53 times, such as disturbing the peace, assault, traffic violations, burglary, possession of drugs, in and out of jail and in and out of the hospital. 
"I was put on a bunch of different medications, so much that I was mute, I didn't talk," Jackson said. "It was hard to interact with family or friends because I couldn't even function."
And then prison in 2011, for nearly three years for possession of meth, distribution of Xanax and violation of parole. 
Prison was traumatic, Jackson said. She experienced psychosis and was put into solitary confinement, where she deteriorated mentally.
She could read and write, sleep, or whatever she could think of to keep herself occupied. Staff would walk by and look inside her cell, but didn't talk to her. 
That's changed since the department enacted new restricted housing polices, said spokeswoman Dawn-Renee Smith. Mental health practitioners have increased out-of-cell contact with those inmates in restrictive housing, she said.
When Jackson was released from York the first time, she went home. But with no support, she relapsed, committed another crime and went back to prison in 2013 for another 15 months.
It turned out to be a blessing in disguise, she said. Without it, she might have missed this better life she has now. 
The peer support she got from a program offered at York by the Mental Health Association, and then Keya House respite care when she got out, saved her, she said.
"I would not have found recovery without peer support in MHA," Jackson said.
She still struggles with mental illness, she said, but doesn't medicate with meth to escape it. She continues to use the support the association offers.   
"Sometimes just being able to talk about what's going on and having someone just sit and listen and be transparent and nonjudgmental helps," she said. 
Jackson is a peer support specialist now with the Mental Health Association's REAL (Respond, Empower, Advocate, Listen) referral program.
Every employee and half of the association's board are living with mental health or substance-abuse issues and many have been in jail or in prison.
The Mental Health Association has done peer support programs in the prisons, and now the department is training inmates at the Nebraska State Penitentiary to do peer support there. 
The prisons are working on other ways to help inmates with mental illness, too. 
When people on medications are released, Deol said, they're given a 30-day supply of their medications and helped to make an appointment with a provider in their community, to make sure they are successful and don't come back because they have no support. 
The department is also teaching custody staff to look for mental health symptoms in inmates so assessments can be done. 
"It's a work in progress and I think it's going to get better and better," Deol said. 
Get Government & Politics updates in your inbox!
Stay up-to-date on the latest in local and national government and political topics with our newsletter.