OMAHA — State and federal government officials touted a series of measures taken to address opioid abuse in Nebraska on Thursday, one year after a coalition of area law enforcement and medical groups took aim at the issue. 
"A year down the road, the deeds have been significant, but they need to continue," Attorney General Doug Peterson said at a news conference at the University of Nebraska Medical Center. 
The most-recent step is new prescribing guidelines issued this week by the Nebraska Department of Health and Human Services for drugs commonly used to treat acute and chronic pain.
And law enforcement agencies in the state have opened investigations into prescribing practices based on data entered in the state's enhanced prescription drug-monitoring program, which launched Jan. 1, Peterson told reporters after the news conference. He declined to provide specifics. 
Naloxone — an antidote that reverses opioid effects during an overdose — has become more readily available for law enforcement officers to administer, according to a report released by the coalition Thursday.
Nebraska has not experienced the addiction and overdose crisis with opioids seen elsewhere in the nation, Gov. Pete Ricketts said.
In 2015, 149 Nebraskans died of drug overdoses, and at least 54 of those were opioid-related, according to the state Health and Human Services Department.
However, drug overdose deaths and opioid-related deaths increased during the preceding decade, from 2.4 deaths per 100,000 people in 2005 to 3.0 deaths per 100,000 in 2015.
Ricketts declared Thursday Opioid Abuse Awareness Day in the state, saying he hopes the proclamation will spur awareness about the devastating addiction.
The progress report comes as the federal government continues discussion of how to address the addicting painkillers that claimed more lives nationally in 2016 than traffic crashes. 
President Donald Trump this week said he wants to declare a national emergency in the opioid crisis to free up federal funds to address the problem.
But Ricketts said he believes the situation is best addressed on the state and local levels, as his administration and its partners are doing. 
"The people who are getting addicted to opioids are not in a generic place called the United States," Ricketts said. "They're in our local communities, and that's where the problem needs to be addressed."
He praised the collaboration between health care professionals and state and federal law enforcement officials to develop initiatives they believe will help reduce overprescribing, bolster treatment options and prevent deaths.
The state's new voluntary prescribing guidelines aim to help doctors lean on opiate medications to manage pain properly and consider alternatives in addressing chronic pain, according to the Department of Health and Human Services.
The department's new drug-monitoring program requires all prescriptions for controlled substances such as opiate medications to be entered into a state database that prescribing medical professionals can consult. 
Peterson believes the program will root out "doctor-shopping" practices among patients looking to feed their addictions and identify physicians who run so-called pill mills to make money, he said.
You have free articles remaining.
Keep reading for FREE!
Enjoy more articles by signing up or logging in. No credit card required.
Faculty at UNMC are developing a new fellowship in addiction medicine for medical practitioners, Chancellor Jeff Gold said. 
Proper pain-management practices have been integrated into the core curriculum of all undergraduate and graduate courses through the university, he said.
The medical center, in partnership with the state's behavioral health division, hosted training in August to expand on previous training on buprenorphine, a medication used to treat opioid addiction. 
Of the 200 who attended that training, 20 medical professionals completed the necessary education to become eligible to prescribe the drug, which requires federal authorization, the report said. 
That doubles the amount of health care providers able to prescribe the drug for opioid addiction in Nebraska.
"This is not a one-stop shop," Gold said. "This is a journey that we're going to be on for a good time to come."
Yet Gold and Peterson warned that efforts to reduce overprescribing do not come without consequences.
Through September this year, the state's two crime laboratories reported encountering three times the amount of illicit fentanyl than they tested annually in 2015 and 2016.
Fentanyl is an opioid drug, 40 to 50 times more potent than heroin and 100 times as potent as morphine. 
Peterson believes the national drug market has seen an influx in illicit fentanyl that federal authorities believe is coming from China.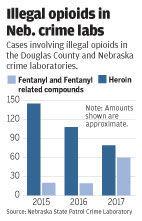 "What the street is offering is heroin that is not as strong," Peterson told reporters, adding that people are turning to fentanyl instead.
For example, a state trooper and DEA agent found more than 30 pounds of fentanyl on an Amtrak passenger train in Omaha on Oct. 12.  
Peterson said Nebraska law enforcement will push to update state law next year to ensure minute chemical derivatives of fentanyl are clearly outlawed.
In this fight, continued collaboration and vigilance are key, he said. 
"This will not be the final chapter. We still have a lot of work to do."