Crowded conditions and the need for more staff, two problems that have plagued Nebraska prisons in recent years, were highlighted again in the annual report of state Inspector General for Corrections Doug Koebernick. 
In addition, he addressed the spread of contraband, and efforts to get that under control, especially at the Nebraska State Penitentiary in Lincoln.  
Along with that, overtime has continued to climb, adding a burden to an already arduous job for corrections officers and other protective services workers. Total monthly average overtime has increased in the past three years, not only for officers but also for staff in other areas. 
"While there are some positive steps being taken by the department, the trends for staff overtime, staff vacancies and inmate population are all going in the wrong direction," Koebernick said. "The state has some serious choices to make regarding how to address these continuing problems and we certainly don't have the luxury of continuing to proceed down the same path."
Corrections Director Scott Frakes was unavailable for comment Monday, according to department spokeswoman Laura Strimple. 
In 2017, the total monthly overtime hours averaged 35,051. This year, that number is projected to be 42,290. From January 2018 to June 2019, the overtime for nonprotective staff grew 57%, according to the inspector general's fourth annual report, released Monday.  
Koebernick touched on a wide variety of problems within the state Department of Correctional Services. Besides crowding, overtime and contraband, they included: turnover, assaults, suicides and suicide attempts, and double bunking. 
Both Koebernick and Frakes have commented recently on the problems of contraband in the prisons. The number of incidents of inmates being under the influence of K2, a synthetic marijuana, for example, is "quite high" at the penitentiary.
Contraband issues vary from prison to prison, Koebernick said, with K2 being a significant issue at Community Corrections Center-Lincoln and the penitentiary. Illegal alcohol seems more prevalent at the penitentiary and Tecumseh. Weapons are more of a problem at Tecumseh and the penitentiary, and cellphones are found more often at the penitentiary.
The Lincoln Correctional Center has seen less of a problem with contraband, he said, but recent reports indicate an increase in K2 and cellphones.
In August, the penitentiary was placed on modified operations because of a serious inmate assault, and 11 inmates were treated for being under the influence of K2. Earlier in the month, Koebernick said in the report, there was a day when at least 15 inmates were treated for K2, but no modified operations enacted. 
On Sept. 4, Frakes announced a lockdown and significant contraband search at the penitentiary. Koebernick visited the prison Sept. 6 and said he heard discontent then and later among staff that parts or all of some housing units were not searched. The department would not answer questions about the search complaints, he said, for "safety and security reasons." 
"It is difficult to comprehend how not searching entire housing units is a strategy that leads to a more safe and secure facility, for staff, inmates, and ultimately the public," Koebernick said.
In his report, he suggested searches of staff, visitors and items at each entry to a facility could be increased and the review times could be more varied.
The population of the prisons is at more than 5,550 inmates, Koebernick said, and that is projected to increase. 
Seven years ago, then-Director Bob Houston proposed three options to address overcrowding, including a no-cost option, a low-cost option or adding capacity through building more beds. At the time, Gov. Dave Heineman chose the no-cost option based on attempting to move inmates out of prisons in a shorter time span. 
"If action had been taken back then," Koebernick said, "Nebraska would likely be in much better shape as far as overcrowding."
And it could be argued, he said, improvements would have positively affected staffing.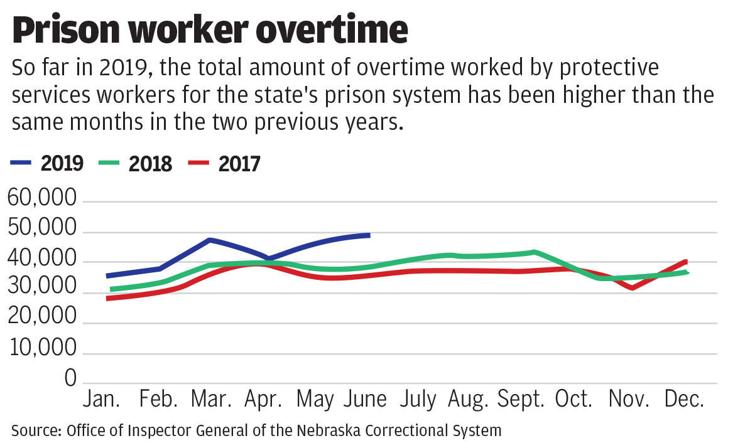 As it is now, he said, the problem has reached a point at which the department seemingly has hit a limit on the number of quality people who can be recruited for these positions.
Even with proposed new construction of 100 minimum-custody beds at the penitentiary and 384 high-security beds at the Lincoln Correctional Center, needed new staff may not be available, he said. 
Other highlights of the 271-page report include: 
* Turnover of protective-services employees significantly increased from 2010 to 2017 but has decreased in 2018 and appears to be decreasing in 2019.
* Nebraska has the 11th-highest racial disparity among inmates, with black offenders put in prison at a rate 8.7 times higher than white offenders. 
* In 1978, the state's incarceration rate was 100 people per 100,000 residents. In 2016, that rate had climbed to 283 per 100,000.
* So far in 2019, two inmates have committed suicide while residing in a correctional facility. Koebernick is planning a separate report on suicide and attempted suicides later in the year.
* A recent audit by the American Correctional Association showed restrictive housing at the penitentiary does not provide the minimum square footage in either total cell space (80 square feet) or unencumbered space (35 square feet), but the prison was granted a waiver on the space. In light of this, Koebernick has again recommended that the practice of double bunking be ended.
* The department has begun to implement plans to expand the use of "blue rooms," used in recent years by the Nebraska Correctional Center for Women. Prisoners can visit a blue room during times of stress or agitation to watch soothing videos of nature, giving them time to calm down and get their emotions under control. 
Get Government & Politics updates in your inbox!
Stay up-to-date on the latest in local and national government and political topics with our newsletter.