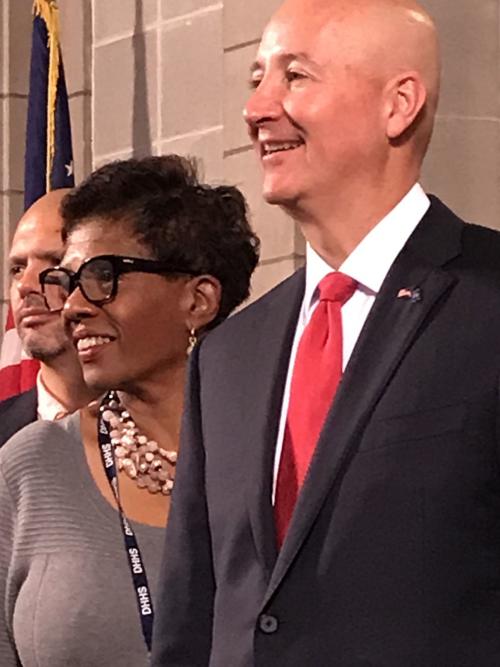 The Department of Health and Human Services rolled out its road map Monday on how to assist people better who come to the state for help.
The plan covers the 2019-20 fiscal year, under new CEO Dannette Smith, who came to the department in February.
"Each initiative will result in measurable improvements and continue a commitment by the department to be accountable, transparent and fiscally responsible," Smith said. 
The department's 15 goals include those to continue to improve the timeliness of assistance by ACCESSNebraska, improve family engagement by Child Protective Services, increase access to high-quality child care services, and to place qualified people with disabilities in less-restrictive settings. 
The plan also includes redesigning Medicaid long-term care payments for nursing homes, reducing assaults on staff at 24-hour care facilities, helping 40 more people enrolled in the Supplemental Nutrition Assistance Program find new and better employment, improving communication with clients through texting, increasing employee retention and reducing the timeline to hire new employees to 30 days or less. 
Gov. Pete Ricketts said he doesn't know of any other state that creates such a business plan with these types of measurable results. 
Having a plan and getting all the agencies to work together is how the state can serve people best, he said. 
He gave the example of economic assistance calls, which in 2014 kept people on hold an average of 24 minutes.
"That's bad service," he said. "And what does that say about how the state thinks about you as a customer? It really says we don't think much of you at all." 
Now the state has hit its goal of answering those calls in five minutes or less for 42 months in a row, he said. 
You have free articles remaining.
"That's tremendous progress on how we're serving our customers," he said. 
"These are all ways that we're trying to do a better job of serving Nebraskans, and that's what this business plan is about." 
Ricketts said the SNAP Next Step program, in cooperation with the state Department of Labor, has been able to help 150 families increase their incomes by $11,000 annually on average, and to reduce or eliminate their needs for food stamps.
Working with a minimum of 80 more and helping 40 successfully complete the program could result in higher-paying jobs, benefits and improved work hours.
On Medicaid expansion, which Nebraskans voted to enact in November, but which won't take effect until October 2020, Ricketts said at a news conference he can't overstate how big a job it is. About 94,000 people will be eligible for coverage for adult Nebraskans whose income is at or below 138% of the poverty level, or approximately $16,000 a year.
Typical recipients would include food-service employees and retail clerks.
Ricketts has opposed expansion of Medicaid coverage, arguing that it would decrease funding for other state programs and activities. He has been criticized by supporters of Medicaid expansion for ignoring voter intent by delaying implementation and applying complex tiered benefit plans and work requirements.
He said Monday the state doesn't have a system right now to be able to bring those tens of thousands of people into the Medicaid fold. 
"We're working on building one of our current systems to be able to get this done more quickly," he said.
The department also has to make sure providers are there to serve new Medicaid recipients. And it needs to ensure it is not allowing the wrong people into the system, he said. 
"We want to be thoughtful on how we're rolling this out," he said. 
As Smith said, the department will be focusing on wellness and to incentivize that behavior when the system is in place, he said.