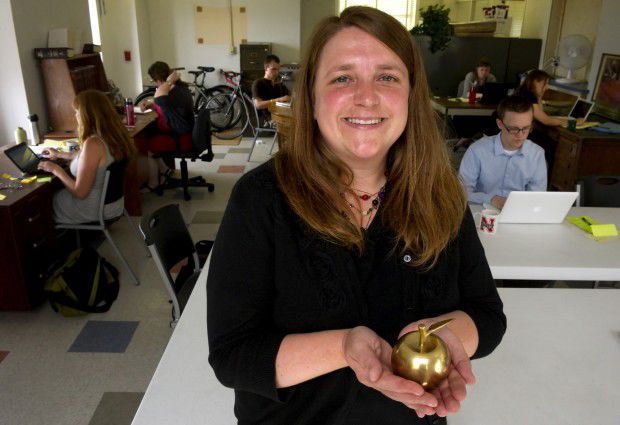 The Appleseed that was planted in a Lincoln basement 20 years ago has grown into a sturdy tree, branching out to advocate for low-income workers, immigrants and families in need.
Nebraska Appleseed now spreads across the ninth floor of a downtown Lincoln office building, counts 27 full-time staff members and continues to grow as it expands its mission and its reach.
Over time, the advocacy organization has grown from its original base in litigation -- it was founded as the Appleseed Center for Law in the Public Interest -- into the legislative, policy and regulatory arena with a more recent outreach into civic engagement.
Among central issues on the table now:
* Health care insurance coverage for an estimated 97,000 low-income working Nebraskans who fell through the coverage crack in the Affordable Care Act opened by a U.S. Supreme Court decision. Accessing more than a billion federal Medicaid dollars available to Nebraska to accomplish that has been an uphill struggle in the Legislature.
* Protection of immigrant rights and response to immigrant needs, some of which has been addressed by high-visibility legislative action to allow young immigrants who were brought to the United States illegally when they were children, but have lawful presence in the country, to acquire Nebraska driver's licenses and professional or commercial licenses.
* Worker rights, including the ongoing challenge of protecting the health and safety of workers in meatpacking plants where a largely immigrant workforce labors on fast-moving production lines.
* A new emphasis on civic engagement, with a focus on voter registration and voter participation coupled with opening the door for immigrants, the working poor and others to communicate with state senators and members of Nebraska's congressional delegation. 
Appleseed has experienced successes on issues like child welfare reform and earlier immigrant legislation, including a bill to provide prenatal care for immigrant women who may be in the country illegally.  
"Our role is to use law and policy to help make positive change on large-scale social problems," Appleseed executive director Becky Gould says.
"The issues that have been our focus continue to be the most pressing issues," Gould said during an interview at Appleseed's quarters in the Terminal Building. She's been at Appleseed for 15 years and its director for nine years.
"The clear goals that we strive for are achievable," Gould said. "And that means putting a big dent in poverty and injustice."
As Appleseed grows and evolves, Gould said, "we try to get more hands at the table in terms of support and funding."
"And there are more connections to community now."
Appleseed is 85 percent funded by private foundations and grants.
One of its greatest attributes, Gould said, is that "we have the ability to be nimble and adjust, to try to go where the needs are, engage with people and partner in advocacy."
Appleseed maintains an advocacy, or lobbying, presence at the Legislature, where many of the battles are fought.
"It's very hard for the people we represent to come to the Legislature," Gould said. "When folks can't be there, we're there."
And Appleseed is "unusually effective" in dealing with the Legislature, Sen. John McCollister of Omaha said.
"They are highly respected by Nebraska senators. They are great partners and great collaborators (and) a very knowledgeable repository of information as well."
McCollister, who is a Republican, was chief sponsor of the 2016 Medicaid funding expansion bill.
And he supported the successful proposals to assist so-called DACA immigrant youths who have lawful presence in the country under the terms of President Barack Obama's Deferred Action for Childhood Arrivals executive action.  
About 42,400 undocumented immigrants live in Nebraska, according to estimates by the Center for Migration Studies. 
You have free articles remaining.
Expansion of health care coverage to the working poor is "especially important," Gould said.
And that has been especially difficult to achieve.
"It's a pressing, urgent problem," Gould said. "Too many people are living in that coverage gap. Our challenge is to have that urgency felt more by the Legislature and the governor."
Annual efforts to offer revised legislative proposals that attempt to meet the objections raised by legislative opponents have floundered before they could reach the governor's desk, where a veto essentially has been promised in advance.
In addition to meeting the health care needs of the working poor, Medicaid expansion offers "a huge economic development opportunity" for the state, Gould said.  
"There's not a logical reason, but a political reason, that stops this."
This year's legislative effort was offered in the form of a three-year pilot project but was shelved on a 28-20 vote. That count left the bill 10 votes short of the 30 senators that would be required to override a gubernatorial veto. 
Appleseed met with Gov. Pete Ricketts before the 2016 legislative session to discuss Medicaid expansion, which he strongly opposes.  
Although its arguments were unsuccessful, that meeting led to "a positive conversation about adult education," Gould said, an opening perhaps to common ground.
Now, Appleseed is beginning to sit down with legislative candidates who cleared their primary election hurdle in May, earning a spot on November's general election ballot. There will be at least a dozen new senators at the Capitol when the Legislature convenes next January.
New battleground; new challenge.
And, as the 2015 freshman class dramatically demonstrated, a new ballgame with new senators who can be unpredictably independent.  
Nebraska is "a place where exciting things can happen," Gould said.  
"You can be on the front lines of very important things in Nebraska (with) an ability to shape the future."
With a new two-year state budget to construct, a dip in anticipated revenue and political pressure for another round of tax reduction all combining to confront the Legislature next year, Appleseed will be there.
"Our view is that you need to think about the priorities of the state," Gould said.
"In our most recent conversations, we have opposed ideas that would shrink the state's revenue base. There are key investments we could be making.
"And we need to prepare for a tougher farm economy," she said.  
"Shrinking the revenue base when you have an impending revenue challenge seems unwise."
Milo Mumgaard originally planted the seed 20 years ago in the basement of a home at Sixth and Washington streets, and he has seen it blossom and grow.
"I never envisioned it would be this large," he said.  
"Appleseed has had a huge impact on how people think of issues and how politicians ultimately have to think about issues," Mumgaard said.  
"Issues like welfare reform, immigration reform, meatpacking workers who get injured on production lines."
Mumgaard, who now is executive director of Legal Aid of Nebraska, said the result is people are "forced to talk about and work on things that otherwise they didn't have to.
"Nebraska is a whole lot different because of Appleseed."