OMAHA — The good news: Nebraskans voted this week to eradicate from the state's Constitution the provision that slavery could be used as punishment for crimes.
The bad: An electorate the size of Lincoln said they were OK with punitive slavery.
The results left the architect of the constitutional amendment — State Sen. Justin Wayne of Omaha — scratching his head. On the one hand, Nebraska didn't need two tries to strip prison slavery from its Constitution as Colorado did, finally passing it in 2018.
On the other hand, 274,138 Nebraska voters — nearly 1 out of 3 — effectively decided they weren't ready to eliminate slave labor from prisons.
The vote on Amendment 1 differed sharply along geographic lines and population size.
The strongest support came from the eastern part of the state, and from the largest three counties: Douglas, Lancaster and Sarpy.
The most opposition came from smaller, rural counties — especially in western Nebraska. Of the 10 least-populated Nebraska counties, nine voted against Amendment 1.
In all, 26 counties voted against forbidding prison officials from using prisoners as slave labor. Of those, 21 were west of Kearney. The five others were mostly in the north-central part of the state.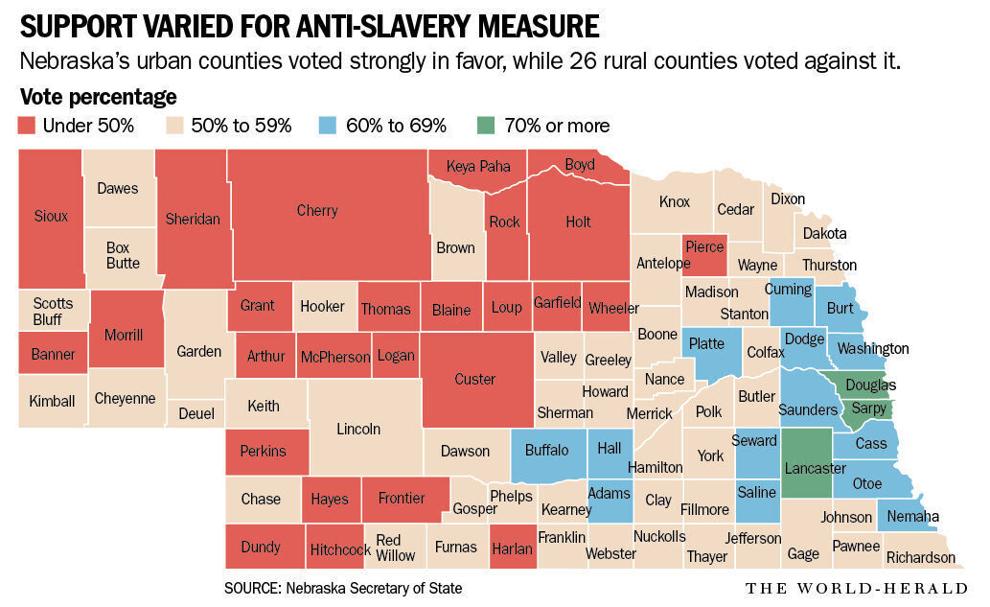 Though Nebraska prisons long ago did away with slave labor, Wayne introduced the ballot issue after being surprised that such a provision remained in Nebraska's Constitution.
After the Civil War, Nebraska had adopted an amendment that outlawed slavery, except for in cases of prisoners. Such provisions were used to target African Americans, Natives and Asians and diminish their voice and their role in society, Wayne said. Black people were rounded up, though they hadn't committed crimes, so that powers-that-be could force them into involuntary servitude, a practice known as "contract leasing."
With a unanimous vote, Nebraska state senators put the constitutional amendment on the ballot. Tuesday, their constituents showed much less consensus.
While the bid to remove slavery won support from 68% of voters, the overall margin masks how little support Amendment 1 had in some parts of the state. Besides the 26 counties that voted against it, dozens more were only slightly in support. In many counties, it was by far the closest contest on the ballot.
In nearly one-third of Nebraska's 93 counties, the margin was 5 percentage points or less.
In contrast, voters in Douglas, Sarpy and Lancaster counties collectively voted for the amendment by a 3-to-1 ratio. And 14 other counties gave it at least 60% support. Most were in the eastern part of the state, as well as the Kearney, Grand Island and Hastings area.
Wayne said the west-east divide on the measure demonstrates that the state has some work to do.
"That's a scary message when we start talking about business and economic development and tourism," Wayne said. "Do we want to go to a county or a part of a state where they feel like slavery should be an option for the state (prisons) to impose?"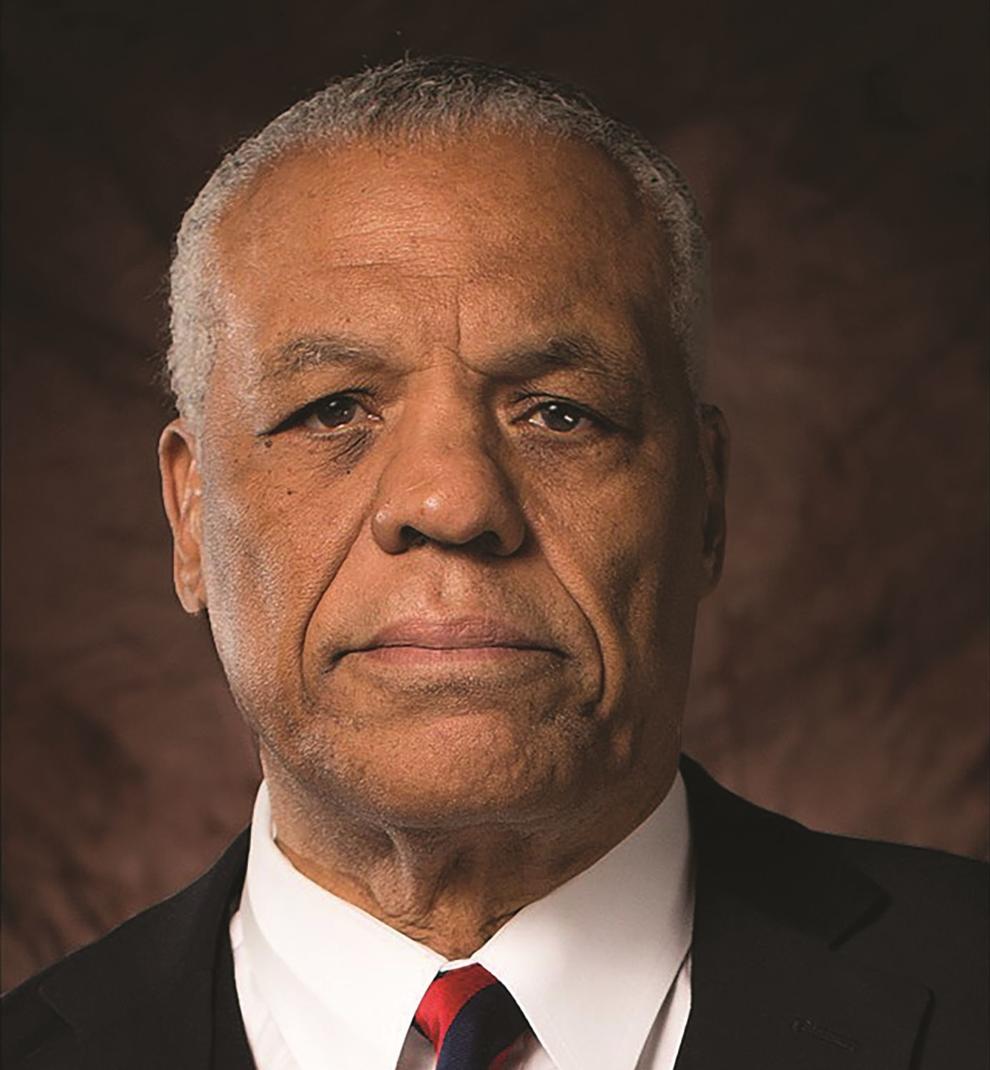 Preston Love Jr., a community leader and an adjunct professor of Black studies at the University of Nebraska at Omaha, said he attributes a chunk of the no vote to confusion over ballot language. Love said he heard from several people who believed that by marking "against" they were voting against prison slavery and indentured servitude.
"I can't imagine that many in Nebraska would actually consciously say, 'I don't want to remove slavery as an option,'" Love said. "I heard from scores of people who were confused over the language."
The Ballotpedia website uses academic tests to determine the difficulty in comprehending ballot initiatives. It estimated that the education needed to understand this Nebraska amendment was at the level of a second-year post-college graduate student.
The ballot measure read: "A vote FOR this constitutional amendment would eliminate a provision in the Nebraska Constitution that states that slavery or involuntary servitude may be used as a punishment for conviction of a crime. A vote AGAINST this constitutional amendment would leave the language regarding slavery or involuntary servitude unchanged in the Nebraska Constitution."
Wayne said he was so concerned about the 32% vote against eliminating slavery that he asked his Facebook followers to explain why they thought so many voted against it. Love did the same with people he talked to.
The opposition could be rooted in what Love called a "pie" of possibilities: Outright racism. Confusion over the wording. A misbelief that this would eliminate inmate work programs (it won't). A tough-on-crime attitude.
Love called that last reason ironic. In the late 19th century and into the 20th century, the powerful would gather up Black men on the pretense of arresting them for crimes in order to put them to work as indentured servants. There was no "crime" to be tough on; rather, the tactic was used to get free labor.
Passage of the amendment is a victory of sorts, Love said. But a victory only becomes progress if people's attitudes change, he said. He compared the measure to the removal of Confederate statues in the South.
"You could say, 'Who cares, they're just symbolic,'" Love said. "But they're wrong. There's a need to flush out some of the old. Anyone who hangs onto it is really hanging onto racism."
The 26 counties with the deepest opposition to the prison slavery ban contain less than 4% of Nebraska's population; the largest county was Custer, with 10,777 residents. They tend to be staunch Republican counties as well, casting ballots for President Donald Trump at the rate of 82% to 93%.
By comparison, among counties with the strongest support for the prison slavery amendment, the pro-Trump vote was less-robust. It ranged from 54% to 79%, not counting Douglas and Lancaster counties, which voted for former Vice President Joe Biden over Trump.
One voter who commented on Wayne's Facebook thread said more than racism was at play. "Not all of the 30% who voted for slavery are racist but they believe inmates should be miserable," she wrote.
Wayne said COVID-19 curbed any campaigning that might have cleared up confusion on the wording. Even if a large share of the "against" votes didn't understand what they were voting on, Wayne said, that would leave many Nebraskans in favor of prison slaves.
Wayne said that he doesn't think "slavery is a value that Nebraskans hold" but that such a measure can reveal ugly attitudes — and policies — that still have to change.
"Being biracial, you see the best of both worlds and the worst of both worlds," said Wayne, whose mom is white and dad is Black. "And this (ballot measure) again unfortunately reveals both. You have counties that overwhelmingly want to remove this, and you have counties that believe that slavery is still OK.
"This shows again that racial issues in Nebraska didn't stop at the founding of our state (or) at the civil rights movement, that the tentacles of slavery are alive in 2020. ... Now the question for the Legislature, for Nebraska, is, 'What the hell are we gonna do about it?'"
Election results
Lincoln and Nebraska results for the 2020 general election
Statewide contests
| Party | Candidate | Vote total |
| --- | --- | --- |
| President | Joseph Biden, D | 359,757 |
| | Jo Jorgensen, L | 19,292 |
| | Donald Trump, R | 536,229 |
| U.S. Senate | Chris Janicek, D | 216,887 |
| | Ben Sasse, R | 562,224 |
| | Gene Siadek, L | 52,878 |
| Gambling, Initiative 429 | For | 566,886 |
| | Against | 305,883 |
| Gambling, Initiative 430 | For | 569,201 |
| | Against | 307,728 |
| Gambling, Initiative 431 | For | 598,546 |
| | Against | 273,243 |
| Payday lending | For | 698,704 |
| | Against | 144,346 |
| Remove slavery wording | For | 581,058 |
| | Against | 271,443 |
| Extend TIF 20 years | For | 500,903 |
| | Against | 319,675 |
| | | |
Congressional races
| Race | Candidates | Vote totals |
| --- | --- | --- |
| District 1 | Kate Bolz | 116,120 |
| | Jeff Fortenberry, R | 179,557 |
| | Dennis Grace, L | 8,452 |
| District 2 | Donald Bacon, R | 162,087 |
| | Kara Eastman, D | 146,992 |
| | Tyler Schaeffer, L | 9,423 |
| District 3 | Mark Elworth Jr., D | 49,771 |
| | Dustin Hobbs, L | 10,723 |
| | Adrian Smith, R | 222,363 |
| | | |
Legislature
| District | Candidate | Vote totals |
| --- | --- | --- |
| 1 | Janet Palmtag | 5,577 |
| | Julie Slama | 11,899 |
| 3 | Rick Holdcroft | 8,582 |
| | Carol Blood | 8,779 |
| 5 | Mike McDonnell | 6,559 |
| | Gilbert Ayala | 3,777 |
| 7 | Tony Vargas | 6,819 |
| | Jorge Sotolongo | 1,919 |
| 9 | John Cavanaugh | 8,003 |
| | Marque Snow | 6,690 |
| 11 | Fred Conley | 3,330 |
| | Terrell McKinney | 5,820 |
| 13 | Justin T. Wayne | 11,010 |
| 15 | David Rogers | 6,210 |
| | Lynne Walz | 9,157 |
| 17 | Joni Albrecht | 7,343 |
| | Sheryl Lindau | 3,576 |
| 19 | Mike Flood | 15,200 |
| 21 | Mike Hilgers | 9,895 |
| | Brodey Weber | 8,132 |
| 23 | Bruce Bostelman | 11,287 |
| | Helen Raikes | 6,868 |
| 25 | Suzanne Geist | 16,147 |
| | Stephany Pleasant | 8,104 |
| 27 | Brenda Bickford | 5,448 |
| | Anna Wishart | 9,923 |
| 29 | Eliot Bostar | 10,927 |
| | Jacob Campbell | 9,622 |
| 31 | Rich Pahls | 10,197 |
| | Tim Royers | 9,093 |
| 33 | Steve Halloran | 12,756 |
| 35 | Raymond M. Aguilar | 6,570 |
| | Dan Quick | 5,688 |
| 37 | Mercadies Damratowski | 4,098 |
| | John Lowe Sr. | 12,774 |
| 39 | Allison Heimes | 11,457 |
| | Lou Ann Linehan | 14,554 |
| 41 | Tom Briese | 15,804 |
| 43 | Tom Brewer | 10,628 |
| | Tanya Storer | 7,691 |
| 45 | Susan Hester | 7,671 |
| | Rita Sanders | 8,835 |
| 47 | Steve Erdman | 14,901 |
| 49 | Jen Day | 12,125 |
| | Andrew La Grone | 11,873 |
State Board of Education
| District | Candidate | Vote total |
| --- | --- | --- |
| 1 | Patsy Koch Johns | 90,917 |
| 2 | Robert Anthony | 37,612 |
| | Lisa Fricke | 68,950 |
| 3 | Patti S. Gubbels | 51,079 |
| | Mike Goos | 24,082 |
| 4 | Jacquelyn Morrison | 50,569 |
| | Adrian Petrescu | 17,653 |
| | | |
SCC Board of Governors
| District | Candidate | Vote totals |
| --- | --- | --- |
| At-large | Timothy R. Cerveny | 81,405 |
| | Neal Stenberg | 82,575 |
| 1 | Chuck Byers | 17,329 |
| | Jeanne H. Stec | 15,268 |
| 2 | Kathy Boellstorff | 20,349 |
| | Chad Aldrich | 15,415 |
| 3 | Edward C. Price | 32,588 |
| 4 | Kristin E. Yates | 25,167 |
| 5 | Arlyn Uhrmacher | 41,327 |
| | | |
Lower Platte South Natural Resources District board
| Subdistrict | Candidate | Vote totals |
| --- | --- | --- |
| 1 | Don Jacobson | 11,941 |
| 2 | Ron Nolte | 12,778 |
| 3 | Mike DeKalb | 6,243 |
| | Kenneth Vogel | 6,177 |
| 4 | Gary R. Aldridge | 9,201 |
| | LeRoy W. Sievers | 9,199 |
| 5 | John Yoakum | 4,402 |
| | Greg Osborn | 2,618 |
| 6 | Anthony Schutz | 10,257 |
| 7 | Chelsea Johnson | 8,933 |
| 8 | Christine Lamberty | 7,807 |
| | Christy Eichorn | 4,505 |
| 9 | Milt Schmidt | 4,712 |
| | Lisa Lewis | 7,518 |
| 10 | Ray A. Stevens Jr. | 6,528 |
| | Bastienne Salners | 5,268 |
| | | |
Public Service Commission
| Race | Candidate | Vote total |
| --- | --- | --- |
| District 2 | Tim Davis, R | 53,466 |
| | Crystal Rhoades, D | 88,891 |
NU Board of Regents
| District | Candidate | Vote totals |
| --- | --- | --- |
| 1 | Tim Clare | 92,526 |
| 2 | Jack A. Stark | 96,770 |
County board; unofficial final results
| District | Candidate | Vote total |
| --- | --- | --- |
| 2 | Eric Underwood, R | 10,250 |
| | Christa Yoakum, D | 11,436 |
| 4 | Roma Amundson | 25,599 |
Area ballot questions; unofficial final results
| Ballot question | For | Against |
| --- | --- | --- |
| Hickman pool bonds | 491 | 815 |
| Hickman sales tax | 484 | 808 |
| Hallam sales tax | 60 | 71 |
Photos: Election Day in Lincoln
Democrats Election Day, 11.3
General Election 2020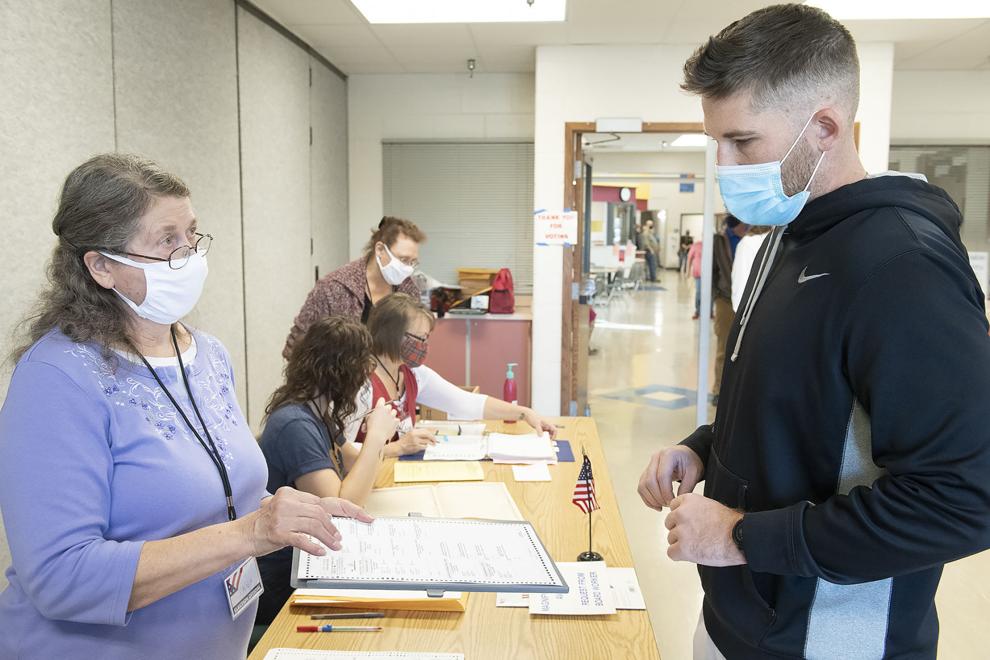 General Election 2020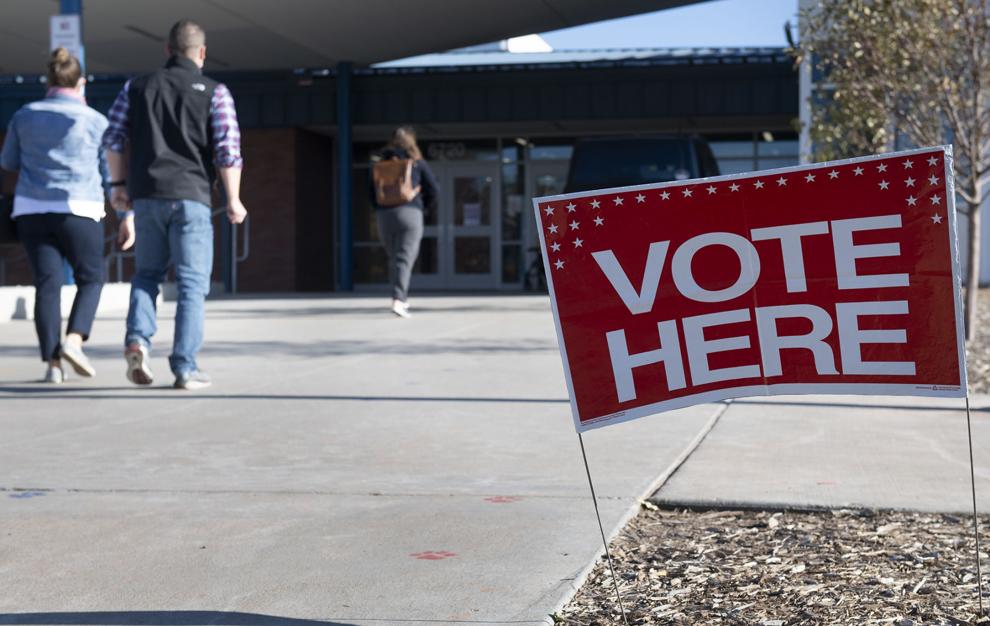 General Election 2020
General Election 2020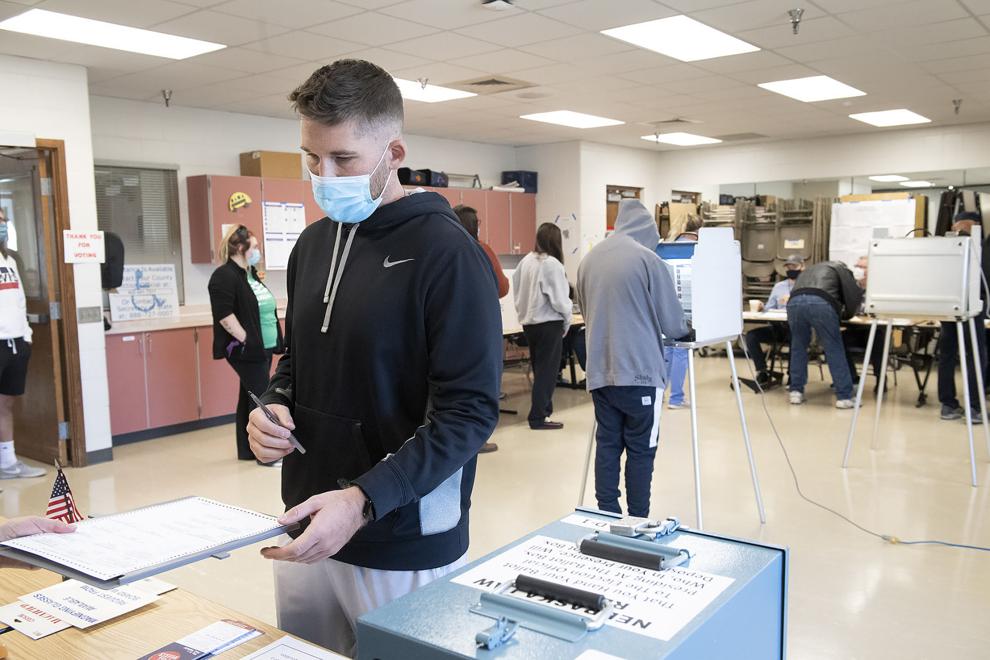 General Election 2020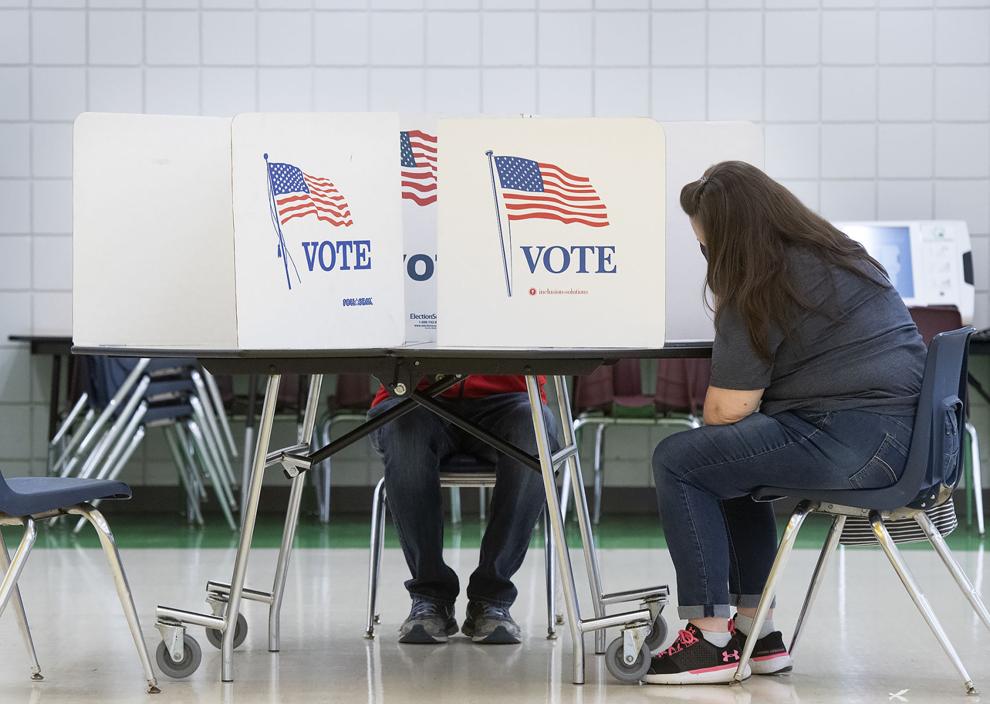 General Election 2020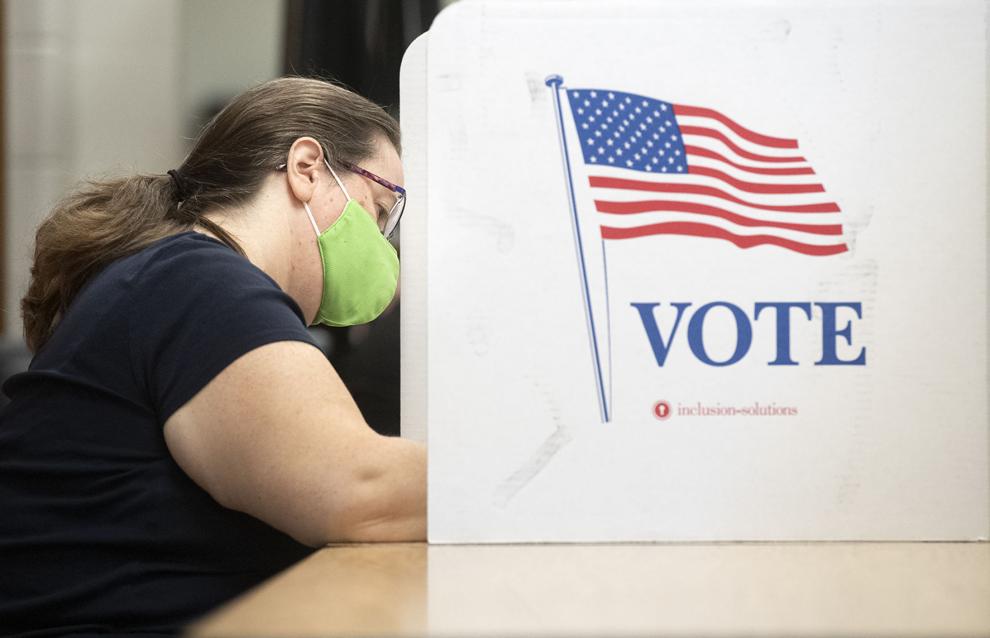 General Election 2020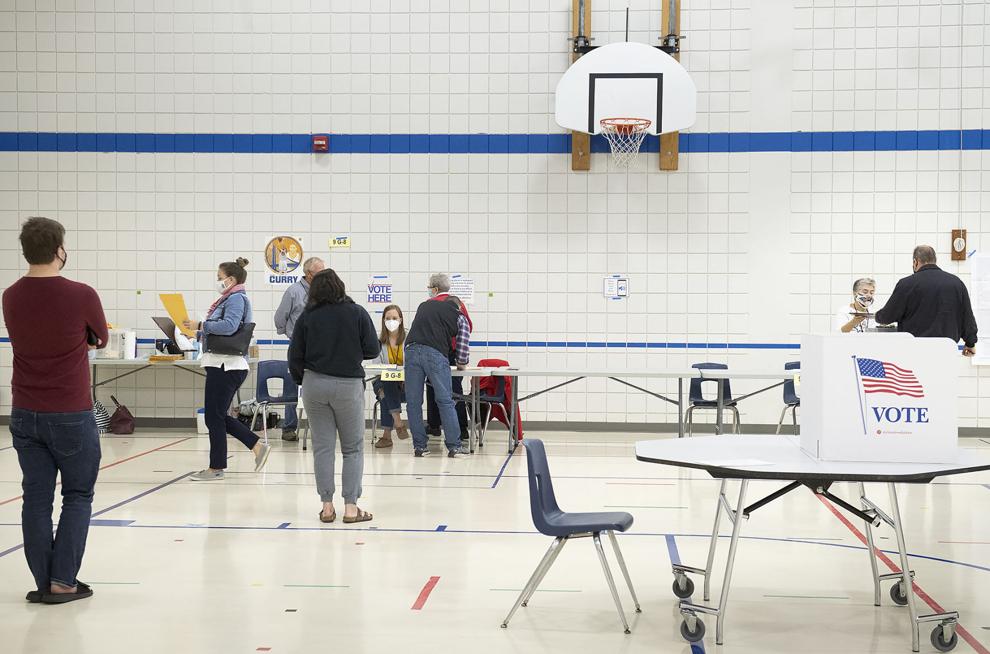 Rural Voting, 11.3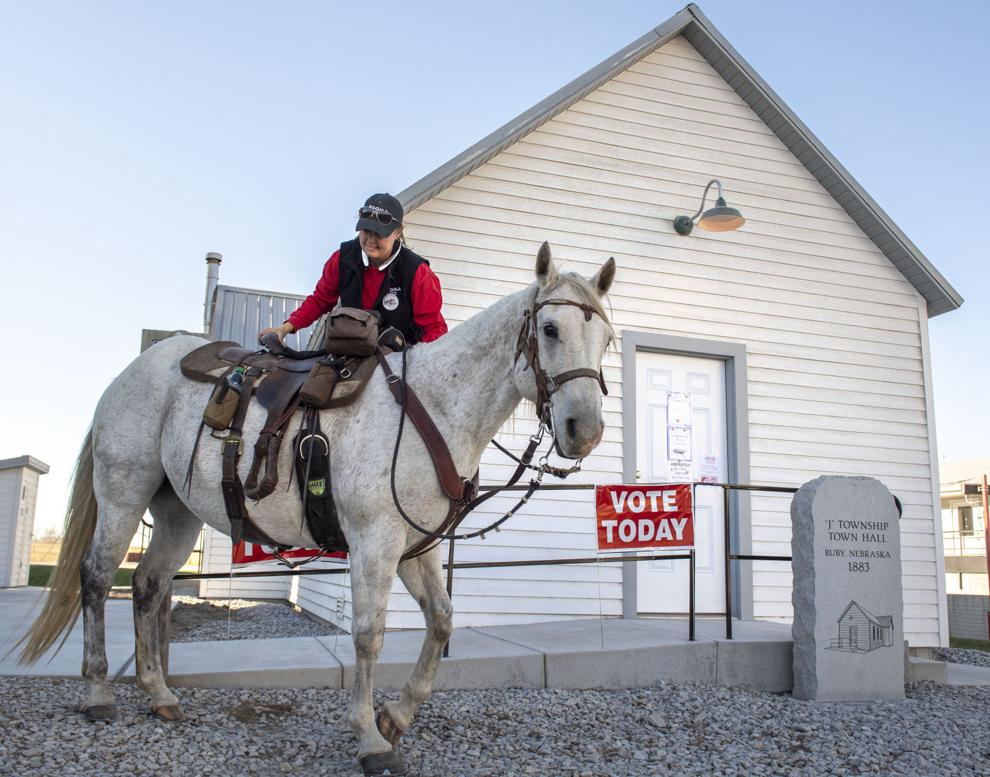 Rural Voting, 11.3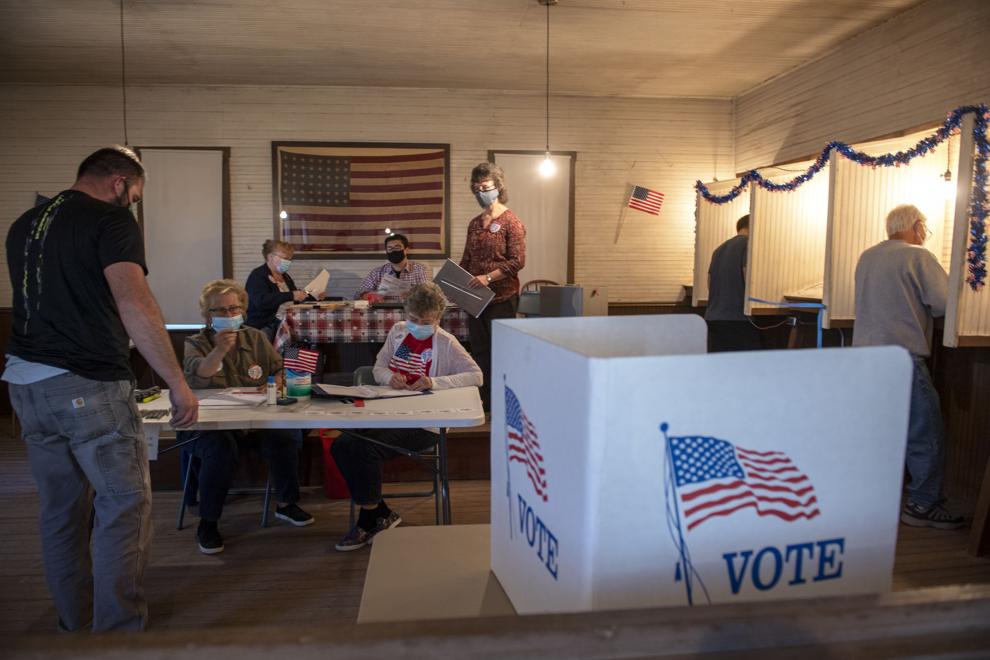 Rural Voting, 11.3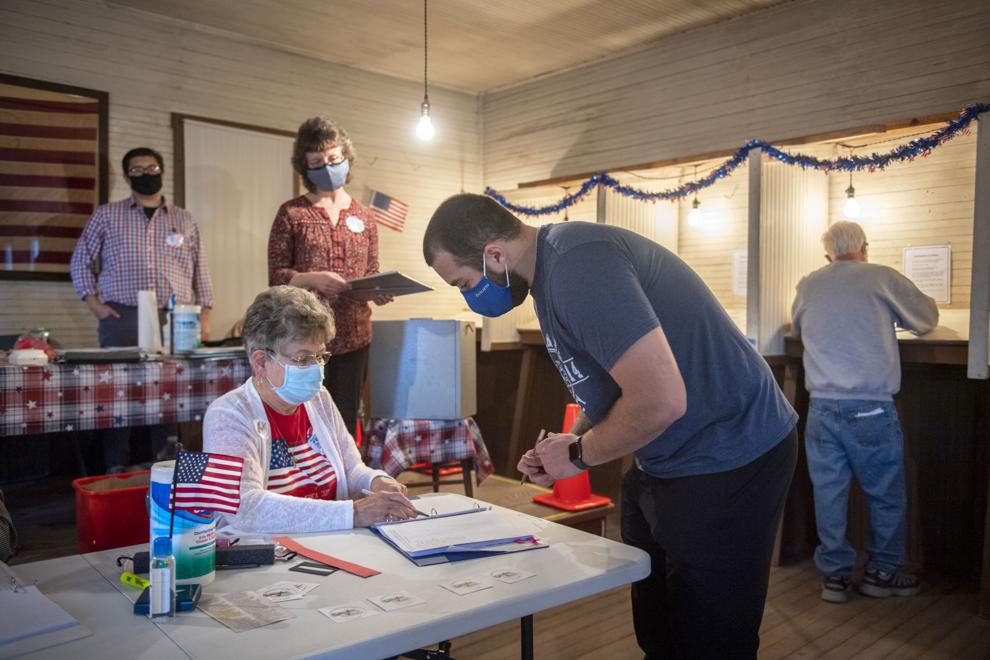 Rural Voting, 11.3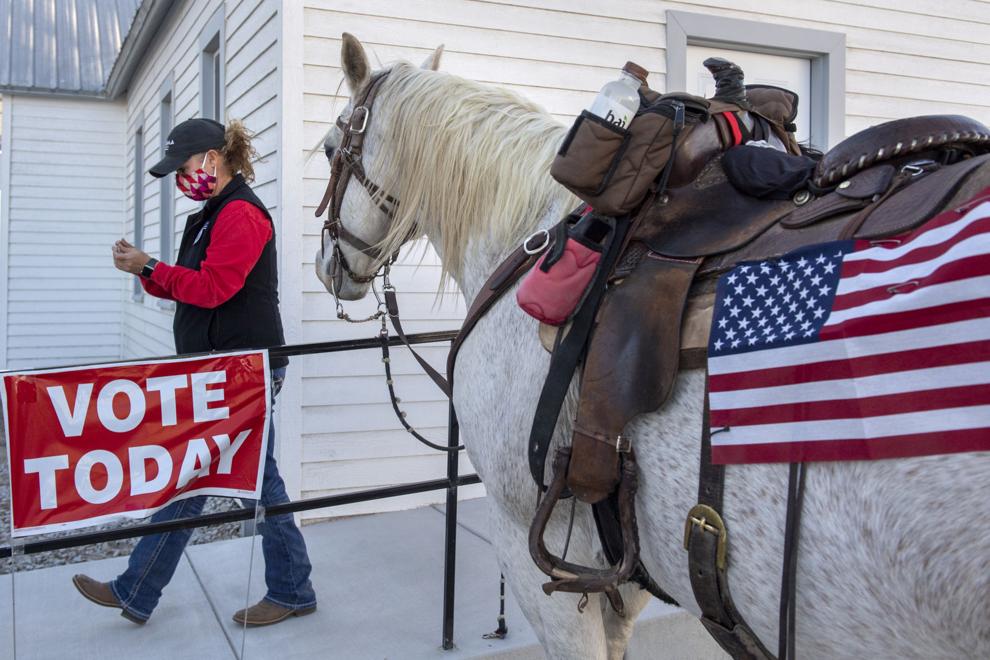 Rural Voting, 11.3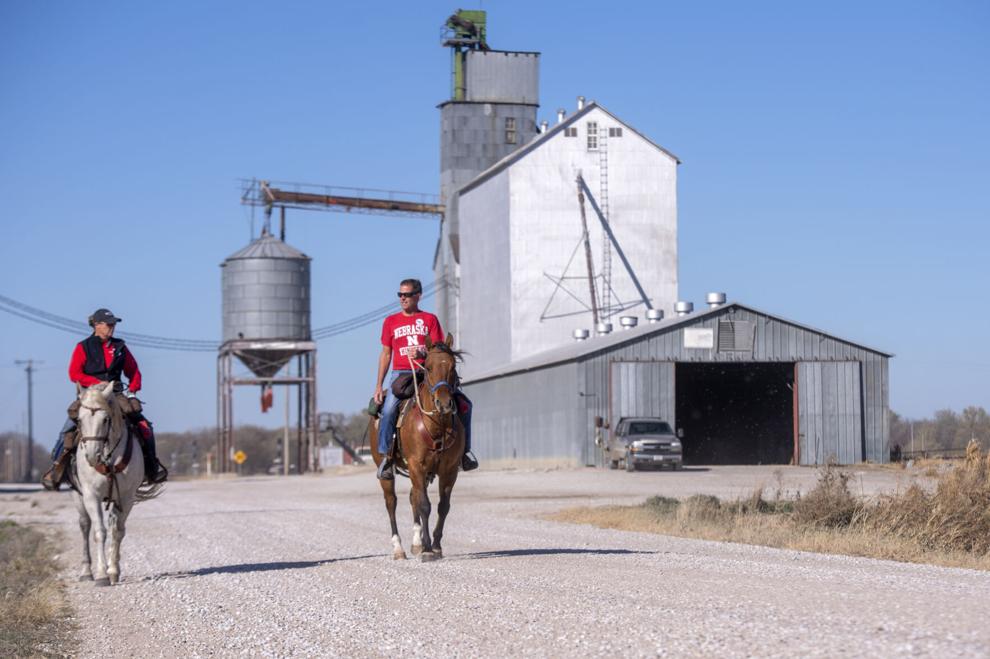 Rural Voting, 11.3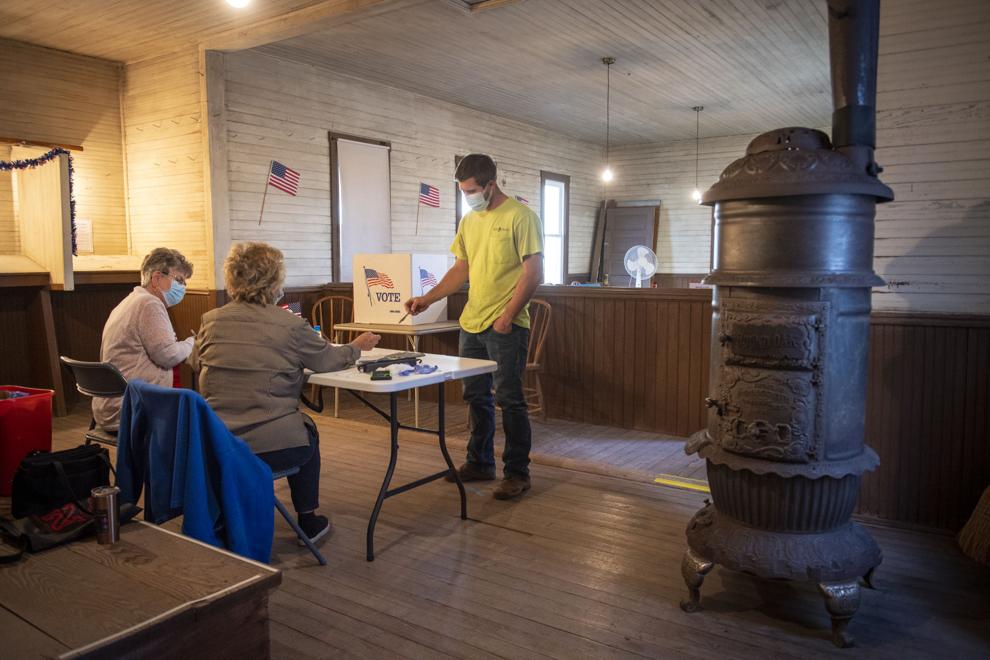 Rural Voting, 11.3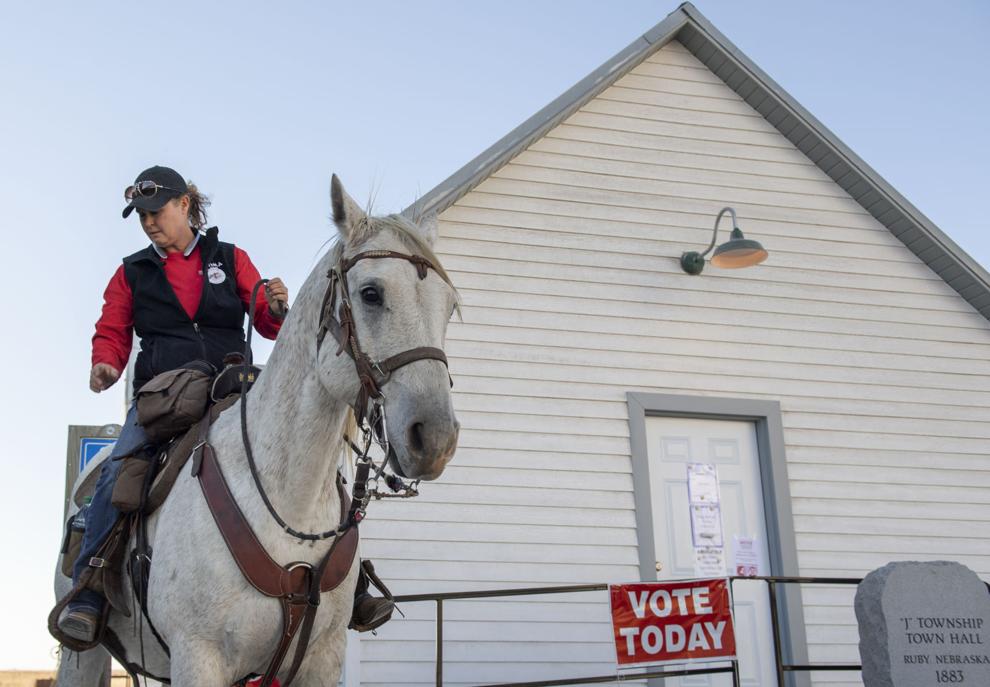 Democrats Election Day, 11.3