Nebraskans who have worked on a long-running initiative petition campaign to get medical cannabis on the November ballot turned in more than 182,000 signatures Thursday.
It was an emotional afternoon as speakers at a 1:30 p.m. celebration gave their thanks to signature collectors and those who signed petitions to get the issue on the November ballot.
"Every one of these petition sheets that we're turning in today, and every one of the signatures that we're turning in, it has a story about it, about a Nebraskan who had the courage to help us collect and patients who need access across our state," said Lincoln Sen. Anna Wishart, who with Lincoln Sen. Adam Morfeld led the petition campaign.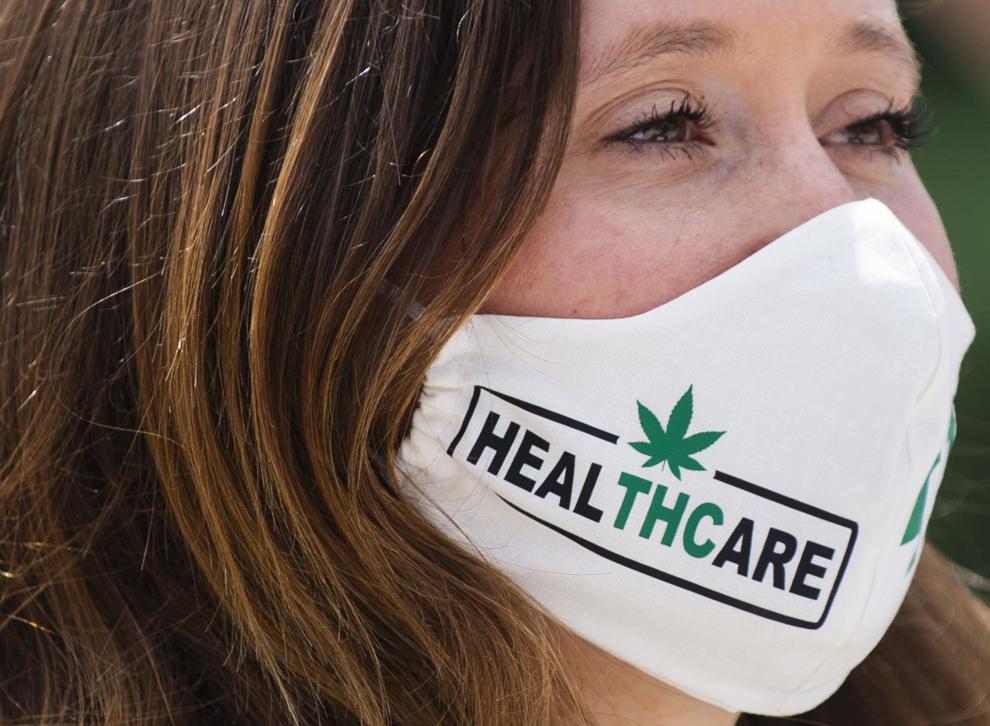 The number needed was about 122,000 signatures, more than 10% of the voters in the state. The campaign had to be put on pause for a time because of the pandemic, but got 123,000 signatures in June, after signature collections began again. Those signatures will now be validated by the secretary of state.
After the celebration, the campaign was set to drive a U-Haul truck to the secretary of state's office at 12th and N streets to turn in the boxes of petitions.
Several families spoke to those gathered, with mothers fighting back tears.
"Our kids have challenges, but they want to be like everybody else, and this may give them the opportunity that some have never had," said Shari Lawlor, whose daughter Brooke has severe epilepsy.
Lawlor, one of the longest workers on the campaign, said families have to drive to the border every time they want medicine and seek out doctors in other states. It isn't fair that there's an imaginary line on a map these families can't cross, she said, while those on the other side of that line can have it and those on the Nebraska side can't.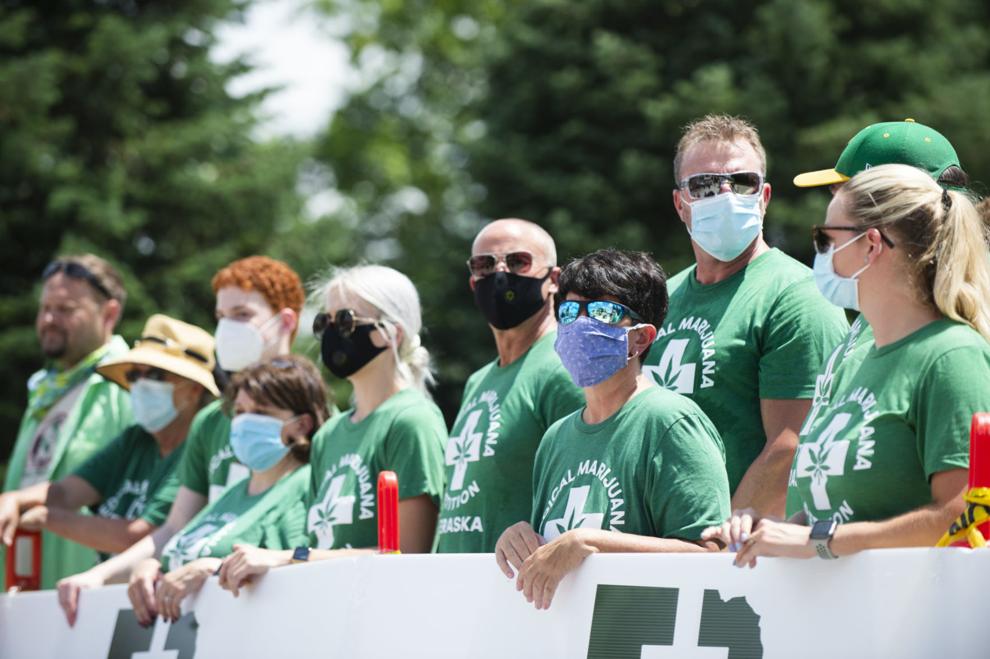 She went to the Capitol on multiple occasions over the past several years to talk to senators about legalizing medical marijuana, only to have some of them refuse to talk to her, she said. 
Lawlor paid tribute to Charlotte Figi, a 13-year-old Colorado girl who helped bring attention to CBD oil when she used it to treat her epilepsy. Charlotte died in April of what was believed to be complications of COVID-19.
Other children and young adults in Nebraska have died since the effort to get medical marijuana legalized was initiated by Bellevue Sen. Tommy Garrett in 2015.
Shelley Gillen said Thursday was a pretty great day for the greater good.
"When our family started on this journey seven years ago, little did we know the pain and the frustration that we were going to go through," said Gillen, whose son Will has severe seizures. "You would think that your stories, and our story, would have broken the coldest of hearts, and we found there were some in the unicameral that that wasn't the case."
Some opponents have said they are against the legalization of medical cannabis because it would be for the greater good. 
But these kids are the greater good, said Dominic Gillen. That's what has brought the state together on this issue. 
"And I am so blessed to know all these people," he said. "It's an unbelievable feeling right now today to know that this is going on."
If approved at the ballot, the initiative petition would allow people in Nebraska to use, possess, access and safely produce cannabis and its products and materials for serious medical conditions, as recommended by a physician or nurse practitioner. 
Wishart said 33,000 signatures were collected from volunteers alone. Some of them collected whole towns and whole counties. 
"It's just unbelievable the grassroots momentum we had in this state," she said. 
Signatures came from all of Nebraska's 93 counties. 
The ballot initiative comes after several attempts to legalize medical cannabis fell short in the Legislature. 
The latest bill (LB110) was sent to senators in 2019 after work on refining the measure. Wishart, who introduced the bill, got input from law enforcement, pharmacists, doctors, chambers of commerce and patients. 
But like the attempts before, the bill was filibustered and couldn't get the 33 votes needed to advance from first round. 
Gov. Pete Ricketts, Attorney General Doug Peterson and others, including former Husker football coach Tom Osborne, have been leading opponents. Some believe medical marijuana will lead to eventual approval in the state of recreational marijuana. 
But Wishart said a broad coalition of Nebraskans supports access to medical cannabis, recognizes the health and economic benefits and wants an opportunity to vote on the issue. 
John Cartier of Nebraskans for Sensible Marijuana Laws said the secretary of state's office will verify that petitions have enough signatures to go out to the county election officials for verification of each registered voter who signed. 
If the 122,000 or so signatures are verified and it gets on the ballot, he said, it will pass with an overwhelming majority.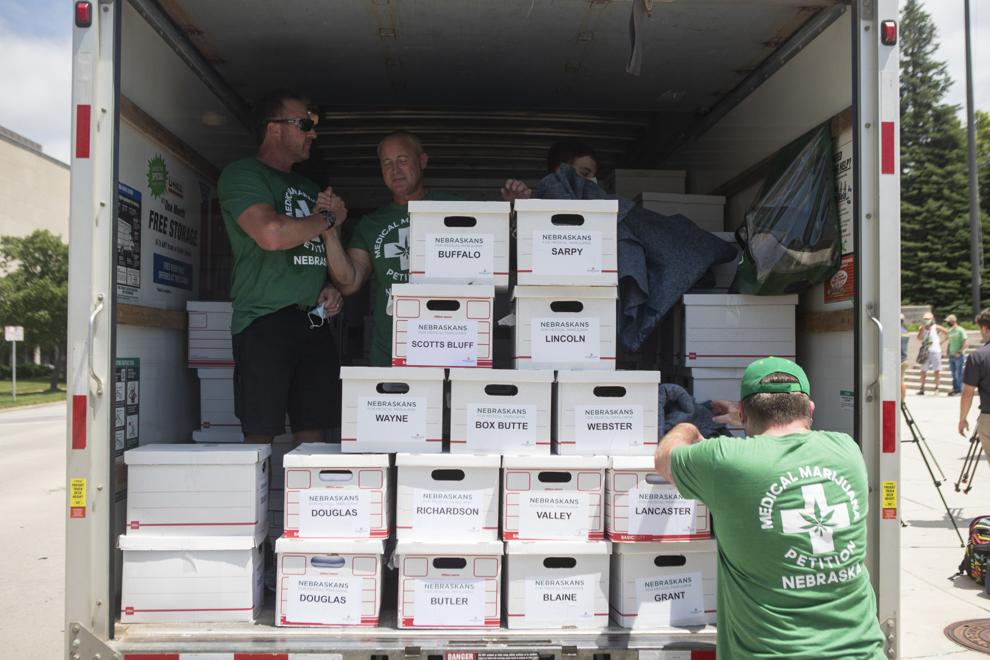 Ricketts said Thursday this country has a process to make sure drugs are safe and effective in certain quantities with known side effects. It's called the federal Food and Drug Administration, he said. 
"To go around that process would put Nebraskans' health and safety at risk," he said. 
Legalization is an attempt by "Big Marijuana," and tobacco firms, which often own medical marijuana companies, to avoid the FDA process and not be regulated, he said. 
"This petition ballot is a way to circumvent regulation, so I ask Nebraskans to consider that when they're thinking about this," Ricketts said. 
He said he will continue to talk to Nebraskans about the harm that could come from this ballot initiative.