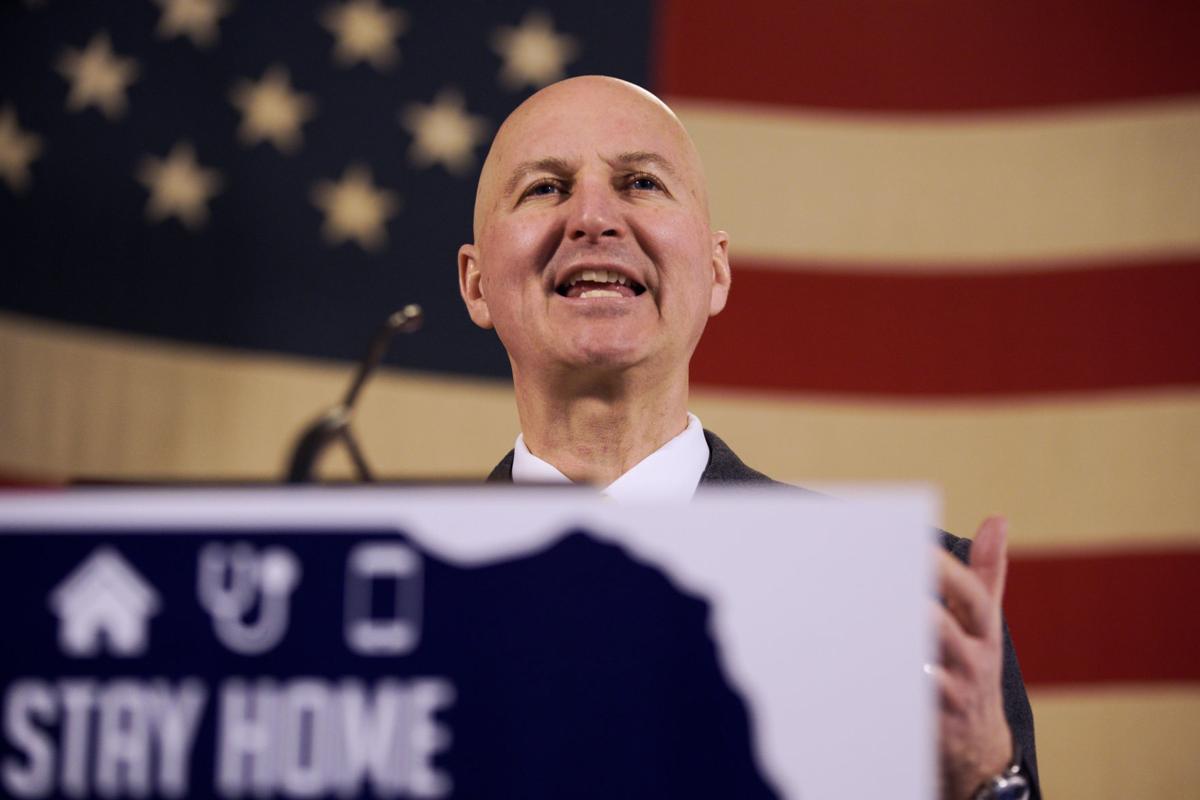 At least 48 of those who have died in Nebraska thus far because of the coronavirus were residents of long-term care facilities.
That statistic, provided by Gov. Pete Ricketts during his daily coronavirus news briefing on Friday, dramatized the danger that the virus presents for older Nebraskans, particularly if they have underlying health conditions.
Ricketts said of cases reported by the Nebraska Department of Health and Human Services by Friday morning, 242 involved long-term care facilities in the state.
By Friday evening, the state's total caseload had grown to 4,838. Deaths statewide numbered 73, including two recent deaths in Adams County.
During the briefing, the governor turned the spotlight on efforts that the University of Nebraska Medical Center is making to help meat processing plants, a breeding ground for outbreaks in communities throughout the state, operate in a manner that is safer for workers.
The medical center has developed a playbook of best practices, and Shelly Schwedhelm, executive director of emergency management and biopreparedness at Nebraska Medicine, has toured plants to offer suggestions.
"It's a difficult environment in which to do social distancing," she said during the governor's news briefing, but plants have taken action to help protect workers with physical barriers and some masking along with changing air flow patterns and screening workers with temperature checks when they report for work.
"They reach out to us and request a visit," Schwedhelm said.
And then, she said, "it's up to them what process works best" at the plant.
Coronavirus infection has swept through meat processing plants in Grand Island, Lexington, Dakota City, Madison, Hastings and Crete.
Infection of nearly 700 workers prompted Tyson Foods to temporarily suspend operations at its beef processing plant in Dakota City while it performs a deep cleaning of the facility.
"This is about cooperation, communication, collaboration," Ricketts said, with ultimate regulatory authority resting with the federal Occupational Safety and Health Administration.
In most cases, neither the packing plants nor local and state health departments, have provided specific numbers for confirmed cases involving employees or their families.
But the numbers are seemingly significant, with over 3,000 cases confined to Hall, Dakota, Dawson and Saline counties. The total population in those four counties is 119,000, about one-fifth the size of Douglas County, where there are 744 confirmed cases.
The governor took note of a gathering of more than 50 demonstrators in front of the Capitol on Friday urging him and Lincoln Mayor Leirion Gaylor Baird to lift restrictions that prevent some small businesses to open or operate unimpeded and restrict other activities during the coronavirus assault.
"Open up the country," one sign proclaimed. 
"No fear," read another. "1 percent mortality," another stated.
"Kids want to play ball."
"We will take this a step at a time," Ricketts said, loosening restrictions gradually with an eye on controlling the spread of the virus and protecting the ability of the state's health care system to respond with hospital beds, intensive care unit beds and ventilators as needed.
As Nebraska enters May, some restrictions are ready to be eased, but the rule banning gatherings of any larger than 10 will remain in effect at least through the end of the month.
Ricketts said testing for the virus under the new testnebraska.com program will begin at CHI Health Center Omaha, the city's downtown arena, and the State Fairgrounds in Grand Island on Monday.
So far, 110,000 Nebraskans have enrolled in the testing program online, the governor said.  
See the top stories on coronavirus in Lincoln and Nebraska since the pandemic first affected the area in March.