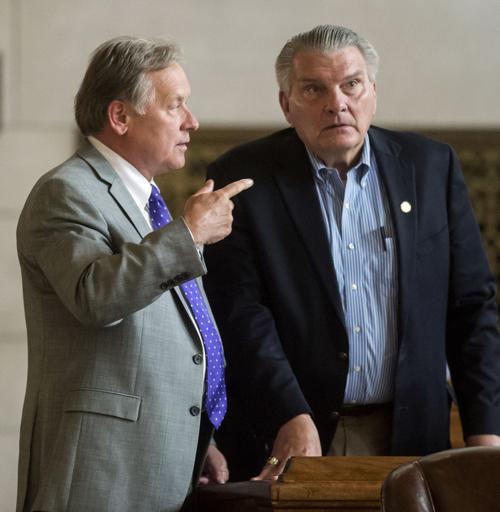 Sen. Bob Krist may skip a Republican gubernatorial primary confrontation with Gov. Pete Ricketts next year and move directly to the 2018 general election ballot by forming a separate party as a vehicle to offer voters "a centrist approach to governing."
His message would "focus on unity" and problem-solving rather than Republican or Democratic partisanship or party dogma, the Omaha senator said, and he would directly address the issues that are most important to Nebraskans.
Heading that list, he said, would be property tax relief.
A citizens initiative to impose property tax reduction conceivably could be on the ballot at the same time.  
Property tax reduction proponents are mulling whether to take the issue to the voters after failing to win the kind of fundamental change they pushed for during the 2017 legislative session.
Krist, a Republican who will complete his 10th and final year in the nonpartisan Legislature next year, signaled last month that he was considering a 2018 gubernatorial bid that would challenge Ricketts in next spring's GOP primary election.
But formation of a new party could gain him a slot on the general election ballot without running the gamut of a Republican primary election in which an incumbent Republican governor would hold all the political advantages.
It only takes roughly 5,000 signatures to form a new party and gain access to the general election ballot, Krist said.    
There's been no decision on what he might name the new party or who he might choose as a running mate, he said, but his candidacy would center on "getting things done" without regard to party.
"We will be the alternative vote," Krist said.
Krist said he plans to travel the state in August, embarking on "a listening tour" to hear directly from Nebraskans about their priorities and concerns while assessing "how people in Nebraska judge the administration" of Ricketts in his third year as governor.
While Ricketts pushed this year for a tax package that included income and property tax reduction, Krist said the bill "concentrated basically on income tax reduction" rather than property tax cuts.
Ricketts has included increases in state property tax credits in his budget recommendations every year and they have been enacted by the Legislature.
Although Krist has not officially pulled the trigger yet on a gubernatorial bid, he said he's "still strongly considering doing so around Labor Day."
A retired U.S. Air Force officer, Krist plans to pilot the aircraft he will use to tour the state. He flew more than 100 combat sorties during his military service.
In an interview at his state Capitol office, Krist said the nonpartisan Legislature has become "too politically-oriented in terms of R and D," with Republicans and Democrats too often dividing according to party affiliation or loyalty to the governor.
The focus should be on the priorities and concerns of Nebraskans, he said, and property tax reduction sits atop that list.
"I understand it when people say they feel their voices are not being heard," Krist said.  
Divisions over budget priorities and needs also ought to be carefully considered, he said, especially when it appears that "the most disenfranchised, most vulnerable, most fragile Nebraskans" are those who will bear the brunt of some recent state budget decisions.
High on Krist's list of policy priorities would be a commitment to "fix the corrections problem" that has plagued the state's prison system and devising an ongoing plan to "shrink the size of state government."
Meanwhile, he said, property tax reduction needs to be accomplished in concert with assurances of adequate education funding. 
"I will get it done," Krist said. 
Ricketts formally announced his candidacy for a second term last Sunday, pledging to reduce taxes and continue to slow the growth of state spending.