A Lincoln judge said new eviction cases this week have dropped significantly, the result of the governor's executive order going into effect, as well as federal action by Congress to provide relief to renters affected by the pandemic.
On Wednesday, just two eviction hearings were set before Lancaster County Court Judge Thomas Zimmerman in courtroom 21. And nine the next day.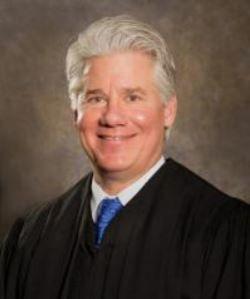 That's significantly fewer than the 30 or more cases he usually has on the docket in a day, he said.
Last week, Milo Mumgaard, the Omaha director of Legal Aid of Nebraska, expressed concerns about what the advocacy group was seeing in courtrooms in Lincoln and Omaha, where he estimated there still had been about 100 evictions.
When the hearings are set, the tenants — most low-income and without an attorney — are required to go to court.
The executive order signed by Gov. Pete Ricketts on March 25 deferred cases until May 31 for those who can document they have become ill, lost income because of job loss or wage reductions or missed work to care for a loved one, such as a child who cannot attend school or a sick family member, due to COVID-19.
It applied to rent due on or after March 13 and doesn't cancel any rent payments.
Congress passed a temporary federal moratorium, which went into effect March 31, imposing a 120-day moratorium on tenant eviction filings and charging late fees for rental property owners who have federally backed loans.
But neither applied specifically to previously filed cases over unpaid rent due March 1 or earlier.
Mumgaard said he was concerned about inconsistencies between judges across the state, some of whom he said were liberally granting continuances and others not. He pointed to Zimmerman's April 2 docket.
On Tuesday, the Lincoln judge said every tenant who appeared that day was given an opportunity to be heard and raise any defenses, including those specifically related to COVID-19.
In one case, he said, a couple called and left a message saying they were quarantined at home and couldn't attend, and he continued their case.
He said no other tenants asked for continuances because they had already reached agreements with landlords to give them more time to move out.
Zimmerman said he is required to grant the relief requested by landlords if the unpaid rent is outside the time frame in the executive order or if renters don't provide the evidence required.
A judge's job is to follow the law, he said, and he's following the governor's order to the letter.
Zimmerman said judges and court staff also are doing everything they can to follow social distancing restrictions while still keeping the courts open.
He's asked attorneys and others for help keeping it to 10 people in the courtroom, counting him and the bailiff.
Zimmerman said he is following the CARES (Coronavirus Aid, Relief and Economic Security) Act to the letter, too, and anticipates that it will very quickly have a marked effect on the number of eviction cases in Lancaster County Court.
"As a court, we anticipate a significant drop-off in the volume of eviction cases (and a corresponding drop-off in attendance in court) beginning as early as this week and in the coming months," the judge said in an email.