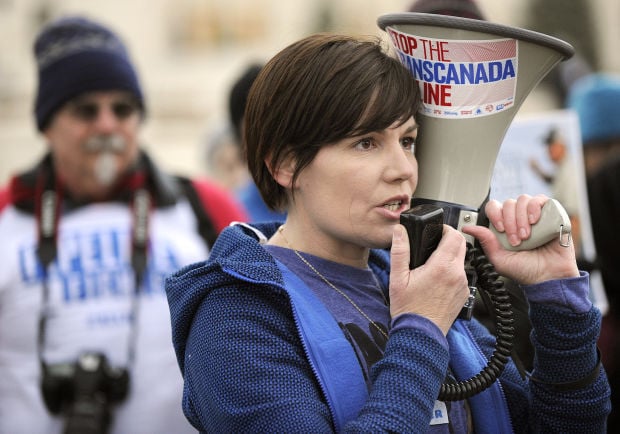 KEARNEY -- Jane Kleeb claimed Nebraska Democrats' top leadership post Saturday, vowing to boost progressives' voice and elevate the party's standing in state politics.
A well-known activist who founded the anti-pipeline group Bold Nebraska, Kleeb topped 2014 gubernatorial candidate Chuck Hassebrook by 42 votes out of 410 delegates eligible to become state party chairwoman. 
"The opposition party is now here," she said following her win, alluding to Democrats' inability to secure statewide elected office in recent years.
Her victory came toward the tail end of a tumultuous state Democratic convention at the Ramada hotel in Kearney.
At several points during the day, members of the crowd shouted in confusion or anger over how business was being conducted. That followed vigorous lobbying by Hassebrook, Kleeb and their corresponding picks for other party posts.
Things quieted down after the chairmanship vote.
Kleeb, 43, rode a wave of support by backers of Vermont Sen. Bernie Sanders for president, who defeated former Secretary of State Hillary Clinton in the state's March 5 caucus and secured greater representation at the convention as a result.
Kleeb supports Sanders; Hassebrook backs Clinton, the presumptive nominee.
Both candidates for party leadership courted young and minority members in speeches before the vote.
Hassebrook said reaching out to those voters would allow Nebraska Democrats to "change the politics of this state fundamentally" over the next decade.
Kleeb said one party already represents the status quo in Nebraska: "They're called Republicans."
She said a "newly energized" Democratic Party should serve as a wake-up call for the GOP.
"Progressive is a loaded word," she said. "It scares people who like things the way that they are."
Outgoing Chairman Vince Powers, who did not run for re-election, said Democrats must fight to hold GOP Gov. Pete Ricketts accountable. 
Yet legislative term limits enacted by voters in 2000 have stretched the party, making it more difficult for Democrats to fend off a Ricketts "supermajority" among senators who would enact more tax cuts in coming years.
"Pete Ricketts wants to turn us into Kansas," Powers said.
That state's tax cuts have led to repeated budget shortfalls and are widely considered a failure.
Saturday's convention activities lasted more than 12 hours, and didn't include resolutions the party will consider Sunday.
Some delegates, mostly Sanders supporters, tried to force an early vote on a proposal condemning the use of unpledged delegates, also called superdelegates, at the Democratic National Convention.
Those delegates' ability to commit to a candidate at the national convention without considering election results "can directly undermine proportional representation," the resolution read.
A two-thirds vote was needed to suspend the rules and vote on the resolution Saturday. That didn't happen, so a vote will take place Sunday instead.
Other party officials elected Saturday include: Winnebago leader Frank LaMere as first associate chairman, Tom Tilden as second associate chairman, Patty Zieg for national committeewoman and Ron Kaminski for national committeeman.