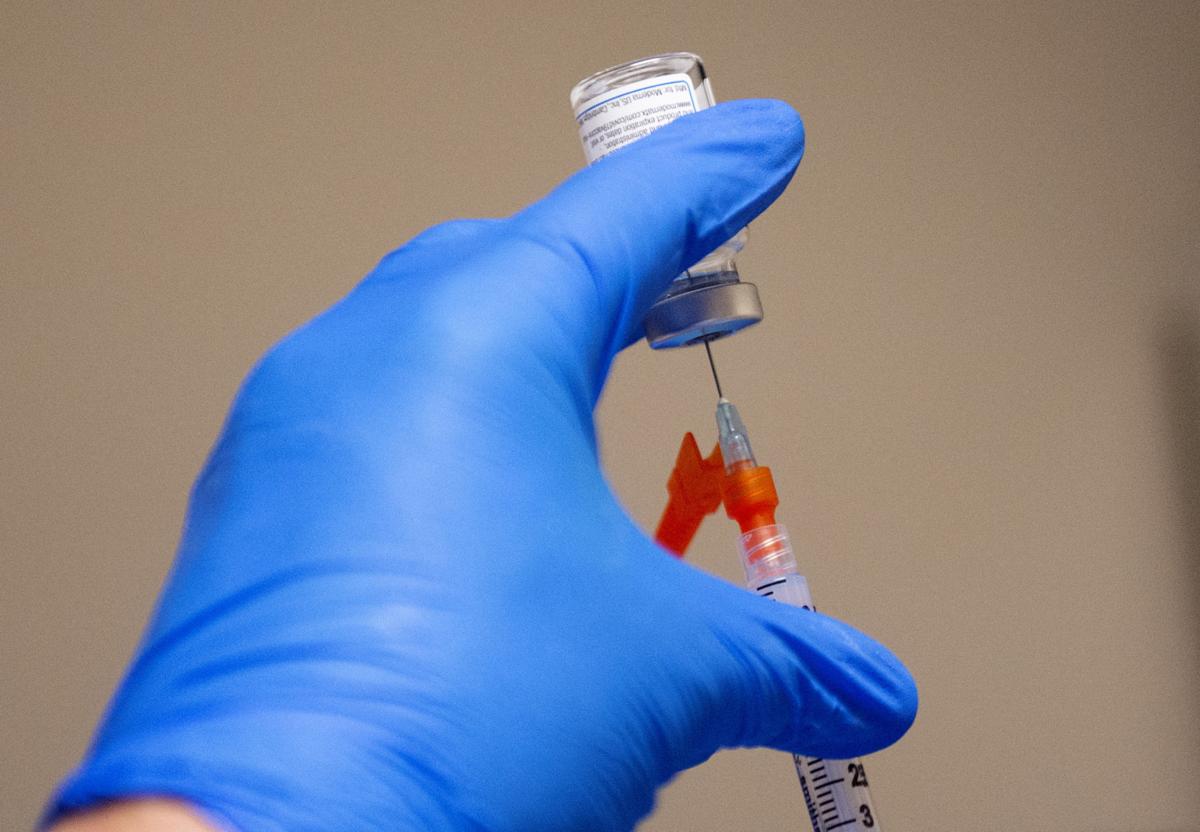 Nebraskans with high-risk medical conditions, regardless of their age, will be included in the next phase of COVID-19 vaccinations in the state directed at the general population between the ages of 50 and 64, Gov. Pete Ricketts said Wednesday.
The state will look to the medical community to identify appropriate patients who would qualify for early vaccination without regard to their age, he said, while asking those Nebraskans to be sure to register at vaccinate.ne.gov.
Once health districts move to Phase 2A of the state's plan, 10% of the vaccine available will be reserved for those Nebraskans considered at high risk, Angie Ling, incident commander at the Nebraska Department of Health and Human Services, said during the governor's news briefing.
Some health districts in the state may be ready to move from the current phase of administering vaccinations to people 65 and older into the next phase within a few weeks, Ricketts said.
"It will not be the same (in terms of timing) across the whole state," he said.
What is the same, Ricketts said, is that "we continue to prioritize based on risk."
"Local health directors will work with the medical community to tailor the program (to) the people most at risk," the governor said.
Nebraskans 64 and under with comorbidities need to "go to the state website and register (and) work with their health care provider" to make sure they are positioned to access the vaccine, Ricketts said.
The state sparked controversy in mid-February when it removed people with high-risk medical conditions from the current priority group to devote as much vaccine as possible for the state's oldest residents.
In Lancaster County, the local health department continues to work through the 65-and-over group, with vaccinations Wednesday for 2,200 residents age 70 and older. It was the first vaccination clinic held at the Speedway Sports Complex in southwest Lincoln.
The first vaccinations for educators in Lancaster County are set for Saturday.
While increased shipments of Pfizer and Moderna vaccines continue to arrive in the state, Ricketts said, there probably will be only one shipment of the newly approved Johnson & Johnson vaccine this month before its production rate begins to accelerate.
Asked about the objection voiced by some Catholic bishops across the country about use of the new Johnson & Johnson vaccine because of the company's past research connections to "abortion-derived cell lines," Ricketts said he would regard that as "a very personal decision."
But Ricketts said he continues to urge Nebraskans to get vaccinated.
On other matters, the governor said he remains concerned about the rolling power outages imposed in Nebraska by the Southwest Power Pool last month due to outages and stress on the regional electric grid triggered by extreme cold conditions in Texas and other southern states.
"What's their plan to make sure that never is going to happen again?" Ricketts asked.
That loss of electric power "puts businesses at risk and jobs at risk," the governor said, while raising concerns for people who are dependent on heat in their homes while the temperature is minus 20 degrees outdoors.
The recent rolling blackout significantly impacted operations at the Nucor steel plant in Norfolk, he noted. 
Asked about Texas Gov. Greg Abbott's decision to end a statewide cornonavirus mask mandate and "open up" his state, Ricketts said "we never had a statewide mask mandate" in Nebraska.
"We've been much more opened-up than Texas," he said.
Mask mandates continue in Lincoln and Omaha, but other community-imposed mandates across Nebraska are being allowed to expire. 
Virus by the numbers: 10 charts that show how Nebraska is coping with COVID-19
Nebraska ICU capacity, by county
Nebraska hospital capacity, by county
Nebraska COVID-19 vaccine distribution
COVID-19 vaccination rates: How Nebraska compares
Nebraska COVID-19 hospitalizations and ICU usage
Lancaster county COVID-19 cases
Lancaster county COVID-19 deaths
Nebraska COVID-19 testing
Douglas county COVID-19 deaths
Douglas county COVID-19 cases