Nebraska's new tourism tagline is on the lips of Nebraskans, in conversation and social media, whether they love it or not.
It's causing a wave of relevance for the state all the way across the nation, and even internationally.  
"Nebraska. Honestly, it's not for everyone" has collected praise and protest in the week since it was launched by the Nebraska Tourism Commission. 
Forbes contributor Henry DeVries, co-founder and CEO of Indie Books International and speaker to thousands of business people each year, called it "genius and a lesson to those who want to attract high-paying clients."
[Watch Stephen Colbert talk about Nebraska's new tourism slogan]
Ad Week said: "Turning negatives into marketing positives can be tricky propositions but, when done right, result in magic." 
CBS late night host Stephen Colbert tilted his head and looked sincerely into the camera as he asked: "Nebraska, are you OK?" The Nebraska Tourism folks posted in reply: "No, we're not OK. That's Oklahoma." 
Sheinelle Jones, co-anchor of "Weekend TODAY," confessed she's from Kansas and has never been to Nebraska. Huh? 
People took to Twitter to communicate their own taglines. One of the best: "Nebraska. We want our corner back," referring to the Colorado land south of the state's Panhandle. 
In a call Tuesday to the Journal Star, Joy Kokes of Lincoln, whose family hails from the Sandhills, said she was offended by one of the ads that reads: "Another day on the dusty plains," accompanied by a photo of a boy walking barefoot over a Nebraska waterfall.
At age 76, she remembers the days when Nebraska truly was dusty, she said, and how hard her family and others worked to fill in all those blowouts in the Sandhills to make the state beautiful and green. People viewing that ad, she said, will only see the word "dusty." 
"To put that word on anything in Nebraska is cruel and mean," she said.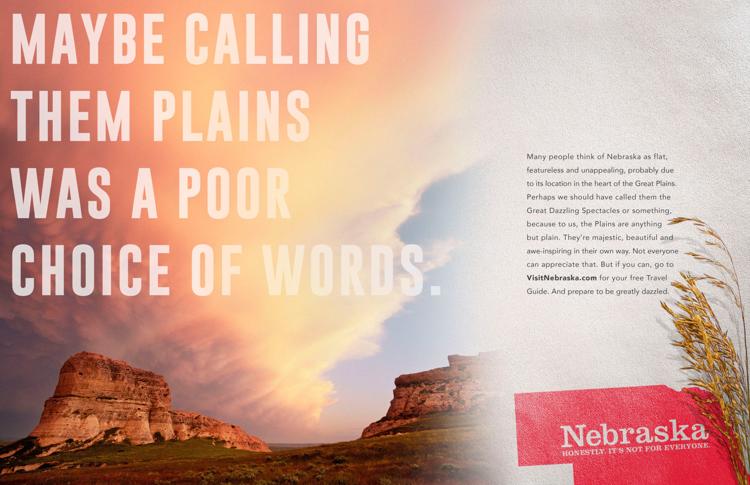 Tourism Director John Ricks said people have to understand the tourism office and the Colorado advertising company Vladimir Jones didn't make up these perceptions — or misperceptions — of Nebraska. They went outside the state and uncovered the words people used to describe the state and then used humor to tell the true story and knock down stereotypes and barriers to people visiting. 
If the campaign had simply tried to tell people about the beauty of the state, as it has in the past, it would have fallen on deaf ears, Ricks said. They had to interrupt people's thinking patterns about Nebraska, because the state just couldn't continue to hold down the position of being the least likely state for people to visit.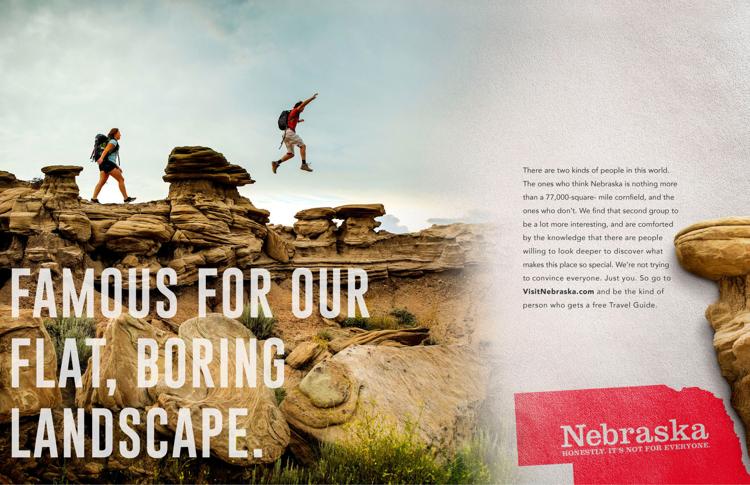 He quoted a travel industry consultant that said: If you don't like change, you'll like irrelevance even less.  
Ricks said many people inside and outside the state really like the campaign, and exciting things are happening.
As of Monday, the campaign has amassed more than $5 million worth of free attention from local and national media, including TV networks, NPR, national newspapers, magazines and websites, said tourism marketing manager Jenn Gjerde. That doesn't include some of the bigger outlets such as "The Late Show with Stephen Colbert" or the "TODAY" show. 
The value of NBC's Saturday morning coverage alone was worth more than $160,000, Ricks said. The commission could never pay for that kind of exposure. 
The tourism website's traffic has tripled, averaging about 3,000 visits on some days, he said. Travel guide requests are also three to four times higher. 
On Friday morning, the campaign was featured at the top of The Skimm, a popular electronic digest of news stories intended to be simple and easy to read. 
"This morning I was tagged on Kelly Ripa and Ryan Seacrest's show. They talked about it yesterday," Gjerde said. 
A part of the campaign to bring people to see the migrating cranes will begin in January, and then more around April. 
The office is already getting requests for merchandise, like T-shirts and bumper stickers. They'll be working on that in the next few months, Gjerde said. On Monday she got a request for the state to submit a bid to host drone races.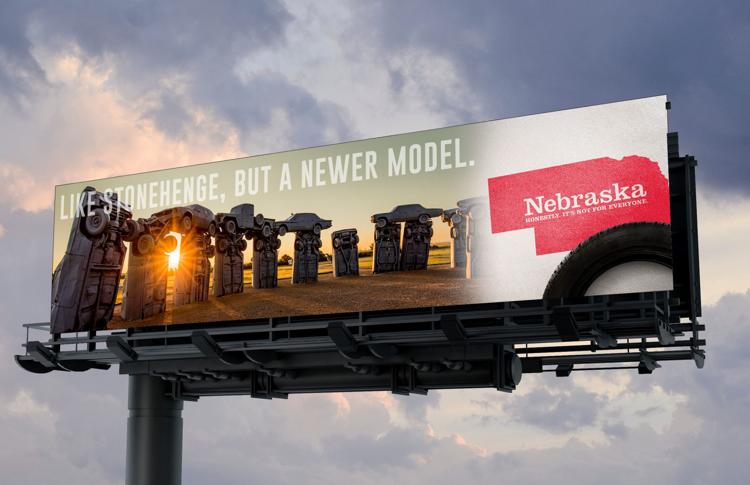 "I think if everybody just takes a deep breath, continues to watch how this thing plays through, and then when the campaign actually kicks off, I think they're going to be surprised," Ricks said. 
"We are going to get more people here and they are going to impact the state." 
[Watch Kelly Ripa and Ryan Seacrest talk about Nebraska's new tourism slogan.]