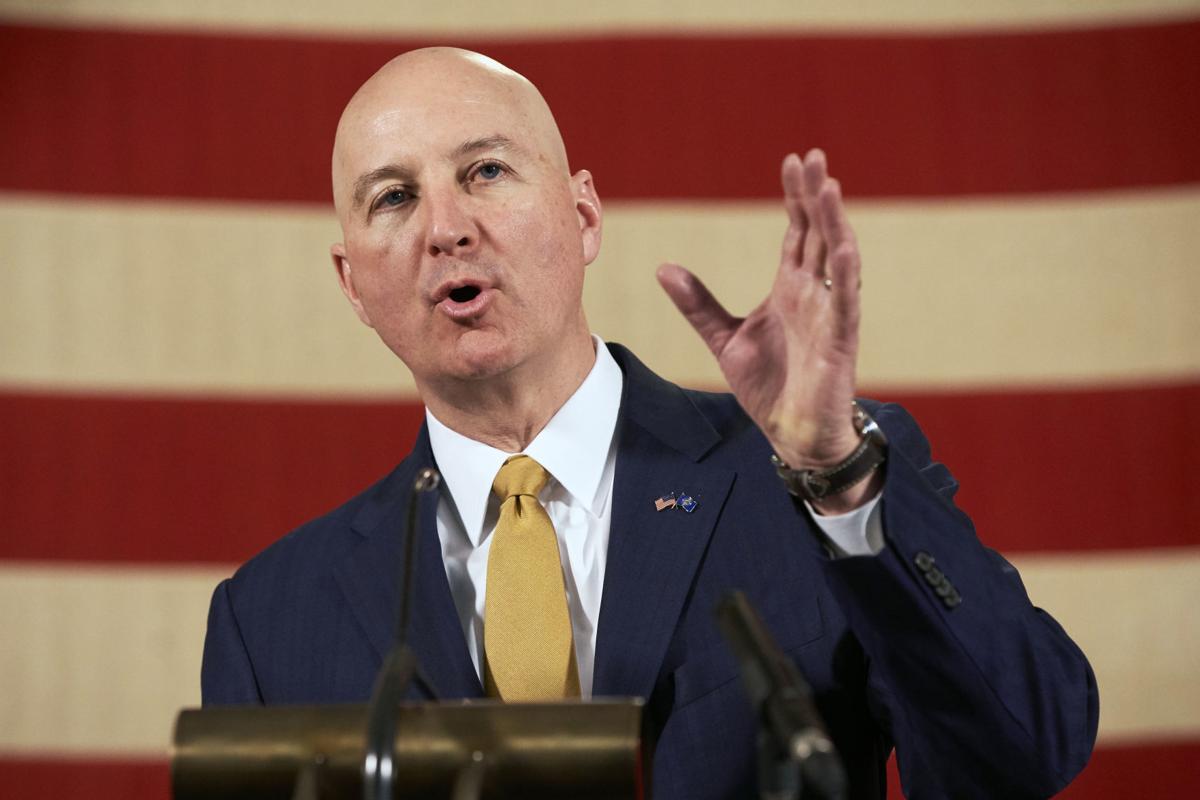 Gov. Pete Ricketts announced public events and gatherings in Nebraska will be limited to 10 people or fewer to prevent or control the spread of the coronavirus following guidance from the Centers for Disease Control and Prevention.
The governor made the announcement at a news conference Monday afternoon shortly after he offered a message of assurance to Nebraskans on his monthly statewide radio call-in show.
Ricketts said businesses can stay open and the crowd limit does not include grocery stores. In coming days, he said, restaurants may be limited to takeout service. 
Child care centers are included in the 10-person limit. And so are weddings and funerals. 
"It is not a law enforcement action," Ricketts said in a written statement issued Monday to clarify statements made earlier in the day. "It's going to take individual action from all of us to make this work."
Ricketts said child care providers should use common sense when applying the guidelines with the goal of reducing class sizes and increasing space between children.
People may need to stay at home and work from home for a while, the governor said.
In his radio broadcast, Ricketts said that while the challenge presented by the coronavirus represents "an unprecedented public health emergency," the fact is that "the vast majority of people will be fine."
About 5% of those infected by the virus will need to go to a hospital, he said, and only about 1%-2% will require intensive care treatment.  And those are likely to be older Nebraskans and people with underlying health conditions, he said.
"I'm scared," a caller from Alliance named Judy told the governor. "I'm very concerned."
At his afternoon news conference that attracted an unusually large print, television and radio gathering, people were seated a chair apart from one another.
State Education Commissioner Matt Blomstedt announced plans to recommend all public schools close at the end of the week and State Labor Commissioner John Albin said requirements that recipients of unemployment insurance must be seeking work would be waived during the current health care challenge.
Ricketts said the state would be working to expand its virus-testing capacity, which he said amounts to 200 a day with an eye toward increasing its "drive-up testing capability."
The governor said he does not know at this time what kind of economic impact the virus may have on businesses or on state revenue, although he noted that state government has "a pretty healthy cash reserve" on hand.
A news release from the Department of Health and Human Services said limiting the number of people at gatherings would continue for the next eight weeks. Events include concerts, festivals, conferences, worship service and sporting events.
Further, the news release outlined that bars and restaurants will move to takeout only on a regional basis when:
* A second community-spread case is confirmed in the Omaha area.
* There are one or two confirmed community-spread cases in Lincoln.
* There is one confirmed community-spread case for other Nebraska communities and Nebraska's Educational Service Units.
As of Monday morning, Nebraska officials had announced 17 cases of COVID-19, all but two from Douglas County.   
There has been one community-spread case reported in the state so far, in Douglas County. Community spread is where health officials cannot identify a direct link to a specific local case, as in the case of travel.
The guidelines posted by Health and Human Services also ask event organizers to cancel events primarily for or attended by older adults and people with chronic medical conditions at higher risk for severe illness.
Concerned about COVID-19?
Sign up now to get the most recent coronavirus headlines and other important local and national news sent to your email inbox daily.