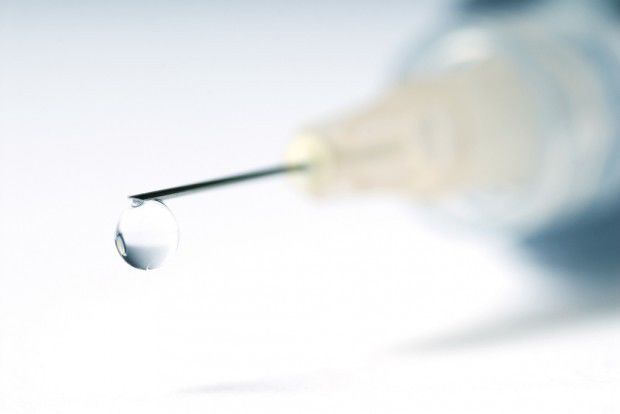 Action by the European Union will make it tougher for Nebraska to buy more of the lethal injection drug sodium thoipental -- one of three drugs called for in the state's execution protocol.
The German newspaper Süddeutsche Zeitung reported Monday that a new EU rule will go into effect at the end of this week prohibiting the export of some barbituric acids, including the anesthetic sodium thiopental.
The drug has been in short supply since last year, when the only U.S. manufacturer, Hospira Inc., ended production because of death-penalty opposition from overseas customers.
Nebraska is among 10 states that have purchased the drug from foreign sources. But the U.S. Drug Enforcement Administration has seized supplies from several states because it was illegally imported or because of questions over how it was manufactured.
Nebraska has twice purchased sodium thiopental made overseas. The DEA did not seize the first batch but told the state it could not use it because it was imported illegally.
Nebraska since obtained a proper import license and recently bought a supply made by a Swiss company through a broker -- an action that resulted in a pending legal challenge in the Nebraska Supreme Court.
The last 32 executions in the United States have been done using pentobarbital -- which is used to treat seizures and for preoperative sedation.
However, the Danish manufacturer of pentobarbital, Lundbeck, has expressed concern over its product being used for execution and says on its website it "will deny distribution of the product to prisons in U.S. states currently active in carrying out the death penalty by lethal injection."
Richard Dieter, executive director of the Death Penalty Information Center, a Washington-based nonprofit that takes no official stance on the death penalty, said it is becoming apparent states eventually will have to turn to a third anesthetic -- beyond thiopental and pentobarbital -- if they want to continue with lethal injections.
"However, I have not heard of any other drugs being considered by the states. This kind of information has been kept secret by the states unless compelled to reveal it by the courts," he said. "Pentobarbital seems to be widely available in the states, so it may take some time before any blockage takes affect."
Defense attorney Jerry Soucie, of the Nebraska Commission for Public Advocacy, said that as manufacturers and suppliers express concerns about the use of their products to conduct executions, "the state departments of corrections have sought these same chemicals from less reputable black and gray market suppliers -- 'no questions asked.'"
"If the states are going to continue to pursue the death penalty by lethal injection, then they should be held to the same standard as any other wholesale pharmaceutical importer, not less," Soucie said. "When the state seeks to take the life of another human being, governmental officials should scrupulously comply with all state and federal laws with full disclosure regarding the details of such drug purchases. This governmental transparency is sound public policy that will increase public confidence in our criminal justice institutions."
Earlier this year, Oklahoma Gov. Mary Fallin signed a measure adjusting the language of the state's lethal-injection law to remove the specific reference to sodium thiopental and other drugs. It now says that the death penalty "shall be carried out by the administration of a lethal quantity of drug or drugs until death is pronounced by a licensed physician according to accepted standards of medical practice."
Nebraska's three-drug protocol calls for a dose of sodium thiopental to render the inmate unconscious, followed by pancuronium bromide to paralyze him or her, then potassium chloride to stop the heart.
Nebraska's execution protocol could be changed, but not without some effort. It was formulated by prison officials and vetted through a series of public hearings. The final rules were reviewed by the attorney general and approved by the governor.
Dawn Renee-Smith, spokeswoman for the Department of Correctional Services, said earlier this month that there were no plans to change the protocol. When asked for comment Monday, Renee-Smith said, "My response hasn't changed."
Meanwhile, Nebraska Attorney General Jon Bruning's office has asked the Nebraska Supreme Court to set an execution date for death-row inmate Michael Ryan.
Soucie has asked the high court to forbid Bruning's office from further handling Ryan's case. Soucie said in a court motion that Bruning's office has twice advised the Corrections Department on sodium thiopental purchases -- the illegally imported batch and the most recent supply -- that have raised legal questions.
The pharmaceutical company that made the sodium thiopental Nebraska recently purchased has asked the state to return it, saying it was obtained by deception.
Corrections officials announced Nov. 3 they had purchased the drug made by Naari, a pharmaceutical company headquartered in Switzerland. But the news release did not mention that the drug, while made by Naari, was purchased by a middleman named Chris Harris, who in turn sold it to the state.
The CEO of Naari recently wrote to Nebraska officials saying the company wants the drug back. According to the letter, Harris, who is based in Calcutta, said he would send the 485 grams of sodium thiopental to Zambia, where it would be used as an anesthetic. Naari gave Harris vials of the drug near the end of September, and he sold the drugs to Nebraska officials for $5,411, according to the letter.
That, Soucie said, amounts to "retaining misappropriated (stolen) property."
Nebraska switched its method of execution to lethal injection after a 2008 ruling from the state Supreme Court that said the electric chair amounted to unconstitutional cruel and unusual punishment. Nebraska had been the only state with electrocution as its sole means of execution.