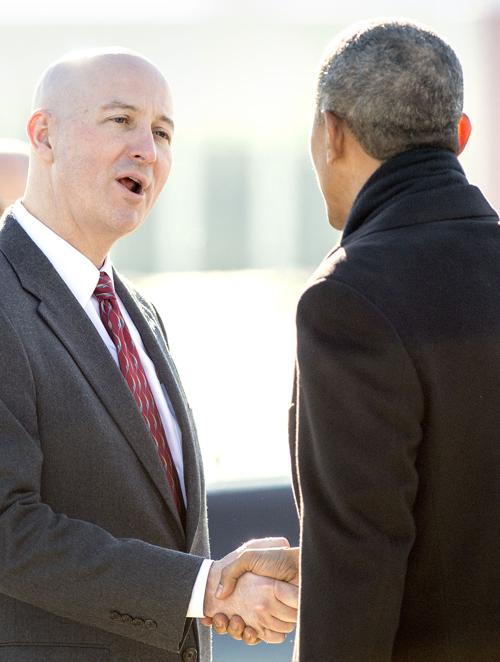 This train is having a hard time leaving the station.
The 2016 Legislature is bogged down in early filibusters.
It's a good thing that Speaker Galen Hadley reduced the maximum time allowed for a filibuster at the first stage of floor consideration from eight hours to six hours or there would be even more traffic piling up behind.
It's a 60-day session and, don't look now, but it's already one-fifth gone.  
So far, more guns than roses.
The Legislature concluded its Friday session with debate on a bill that would impact local gun ordinances in Lincoln and Omaha, sparking a discussion that energized gun proponents around the 2nd Amendment.  
The gun debate is always interesting.  
The devotion of gun owners to their guns.  
The expanded reach of the 2nd Amendment since the current U.S. Supreme Court decreed a new interpretation of its meaning in 2008 on a 5-4 vote.  
The approaching showdown on gun safety in the presidential race centering on proposals for expanded background checks.
So, even though traffic may be piling up on the legislative track, issues that matter are being raised and debated.
And Hadley will don his engineer's cap, blow the whistle (and maybe bang a few heads), and get that legislative train moving soon.
The original decision by Gov. Pete Ricketts not to greet President Obama on the tarmac when Air Force One arrived in Nebraska ignited a flurry of e-mails and other communications from Nebraskans scolding the governor or expressing disappointment in him.
And, in turn, the governor's follow-up decision to revise his schedule and go to Offutt Air Force Base to welcome the president triggered messages from citizens thanking Ricketts for changing his plans.
It's hard to know exactly how much of a factor those personal communications from Nebraskans might have been in shaping the final decision, but it's probably fair to guess that the e-mail traffic entered some discussions leading up to the change in his schedule.
Especially when you read the e-mails and other messages that flowed into the governor's office.
Those communications surfaced in a pile of documents released by the governor's office in response to a freedom-of-information request filed by Vince Powers, who is Democratic state chairman. The governor's office shared that data.
Glancing through dozens and dozens of e-mails and other messages, you find words like disrespectful, embarrassing, disappointing, shameful, rude.  
"We are a better state than that."
"You are a representative of every citizen in your state, and I ask that you represent all of us."
"It's the right thing to do."
"As a Republican, I am saddened that you are not representing Nebraska when President Obama comes to Omaha."
Communications expressing disappointment and disagreement flowed in from Omaha, Lincoln, Plattsmouth, Springfield, LaVista, Nehawka, Martell, Minden, Hickman, Blair, Valley, Arlington, Lewellen, Johnson Lake, Elkhorn, Columbus, Fremont, Hastings, Grand Island, Bellevue, Juniata, Seward, Papillion, Dakota City, Trumbull, Bennington, Cedar Rapids, Doniphan, York, Gering, Alliance, Mitchell and Scottsbluff.
Whoa, that's hard to ignore.
Now, to balance this out, let's move beyond the suggestion that the content in the governor's e-mail in-box may have had some influence on his ultimate decision.
Let's ask: What does the governor's office say?
A text message to gubernatorial spokesman Taylor Gage asking whether that was an unusual number of communications from citizens on an issue and whether the e-mail reaction "factored into the governor's decision to go to Offutt" received this response:
"The invitation was extended on Monday, two days before the event.
"The decision to go was based on the ability to reschedule, which staff was able to do on Tuesday.
"The governor generally receives a high volume of correspondence on high-profile issues."
* One of the amusing exchanges in the e-mail traffic generated by the president's visit was a White House request for the governor's Social Security number and date of birth after he signaled he would go to Offutt.  Hey, the only way for security to be effective is no exceptions.
* Ben Sasse is lighting it up again on Twitter with his adventures on an Amtrak train during the weekend East Coast snowstorm. Sasse also posted this response to Donald Trump's suggestion that he could shoot someone and not lose any votes: "Dick Cheney tested this theory once."
* Speaking of shooting, Michigan couldn't miss on Saturday. Stuff happens.
* It isn't even February and The Sporting News 2016 baseball magazine is on the bookshelves. TSN picks the Red Sox to defeat the Giants in the World Series. Yeah, right.