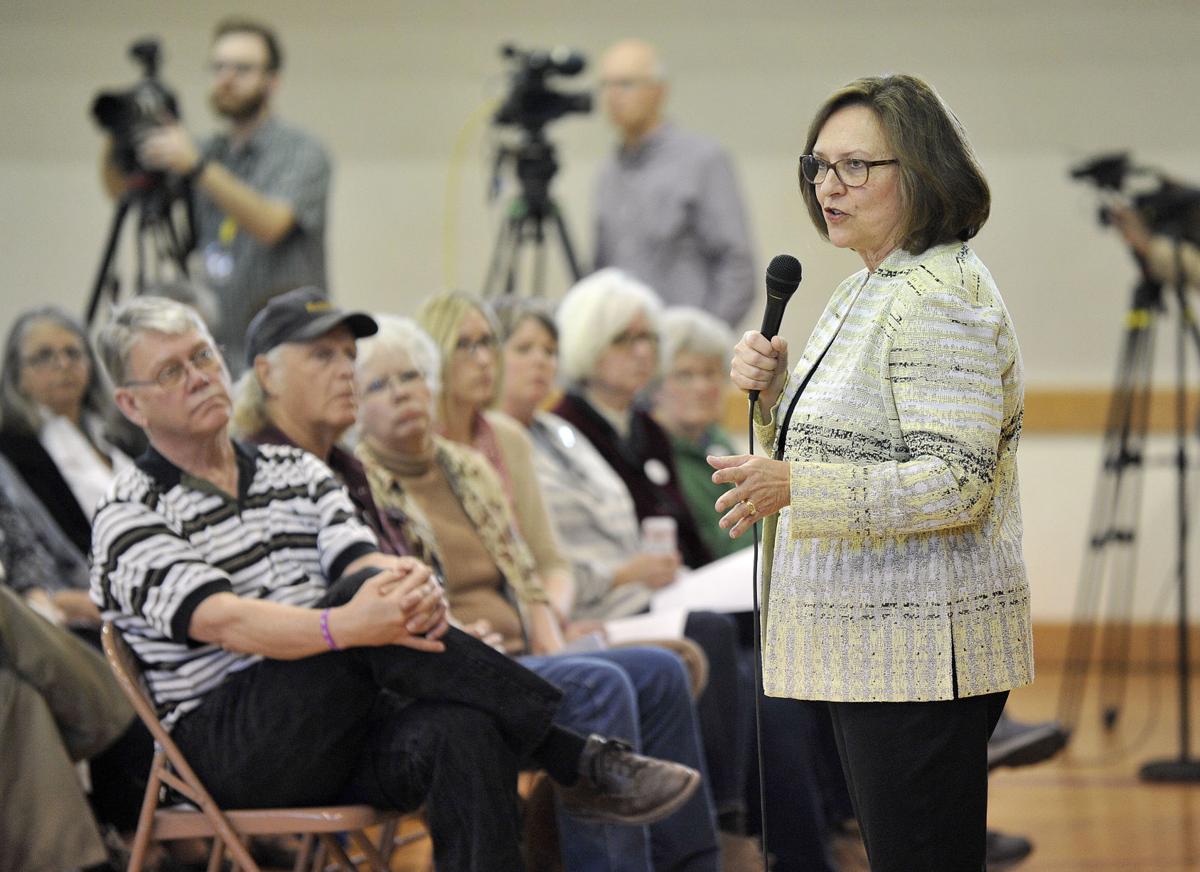 Deb Fischer will formally announce her candidacy for re-election to the U.S. Senate on Saturday, setting sail for 2018 with the wind at her back.
It's hard to imagine that she won't win a second term, but no doubt there's a lot of turmoil ahead before voters go to the polls a year and a half from now.
President Trump is both lightning rod and daily creator of tension and turmoil, so storm warning signs appear to be a political fixture for the near future.
Fischer, Sen. Ben Sasse and Rep. Jeff Fortenberry temporarily abandoned Trump last October after disclosure of the video recording of his lewd and sexually aggressive remarks about women. They suggested he step aside in favor of GOP vice presidential nominee Mike Pence, who himself briefly retreated to the sidelines.
Gov. Pete Ricketts did not originally support Trump's nomination by the GOP — he was ready to endorse Ted Cruz before the Texas senator crashed and burned in the Indiana presidential primary election — but the governor was at Trump's side in Omaha days later when Trump had the presidential nomination in his grasp.
It's called party and a reminder how much party matters.
And that's one of Fischer's built-in advantages as she seeks a second term in the Senate. Campaign funding support would be another.
It's hard right now to imagine Democrats winning a statewide race in Nebraska in 2018 — even if this president crashes and burns. No telling how long it will take to complete the special counsel's investigation of possible obstruction of justice issues or what this president might do today or tomorrow or on any given day.
But Nebraska is staunchly Republican territory today.
Republicans have sailed to victory in the last three Senate contests in Nebraska; Democrats last won a Senate race in 2006; registered Republicans outnumber registered Democrats by more than 200,000.
Yes, Nebraska has experienced waves of political change that have resulted in periods of Democratic senators and governors — Jim Exon, Bob Kerrey, Ben Nelson, Ed Zorinsky — but there's no visible sign of Democratic resurgence building here yet.
Mayor Jean Stothert's recent re-election victory over Heath Mello in Omaha points in the opposite direction.  If Democrats can't win in Omaha where they enjoy a voter registration advantage of more than 16,000 — even though the mayor's race is officially nonpartisan — that's not a good precursor for them in 2018.
Back to Fischer, a former state senator who upset former Attorney General Jon Bruning in the Republican primary election en route to a victory over Kerrey in 2012.
Unlike some incumbent Republican senators across the country who have gone into carefully crafted seclusion as a result of the intense reaction to what appears to be a hidden Republican Senate health care reform plan that would strip millions of Americans of their health care coverage, Fischer isn't hiding.
Last week, she held a town hall meeting in Omaha and made sure that constituents were aware of her "listening session" by publicly promoting it.
And, sure enough, supporters of the Affordable Care Act who are alarmed by the emerging Republican plan and its impact on millions of children, the disabled and the elderly who depend on Medicaid support showed up to register their intense and noisy opposition.
There was shouting, some boos, many interruptions, signs waving in front of her face as Fischer fielded questions. Not an easy part of the job, but she did it and she maintained her cool.
Part of this debate will drift into the 2018 gubernatorial race if the GOP Senate plan transfers a huge chunk of Medicaid funding responsibility and decision-making to the states.  
That would mean the governor and the Legislature may ultimately determine health care funding decisions that impact the future of rural hospitals and small-town nursing homes as well as individual Nebraskans.
Rural Nebraska already is under stress with a decline in ag commodity prices compounded by local property taxes, Trump's proposed ag budget reductions and the impact of the president's trade policies.  
You'd think a potential Democratic opening might be there, but that is the center of the staunchest Republican support in the state. 
I was reminded last week that health care reform was Bob Kerrey's paramount issue when he mounted a presidential campaign in 1992.
But Kerrey was way ahead of the curve; Bill Clinton was in tune with the voters and nailed it with his emphasis on the economy.
Is 2018 a congressional election year when it might be health care?
Doug Bereuter was an active participant in the congressional baseball game in 1979, playing center field and acting as "designated runner" for some Republicans who reached base.
Designated runner? Hey, it's Congress, they can make their own rules.
"I was considered to be the fastest member and ran for some members who might be easily injured," Bereuter recalled last week.
Bereuter remembers that Ron Paul hit a ball over the fence and that the Republicans won the game. Bereuter wore a University of Nebraska Husker baseball uniform.
"Unfortunately," Bereuter says, the congressional baseball contest is "one of the last bipartisan events."
There used to be more family events that brought Republicans and Democrats together, the former 1st District Nebraska congressman says.
"I think that helped develop an attitude of civility among members and a degree of bipartisanship that may not exist today."
Finishing up:
* A national survey of gender parity in elected office conducted by an organization called Representation2020 gave Nebraska a grade of D. The state ranked 31st in the nation. 
* A delegation of Union College students was on Capitol Hill last week to help urge Congress to support full U.S. funding for the United Nations.
* I kinda liked that 90,000 Husker attendance figure; it's not going to sound as impressive at 87,000 or whatever.