Farmers and ranchers in western and central Nebraska are concerned about the negative impact that President Trump's trade and tariff policies are having on agricultural trade.
But they understand what he's trying to accomplish and most of them have not abandoned him, Rep. Adrian Smith says.   
"They back him up," he suggests.
"That's my observation," the Republican congressman said during a conversation over coffee at the Mill in Lincoln's Haymarket at the end of last week.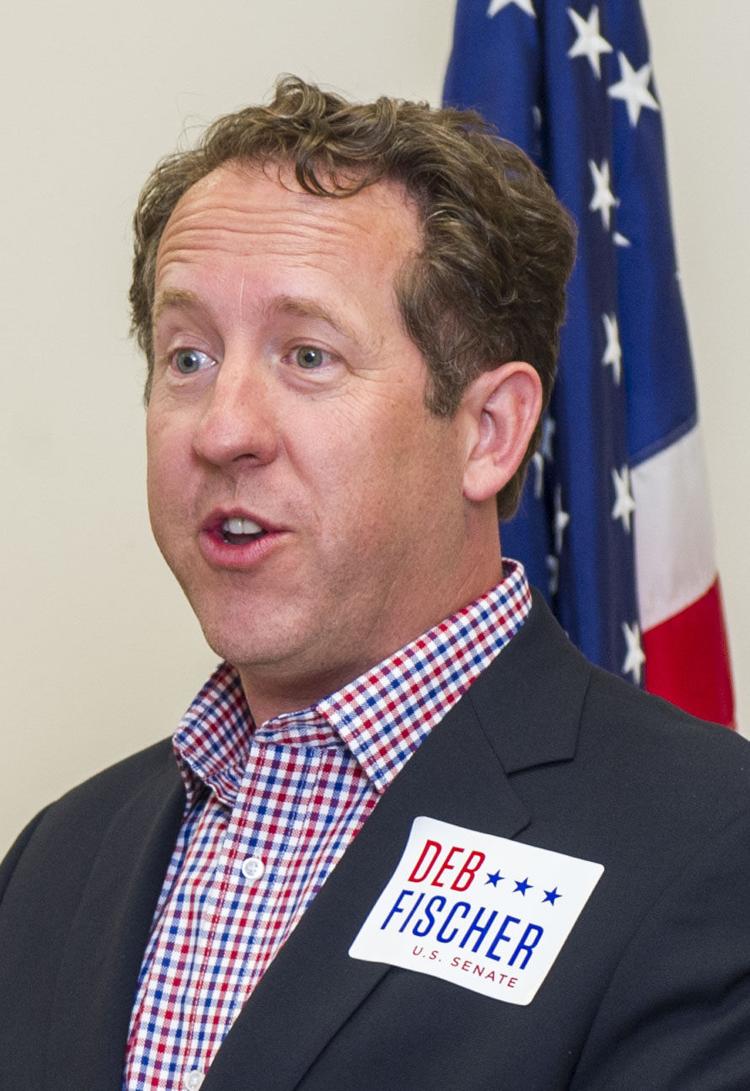 It's an observation that some Nebraska farm leaders will tell you they agree with privately.
But everyone also recognizes it might have a shelf life.  
The unanswered question is whether that short-term acceptance would have long-term life if today's trade skirmishes blow up into a long trade war that undermines the economy while placing a bull's-eye on U.S. agricultural exports. 
Smith, who represents all of western and central Nebraska along with the northeastern and southeastern corners of the state, wants to see expansion of trade opportunities, not closed doors. 
"I would prefer a more targeted approach with China," Smith said, rather than the hammer that the president used in imposing widespread tariff increases on Chinese products, triggering a quick retaliatory response that has impacted Nebraska's agricultural markets.
And Smith hopes the differences over renegotiation of NAFTA can be resolved soon. 
The North American Free Trade Agreement forged by the United States, Canada and Mexico is important to Nebraska's ag economy, he said, and clearly in the best interests of all three countries. 
His observation — and Smith has been in Montreal and Mexico City on the sidelines of negotiations — is that "Mexico is a more willing partner than Canada" in terms of reaching a mutually balanced agreement.
In the wake of the president's withdrawal from the Trans-Pacific Partnership trade agreement, Smith introduced a resolution urging the Trump administration to negotiate a bilateral trade agreement with Japan, recognizing Trump's expressed preference for bilateral pacts. 
In general, Smith says, "tariffs are bad; they increase the cost of products" and "more trade is good, but it needs to be fair."
And there should be a willingness to resolve the differences now, he says.
You have free articles remaining.
Ben Sasse says he is a year away from making a decision on whether he'll seek a second term in the Senate.
But he's raising money now so that he will be prepared and positioned to mount a winning campaign if he decides to make a bid for re-election.
Sasse was elected to the Senate in 2014, winning a hotly-contested Republican primary battle with Sid Dinsdale and Shane Osborn. He started as a political unknown but eventually won big and then defeated Democratic nominee Dave Domina in the general election.
His latest Federal Election Commission campaign finance report shows $1,140,000 in the bank as of June 30.
Sasse was president of Midland University in Fremont before he decided to seek the Senate seat being vacated by Republican Sen. Mike Johanns after a single term.
Sasse has gained a national profile in conservative political circles and Washington think tanks, and he's in demand for appearances on network and cable news shows. He turns down almost all of the requests.  
There's already been plenty of speculation that Sasse may face a primary election challenge in 2020. Some Nebraska Republicans object to his independent nature; some are unhappy when he doesn't automatically line up in support of whatever President Trump does or says.
Some of his critics say party first.   
And sometimes it looks a lot like party only.  
Gov. Pete Ricketts already has doused a brief wave of speculation that he might consider a 2020 Senate bid. Ricketts' first venture as a candidate was to seek a Senate seat in 2006.  
Finishing up:
* If Nebraska voters approve expansion of Medicaid, its state funding match is going to compete for state dollars with property tax relief, Sen. Tom Brewer argues. 
* The ICE raids at multiple sites in Nebraska last week produced two competing narratives: immigration officials said it targeted 17 employers and other individuals who were taking advantage of illegal immigrants and disobeying the law; immigrant worker supporters said it swept up 133 workers and separated their families.
The nationality count in those arrests was heavily Guatemalan (48) and Mexican (42).
* Hey, I didn't go to law school, but I don't get it: How can a death penalty law that now effectively applies to a single person in the state — since there is no future access to Nebraska's designated drugs — be exercised to execute that one person?
* Do you remember more hype for a Husker football season? And that's really saying something.