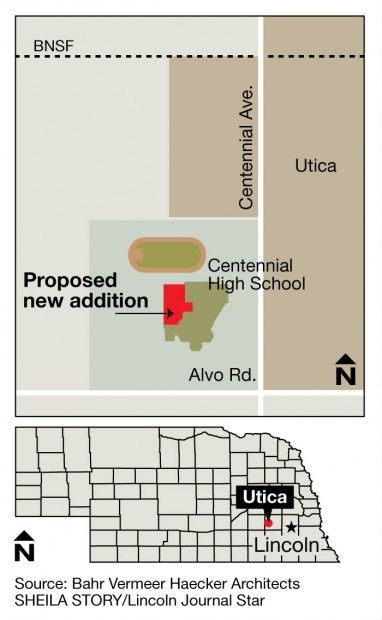 Jim Luebbe is a big proponent of a $6.85 million school bond issue that would finance a new gym, new science classrooms and other improvements at Centennial Public School, located on Utica's southern outskirts.
Luebbe is not a fan of the Seward County election commissioner's decision to conduct that election through the mail ahead of a March 12 deadline. Nor does it matter to him that John Gale, secretary of state and Nebraska's top election official, signed off on Sherry Schweitzer's choice.
"I would say, up front, that, before that decision was made, I visited with Sherry, and I expressed myself fairly forcefully that our ballot issue should be handled as all other ballot issues in our school district have been handled," Luebbe said, "and that's at the polls."
Much to his dismay, election reforms of the past decade have given Seward County the option of all-mail voting. And Schweitzer chose Centennial as the county's first step in that direction.
Much of the intent of statewide reform efforts was to improve turnout and create more of a consensus for important decisions.
Saving money, helping people cope with busy schedules and canceling out the effect of bad weather on election day on both voters and poll workers are among the other pluses.
But Luebbe calls the mail format "a cavalier way to handle something as important to democracy as the right to vote." A ballot pulled from the mailbox, he said, "can be filled out in 10 seconds and slapped in an envelope."
Not surprisingly, Schweitzer and Gale don't agree.
"It's a service to district patrons -- giving them a better way to vote," Schweitzer said.
Rather than having to wedge a trip to the polls and a quick scan of ballot information into a busy day, "you go home, you read it and you do it in your own time," she said.
Gale didn't buy Luebbe's assertions that voting made too easy is the gateway to voting without a good grip on the facts -- or that easy voting comes at a time when a sense of community is in decline.
"I think that's pretty speculative to judge whether there would be more knowledgeable voting at the polling site as opposed to voting by mail."
Even if there are more elderly people in small towns with no children in schools, and even if more people are commuting to jobs out of town, "schools are a very significant source of community pride and people do care," Gale said.
A look at special election results in Nebraska gathered by Gale's staff for 2010 and through Sept. 8, 2011, doesn't show an obvious pattern of defeat for election questions answered through the mail.
Five of the eight outcomes achieved through the mail in 2010 passed. Three failed. The polls results were 7-3 in favor.
In 2011, 10 of 11 done by mail passed. At the polls, the score was 8-5.
There is more of a pattern of more people voting when ballots are mailed to their residences.
In eight all-mail elections in 2010, the average turnout was 55.69 percent. For 13 decisions at the polls from late 2009 through 2010, it was 39.04 percent.
Among mail elections in the Lincoln area, a 2011 bond issue aimed at $5 million worth of improvements at Freeman Public Schools failed with a turnout close to 60 percent. The 2012 bond issue for $14 million at Norris passed with a turnout just short of 50 percent.
Meanwhile, only 13.4 percent of 794 eligible voters showed up at the polls for a Bancroft-Rosalie bond issue in 2011. It lost 95-11.
"They don't all win, they don't all lose," Gale said of mail elections. "The average is about the same for success, but you end with a much greater consensus."
Centennial Superintendent Tim DeWaard prefers to talk about what his favorite school can gain from passage of the bond issue there, including a tornado shelter, more room for vocational agriculture and industrial arts, and a shower close by in case chemicals spill on a student during a science lab.
Interest rates are low. Contractors are eager for work.
"The time seems to be right," DeWaard said.