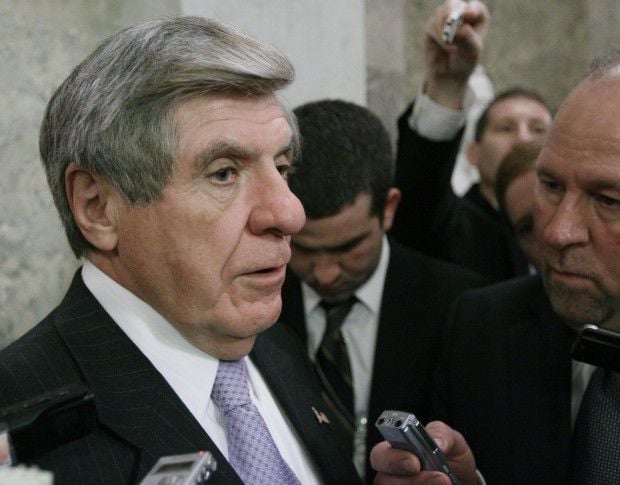 Whether he likes it or not, a deal brokered by Democratic Sen. Ben Nelson in 2009 that became known as the "Cornhusker Kickback" will forever be part of his political legacy.
Nelson announced Tuesday he will not seek a third term -- leading some politicos to hypothesize he did so because he feared a backlash for the so-called kickback leading up to the vote on federal health-care reform legislation.
With Nelson as a key holdout vote on the Patient Protection and Affordable Care Act, Senate Majority Leader Harry Reid made a deal with him to allegedly secure his vote, giving the Democrats the 60 votes needed to kill a Republican filibuster.
The deal included language giving Nebraska 100 percent federal funding of the Medicaid expansion indefinitely. It also included language allowing states to restrict funding for abortions under certain circumstances.
But the deal drew so much fire from critics -- who said it amounted to Nelson selling his vote -- that he asked Reid to remove the permanent Medicaid exemption from the legislation.
"To remove any attempts at continued distortion or miscommunication on this point ... I ask that the Nebraska Medicaid exemption be removed and that all states receive equal treatment under the Medicaid expansion," Nelson said in a letter to Reid.
Russ Sullivan, staff director for the Senate Finance Committee, said later the Nebraska Medicaid exemption was only a "placeholder" -- designed to allow Senate negotiation of a national funding standard in a later conference with the House -- and was not a special deal for Nebraska.
Had Nelson decided to seek re-election, it remained to be seen if the deal would have been problematic in Republican-dominated Nebraska, where Nelson has used his centrist theme to win office.
Paul Johnson, Nelson's campaign manager, said the campaign's polling of voters showed the Cornhusker Kickback was not an issue to most voters.
"It was meaningful for the Republican partisans and the activists and probably for primary voters," Johnson said. "But for the broader population, only about half had heard about it and knew about it.
"The Cornhusker Kickback was, I think, like red meat to Republican partisans and activists," he said. "For the rest of the audience, it was not really a big deal or, at best, a tertiary issue."
The kickback, however, was a target of a GOP politicians, including Gov. Dave Heineman, and already was being used in TV ads by opposition groups.
Nelson "created this health-care mess by being the deciding vote" for a health-care reform law that most Nebraskans opposed, the governor said recently.
"Ben Nelson embarrassed the state with the 'Cornhusker Kickback,'" he said.
Formerly a pro-life Democrat who enjoyed support from Right to Life for his standing as a minority voice within his party, Nelson lost his support within pro-life circles after he voted for the abortion-funding health care reform bill. His effort to remove the funding failed in the Senate.
On Tuesday, Julie Schmit-Albin of Nebraska Right to Life -- which endorsed Nelson in 2006 -- had harsh words for Nelson.
"After his betrayal in 2009 ... Nebraska Right to Life PAC announced then that it would never support Senator Nelson for re-election.
"After abandoning pro-life language and caving in the 11th hour on health-care reform, pro-life Nebraskans can expect that Senator Nelson's replacement will respect the strong pro-life sentiment in this state" Schmit-Albin said. "And Senator Nelson can retire with his legacy of being the 60th vote that foisted abortion funding health-care policy upon the nation."
But Johnson, Nelson's campaign manager, said the continued railing against the Cornhusker Kickback played no role in Nelson's decision to not seek re-election.
"There were two issues. Could we win?" Johnson said. "And ... whether he wanted to serve another six years. We answered the first question quite positively."
As for the second: "He wanted to do other things with his life."