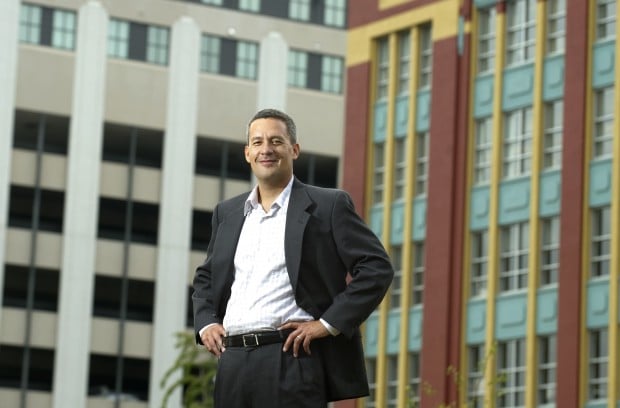 Carlos Castillo, Nebraska's director of the Department of Administrative Services, is leaving his state job, Gov. Dave Heineman announced Friday.
Castillo, whose last official day was Friday, said he was leaving to manage the campaign of Charles Herbster of Falls City, who is running for governor.
He has gotten to know Herbster, who has not yet officially announced his intention to seek the office, over the past several months, he said.
"I think he's got a very intriguing story. He reminds me a lot of the governor in a lot of ways," he said. "And I really like his ag roots."
Heineman said Castillo has been an exceptional director and a valued leader and adviser.
As director, Castillo, 39, led 11 divisions that provide accounting, procurement, personnel, risk management, building management, wellness and benefit services for the state.
Heineman said he was instrumental in creating the state's award-winning wellness options program. The program was awarded the 2012 C. Everett Koop National Health Award honoring programs that improve health and cut health-care costs.
Heineman appointed Castillo director in 2006, calling him a "proven manager and strategic thinker." Previously he had served as Douglas County election commissioner.
Castillo managed Heineman's election campaign in 2005, relying heavily on technology to conduct a statewide get-out-the-vote effort. He also had managed all or part of political campaigns for U.S. Rep. Lee Terry and U.S. Senate candidate Scott Moore.
As director of administrative services, Castillo butted heads in recent years with state Auditor Mike Foley, especially over Foley's audit of the state's health insurance.
He vehemently disagreed with Foley's assertions that the state's insurance plan lacked careful management. And he opposed releasing any health or financial records to Foley that were tied to employees' medical records.
He oversaw last year's switch of state employee health insurance from Blue Cross Blue Shield, which has headquarters in Omaha and had run the state's health insurance plan for at least 25 years, in favor of UnitedHealthcare of Minneapolis.
Castillo said he appreciated the opportunity to serve the citizens of the state and Heineman.
"It's always a tough thing to switch jobs, not something I take lightly, not something I do very often," Castillo said. "I've been with the governor for a long time."
"It was a privilege to work side-by-side with some of the most dedicated public servants in Nebraska."
Castillo's annual salary was $105,000, as of July 1.
State Budget Director Gerry Oligmueller will serve as acting director of the department for the third time. He served as acting director in 1997 during the Nelson administration and in 2006 in the Heineman administration.
He has worked in state government since 1979, initially for the Legislature's Appropriations Committee and later in various positions in the executive branch during the terms of office of five governors, Bob Kerrey, Kay Orr, Ben Nelson, Mike Johanns and Heineman, serving as state budget administrator since 1995.