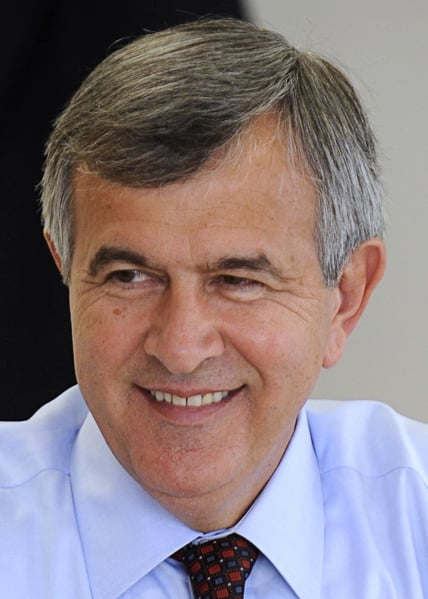 OMAHA -- Bolstered by the passage of unique abortion restrictions in his home state of Nebraska, U.S. Sen. Mike Johanns is pushing for a new federal discussion of the notion of fetal pain.
Although doctors are at odds about when during development a fetus can feel pain, it's an issue that could change the way abortions are regulated in the United States.
The Nebraska law that takes effect Friday bans abortions after 20 weeks of pregnancy based on the idea of fetal pain, a departure from the standard of viability -- when the fetus could survive outside the womb, generally considered to be between 22 and 24 weeks -- established by the 1973 landmark ruling in Roe v. Wade.
Legislation recently reintroduced by Johanns doesn't go that far. It would require women seeking abortions after 20 weeks to be told the fetus could feel pain and allow them to request anesthesia for the fetus. The measure was first proposed by Kansas Sen. Sam Brownback in 2004 and has been reintroduced every year since.
"How does anybody -- pro-life or pro-choice -- oppose this?" asked Johanns, a Republican. "If the baby feels pain ... then it is an issue of human compassion."
Critics say the proposal is based on false science.
Vicki Saporta, president of the National Abortion Federation, a group representing North American abortion providers, said such legislation "keeps resurfacing but it has not moved forward -- and should not move forward -- since there is no credible scientific evidence to support the bill."
Testimony at a 2005 congressional hearing -- with some doctors saying fetuses could feel pain and others saying they could not -- suggests the medical community hasn't reached consensus on when during development a fetus can feel fetal pain. That testimony was cited in the Nebraska Legislature as it debated the bill.
The American College of Obstetricians and Gynecologists says it knows of no legitimate evidence showing a fetus can ever experience pain. It says a fetus' brain begins its final stage of development between the 20th and 40th weeks of pregnancy, and that certain hormones that develop in the final trimester also must be present for it to feel pain. It's not known exactly when those hormones form.
Abortion opponents are preparing to introduce laws similar to Nebraska's in other states. Julie Schmit-Albin, executive director of Nebraska Right to Life, which worked with state lawmakers on the new law, gave a presentation to her counterparts from other states during the National Right to Life convention in June.
You have free articles remaining.
Mary Spaulding Balch, the legislative director for National Right to Life, said there's interest from several states about introducing similar legislation next session. She declined to name those states.
Ten states -- Alaska, Arkansas, Georgia, Louisiana, Minnesota, Missouri, Oklahoma, South Dakota, Texas and Utah -- address the idea of fetal pain in counseling information provided to women seeking abortions, according to the National Conference of State Legislatures. In some states, that information only goes to women who are at least 20 weeks pregnant.
Johanns said he stopped short of a federal bill mirroring Nebraska's new law because "I don't think the U.S. Senate is as pro-life as the Nebraska unicameral (Legislature). I think we saw that with the health care debate."
In Nebraska, threats of a legal challenge to the new law have not materialized so far.
Dr. LeRoy Carhart, whose Bellevue, Neb., clinic offers late-term abortions, is considered to be the most likely to file a lawsuit. He has challenged other abortion laws before the U.S. Supreme Court, and his backer, the New York-based Center for Reproductive Rights, hinted in an April letter to Gov. Dave Heineman that it would be involved in a challenge.
Carhart and the center have neither committed to taking action nor ruled it out. A challenge wouldn't need to be filed before the law takes effect.
But it's a delicate decision. If Carhart challenges the law and loses, the court could redefine the measure for abortion restrictions, throwing out the viability standard in favor of the pain threshold. And if future medical advances were to show a fetus can feel pain sooner, abortions could be restricted earlier.
"They know we're going to have a debate in this country on fetal pain," said Schmit-Albin. She said she doesn't expect a challenge because abortion-rights supporters haven't decided how to attack the issue.
Saporta said she doesn't think Nebraska's passage of a fetal pain ban will pave the way for Johanns' measure.
"Nebraska's law was aimed at the practice of Dr. Carhart," she said. "Credible scientific evidence was introduced but not really considered. They had a political agenda in Nebraska."
Johanns' measure has 18 co-signers, all Republicans, and broad support in the anti-abortion community, the senator said. He said he was unsure when it might be up for debate.
Associated Press Writer Margery A. Beck contributed to this report.