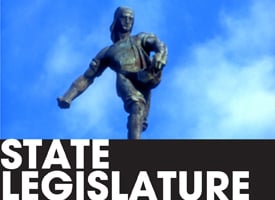 A disagreement is brewing between Nebraska lawmakers and Gov. Dave Heineman's administration about whether pregnant illegal immigrants can keep receiving prenatal care without a significant change in state law.
Nebraska's Medicaid director said Tuesday that a law passed last year that bars illegal immigrants from getting public benefits would have to be changed to allow prenatal care to continue for about 1,000 illegal immigrants. Some lawmakers, however, argue that since any children born to illegal immigrants would be legal U.S. citizens, illegal immigrants won't actually be receiving state benefits under a program they are considering.
The issue of prenatal care for illegal immigrants emerged in December, when U.S. officials told the state it was breaking federal rules by allowing the children who have not been born yet - not just their mothers - to qualify for Medicaid. Nebraska is believed to be the only state that allows that.
For decades, that has allowed women - legal residents as well as illegal immigrants who didn't qualify themselves for Medicaid - to get prenatal care, because their children qualified. The long-standing rule also allowed more women to be covered, because the baby was counted as another person who would stretch a family's resources.
Nebraska officials are reviewing whether about 5,200 pregnant legal residents potentially affected by the federal order might still qualify for Medicaid themselves, because their yet-to-be-born children don't. The cases of 998 pregnant illegal immigrants are not being reviewed, however, because Medicaid does not cover services to illegal immigrants.
The disagreement between Heineman's administration and a group of lawmakers trying to ensure that all 6,200 women continue to get prenatal care after a March 1 cutoff date centers on another program funded, like Medicaid, by both state and federal dollars.
Both sides agree that the federal government allows the not-yet-born children and not their mothers to be eligible for the Children's Health Insurance Program - much like Nebraska had for years interpreted Medicaid rules.
But, said Nebraska Medicaid Director Vivianne Chaumont, "Nebraska has to make a choice whether it wants to adopt a program that buys into that logic."
"Can you provide care to the unborn without giving the mother care?" she said.
For years under Medicaid, the state essentially answered "yes" to that question by allowing Medicaid to cover prenatal care for the not-yet-born children of some illegal immigrants.
"That program had been there so long, we just thought it was legal and it was part of the Medicaid program," Chaumont explained. "It's a new day and we need to make new decisions."
Sen. Jeremy Nordquist of Omaha, part of the group of senators working on a plan to guarantee ongoing prenatal care for those now receiving it, was taken aback by the position that both the mother and yet-to-be-born child would be considered as receiving care under the Children's Health Insurance Program.
"The federal intent is that the care is not going to the mother, so that doesn't line up," Nordquist said.
He added that during debate last year on the bill that now bars illegal immigrants from getting state benefits, officials made it clear "that this population of unborn children would continue to get benefits."