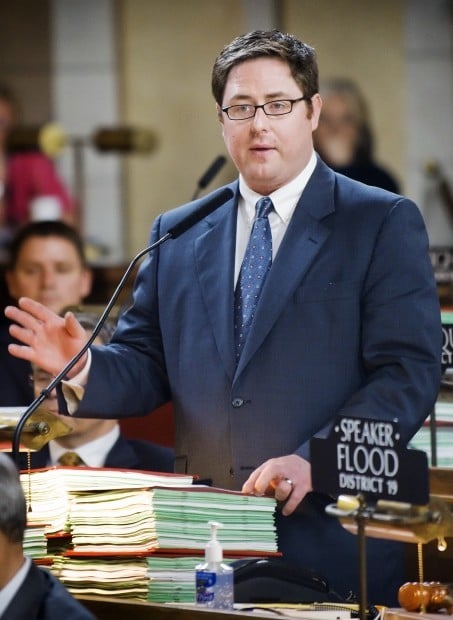 Nebraska legislative Speaker Mike Flood doesn't know why he ended up as one of Time magazine's 40 Under 40 rising stars of American politics.
But there the state senator was Thursday in a special report on the World Wide Web for all the, well, world to see.
"... in an epic election cycle, a new generation of civic leaders is already at work trying to fix a broken system and restore faith in the process," Time said.
Among the other rising stars were these:
Huma Abedin, 35, former Clinton White House intern who has followed Secretary of State Hillary Clinton to the U.S. Senate and foreign capitals.
George P. Bush, son of Jeb and Columba Bush and co-founder of Hispanic Republicans of Texas.
Carte Goodwin, U.S. senator from West Virginia, the first born after 1970.
Julian Castro, mayor of San Antonio, Texas.
Ben Jealous, president and CEO of the NAACP.
And numerous other state and federal office holders and national political directors.
Flood said someone from the magazine called him a couple of weeks ago. Then he got a questionnaire to fill out.
"They were just trying to find people in politics who were young," the modest senator from Norfolk said.
Flood is 35. He was elected to the powerful speaker position in 2007, after just two years in the nonpartisan Legislature and with no experience as a committee chairman. In his four years in the position he has garnered wide-ranging respect for how he has handled himself and run the body of 49 senators.
In a partisan era, Time said, Flood stresses consensus and sends a strong "negotiate or perish" message.
The 40 Under 40 all answered questions about political heroes or inspirations, their go-to political blog, what they would be doing if not in politics, what they see as the most overlooked issue facing America and where they see themselves in five years.
Flood listed Ronald Reagan, elected president when Flood was in kindergarten, as a hero.
CNN's political ticker is where he goes for political information.
He would be practicing law and running two radio stations, as he does now, without his political office.
And the most overlooked American issue, according to the rural senator, is the loss of population in smaller towns and communities.
Others of the 40 Under 40 listed these issues: government transparency, vulnerability to cyber attacks, the politics and availability of water, poverty, child hunger, the nation's deficit spending, unsustainable pensions, benefits and salaries given to public sector employees, fathers taking active roles in their kids' lives, and the role money plays in politics.
Flood told Time it has been a privilege and great experience to represent Madison County in the Legislature.
He said Thursday he is interested in continuing public service after term limits end his stay in Lincoln in two years. But he has no specific plan.
And he's not going to diminish his enjoyment of his work at the Capitol by looking ahead.