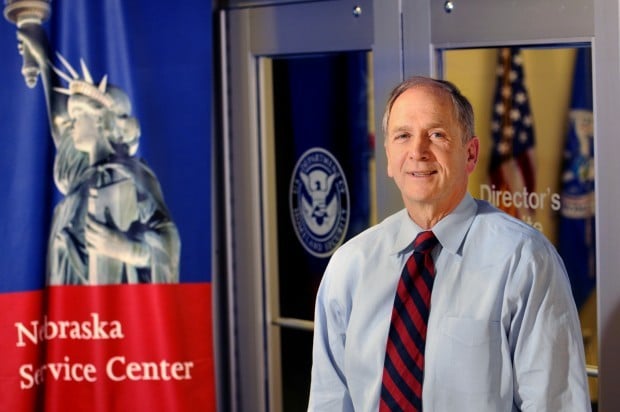 Jerry Heinauer is a tall, trim man with long legs.
You can picture him, as part of the border patrol for the Immigration and Naturalization Service in the 1970s, stretching out those legs and catching up with illegal immigrants threading their way through the sagebrush that separates Mexico and Yuma, Ariz.
"I have run after people and tackled them," Heinauer said. "I never got in a fist fight and I never had to pull my weapon."
The Pennsylvania native also has the polish necessary to stand in front of dozens of new citizens from 21 countries at the Homestead National Monument near Beatrice in 2006 to congratulate them on their legal status.
You can take these two quick stops in the retracing of a 34-year career path to mean that Heinauer has seen both the utter joy and utter despair of those intent on a new life in the United States.
Not once, he said, as he prepares to retire next week, did he ever feel conflicted.
"I'm a person who believes we are nation of immigrants," he said in a 90-minute Wednesday interview. "And we are a nation of laws."
As he steps down, Heinauer supervises a staff of about 600 at the Office of Citizenship and Immigration Services in Lincoln, one of four of its kind in the U.S.
Along the way, he has also been an immigration inspector in his hometown of Pittsburgh and part of INS headquarters staff in Washington, D.C. He's been on overseas enforcement assignment in Rome and head of the Omaha district INS for Nebraska and Iowa.
Beyond what a written job history shows, he has looked into the brimming eyes of meatpacking parents as they are separated from their children by deportation.
He has administered the oath of citizenship to a dying Iraqi woman.
He urged the Social Security Administration to become a full partner in Operation Vanguard in Nebraska in the 1990s so its database of Social Security numbers could be used to crack down on illegal hiring.
He's taken off his enforcement hat so families of undocumented residents at Crete could ask questions about the immigration system in a meeting setting without fear of immediate arrest.
And he's watched federal lawmakers try and repeatedly fail to adopt sweeping immigration reforms over the past two decades.
"In my mind," he said, "if an employer employs illegal aliens and he knows they're illegal aliens, he's taking advantage of them."
People who are afraid are not people given to standing up for their rights in the workplace.
Heinauer and his wife, Barbara, plan to stay in the Omaha area, not far from where two of their three children hold jobs in education in the Kansas City area.
"It's a nice time to leave," he said, "when things are going well and I still enjoy it quite a bit."
But he leaves at a time when Congress is taking yet another run at repairing what many describe as a broken immigration system.
And it certainly can't be said the relative calm that exists in Heinauer's immediate sphere of influence extends into all corners of the nation - or even the state.
Just ask Marty Ramirez, University of Nebraska-Lincoln faculty member and local Latino advocate, or Doug Kagan, Omaha resident and chairman of the Nebraska Taxpayers for Freedom.
"We just can't have it be and allow it to be the way that it is," Ramirez said of immigration policy at the federal level.
On that much, he and Kagan agree.
"Absolutely out of control," Kagan said when asked to describe the status quo. "Like a runaway freight train."
Of course, more questions directed to these two men lead to very different answers.
Kagan points to the strains waves of illegal immigrants put on education, law enforcement and other community institutions.
"The laws on the books now at the federal level, we think, are very good laws and very workable laws. And the problem is the laws are not being enforced."
Ramirez points to a recent report on what immigrants contribute to the Nebraska economy.
"But Nebraska wants it both ways," he said. "They want to move forward, they want to create jobs, but get 'them' out of here. They can't have it both ways."
Thirty-four years ago, as a rookie on the immigration beat, Heinauer had to learn to recognize sometimes subtle differences in footprints to "detect, deter and arrest people entering illegally."
Each shift began with the passing of a sand-sweeping machine that rubbed out all previous patterns left by people's footwear. That way, an agent had a chance of picking up suspect footprints on one side of the border and following them on the other.
Heinauer takes off his shoe to show the detail in the sole and compare it to a visitor's.
Beyond that, "a lot of shoes, dress shoes, have a single row of stitching or there might be a belt on the heel."
Don't suggest to him that he and others who have done enforcement work for what is now known as Homeland Security are oblivious to the impact of those they have arrested.
"They are upholding the duties and responsibilities they have," he said. "It doesn't mean they don't respect or care for the people they apprehend."
And don't suggest that being a border agent was all about the thrill of the chase.
"It's a matter of do you do it with dignity and respect or not?"
Marty Ramirez knows Jerry Heinauer personally, and Doug Kagan does not. Of necessity, Kagan confines his comments to policy and not the person.
Ramirez speaks also of the person he came to know over so many years.
"There's no doubt being a border guard helped him," he said.
Living in the midst of so many Latinos in Texas, former President George W. Bush had what Ramirez regards as a sincere interest in immigration reform when he took office. It was 911 that knocked him off stride.
"I think when he was in Omaha," Ramirez said of Heinauer, "he had to enforce the law. "At the same time, we're not robots. No matter which side of the issue you're on in immigration, you have to have these things called sensitivity, compassion."
He believes a man who has been the face of immigration policy in Nebraska over the past two decades more than any other has those traits.
"And I think the Latino community, for the most part, has high regard for Jerry."