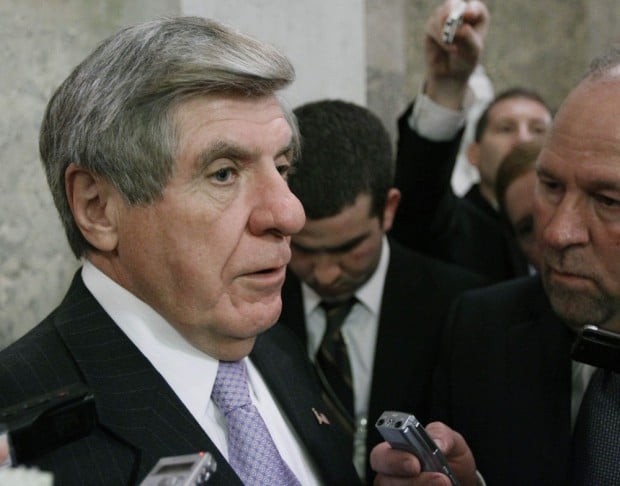 As a fresh poll measured the political cost of Sen. Ben Nelson's health reform vote, he prepared Tuesday to take his case directly to Nebraskans during Wednesday night's Holiday Bowl game.
Nelson will air a new TV ad in which he attempts to debunk opposition claims that the Senate legislation represents a government takeover, and he makes the case for health care reform.
"With all the distortions about health care reform, I want you to hear directly from me," the Democratic senator says in the ad.
Nelson, dressed in an open-necked shirt and sweater, speaks directly into the camera during the 30-second ad.
The message will be launched during the Nebraska-Arizona football game and continue to air statewide for an undisclosed number of days.
The political damage Nelson may have incurred in providing the critical 60th vote that cleared the way for Senate passage of the health care reform bill showed up Tuesday in a poll released by Rasmussen Reports.
The telephone survey of 500 Nebraskans, conducted Monday, suggested Republican Gov. Dave Heineman would defeat Nelson in a potential 2012 Senate race by a 61-30 margin.
The poll showed Nelson with a 55 percent unfavorable rating and 64 percent disapproval for Democratic health care reform legislation.
"The good news for (Nelson) is that he doesn't have to face Nebraska voters until 2012," Rasmussen Reports stated in posting results of the survey on its Web site.
Nelson would be seeking a third term should he choose to be a candidate for re-election three years from now.
Heineman is seeking re-election as governor in 2010 and would be at mid-term if he chooses to enter the Senate race in 2012.
Julie Schmit-Albin, executive director of Nebraska Right to Life, said the Rasmussen results demonstrate that Nelson's votes on health care are "clearly out of touch with the majority" of Nebraskans.
Earlier, Schmit-Albin said Nelson betrayed his pro-life supporters when he agreed to compromise language prohibiting federal funding of abortions.
She has argued that the language would allow federal funding to be used to subsidize abortions. Nelson maintains there would be no funding of abortions with federal money.
"One wonders if (Nelson) misjudged the level of opposition to this legislation from his constituents," Schmit-Albin said.
"Or if he had already made a decision to never seek office again."
In his TV message to Nebraskans, Nelson says: "I listened to you and took a common-sense approach to improve the bill.
"Now it lowers costs for families and small business, protects Medicare, finally guarantees coverage for pre-existing conditions and reduces the defici
"And it's not run by the government.
"I'm convinced this is right for Nebraska," Nelson says.