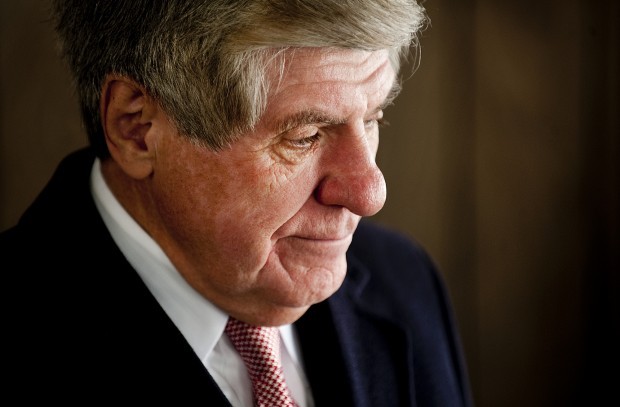 Sometime during the Christmas holiday season, Sen. Ben Nelson will make his decision.
Will he be a candidate for re-election next year or will he not?
"I'll sit down with my family to discuss the future," Nelson said Tuesday during a telephone interview. "They are my sounding board. I value what they say."
Nelson said he will weigh his family's views along with a personal judgment on "whether I believe I have a role to play in dealing with a very divided Congress in a very divided country, whether I could be constructive in finding some solutions, whether I am convinced I can be a positive force for the following six years."
Nelson has his campaign leadership in place, has blanketed the state with a series of TV ads paid for by the Democratic Senatorial Campaign Committee, has raised campaign funds and banked more than $3 million for a re-election bid, but he still has not yet left the starting gate, pushed the go button, pulled the trigger.
"I'm not trying to drag this out," the two-term Democratic senator said. "There is no theater involved in this. 
"It's more that I just don't want to be a candidate any longer than I need to be or (it's more difficult) to do the job I'm elected to do."
Tuesday's interview provided no clear hints or clues as to what Nelson ultimately will do. But there was a clear understanding that he might not say yes.
You have free articles remaining.
If he seeks re-election next year, Nebraska is likely to be one of the key battlegrounds in determining control of the Senate. If he decides to step aside at the end of his current term, Democrats will be hard-pressed to compete for an open seat in a staunchly Republican state during a presidential election year. 
Nelson said the possibility that he could lose a re-election bid in 2012 is not a factor in his final decision.
"I do not have to have assurance I would win," he said. "I'm a risk-taker. That would not be the deciding factor by a wide margin."
Yes, Nelson acknowledged, "we poll from time to time" in an effort to measure voter views and sentiment.
"But those results would not be the defining factor at all," he said. 
Nelson was elected to the Senate in 2000 and re-elected in a landslide in 2006, but he lost his first Senate bid in 1996. He won gubernatorial elections in 1990 and 1994.
One of the considerations he always raises in discussions with his family about his political future is the issue of "leaving a bigger estate or legacy," Nelson said.
Nelson, 70, presumably would have some major opportunities to increase his wealth in the private sector if he decided to leave the Senate at the end of his current term. 
"Until this Senate got so divided, it was a lot easier to be a positive influence than it has been recently," he said. "If you don't feel you can be a positive influence, do you want to run?
"I don't just want to run for re-election. I want to feel I can contribute."