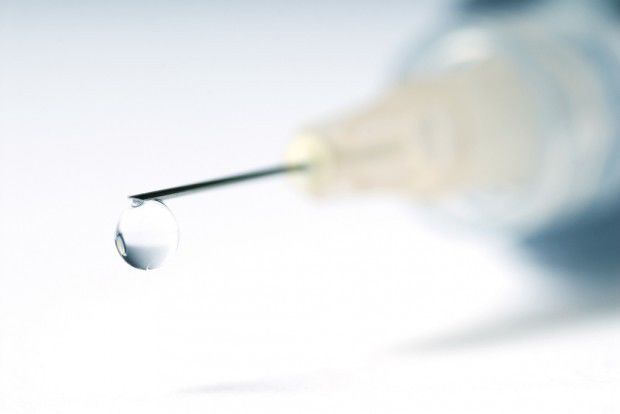 The ACLU of Nebraska has asked U.S. Attorney Deborah Gilg to open an investigation into Nebraska's ongoing efforts to obtain lethal injection drugs from a "sketchy" foreign source.
In a letter from ACLU of Nebraska, Legal Director Amy Miller said communications between the state and the U.S. Drug Enforcement Administration demonstrate a months-long effort by the Nebraska Department of Correctional Services "to obtain illegal drugs despite clear and unequivocal notice that their conduct was prohibited by federal law." 
In May, the department ordered 1,000 one-gram vials of sodium thiopental at a cost of $25 per vial and 1,000 ampules of 2 mg/2 ml of pancuronium bromide at $26 per ampule. Total cost was $54,000. 
The order was placed with Chris Harris of Harris Pharma, a company in India that has sold sodium thiopental in the past. 
The Corrections Department already owns the third drug used in the state's execution protocol, potassium chloride. 
According to documents obtained by the ACLU through open records requests, Miller said, federal authorities clearly informed Nebraska officials that federal law prohibits import of the drugs. 
Her letter quotes correspondence from the Food and Drug Administration telling state officials there is no FDA-approved application for sodium thiopental and from a DEA official in July saying Customs and Border Protection was notified of the potential illegal importation of the drug. 
Nebraska officials paid the $54,000 in taxpayer funds to Harris Pharma for the drugs that have yet to be produced and are now months past initial assurances of their delivery date. 
Taylor Gage, speaking on behalf of Gov. Pete Ricketts, said Thursday afternoon the state is working with the DEA to lawfully obtain the drugs required under Nebraska's death penalty protocol.
You have free articles remaining.
"The ACLU is clearly aligned with the side of the ballot initiative that does not want to give the voters of Nebraska a say on the death penalty -- their letter should be viewed in that light," Gage said.
The Nebraska Legislature in May repealed the death penalty after overriding Ricketts' veto of the bill (LB268) on a 30-19 vote. Soon after the session ended, a group called Nebraskans for the Death Penalty started a petition drive to allow voters to attempt to reinstate it in 2016. Those petitions are due to the Secretary of State's office next week. 
According to the ACLU letter, the state sent customs forms to Harris Pharma on July 31.
"The ACLU is committed to holding state officials accountable for their ongoing efforts to secure lethal injection drugs in violation of federal rules," said ACLU of Nebraska Executive Director Danielle Conrad.
The documents provided show state officials have been told repeatedly by federal authorities that there is no legal way to import the drugs yet they continue to repeat a suspect claim that they are "working with federal officials to secure the drugs," Conrad said.
Nebraska taxpayers deserve a straight answer, she said.
"It is time to end this charade," Conrad said. "Nebraska officials should request an immediate refund of over $50,000 of taxpayer funds they committed to this sketchy foreign source without doing any due diligence and should cease and desist from all future attempts to skirt federal rules." 
Miller said rather than wait for illegal drugs to enter the country, Gilg should assure the state complies with federal law and stop all efforts to "flout" FDA provisions. 
Jan Sharp, the U.S. attorney's criminal division chief in Omaha, said Gilg's office is looking over the documents and should decide by next week whether to act.
"Like any correspondence that comes in, we take it seriously," Sharp told The Associated Press. "... We don't disregard anything that gets sent to us. Whether or not we pick up and run with it is left to a prosecutor's discretion."